Mother of man charged in deaths apologizes to victims' family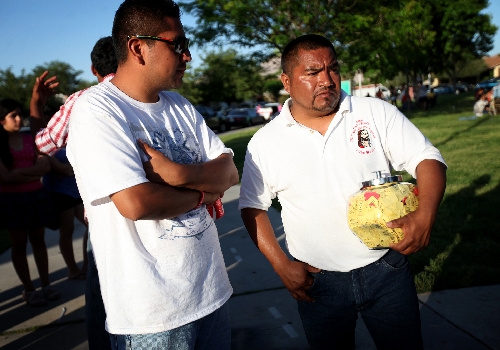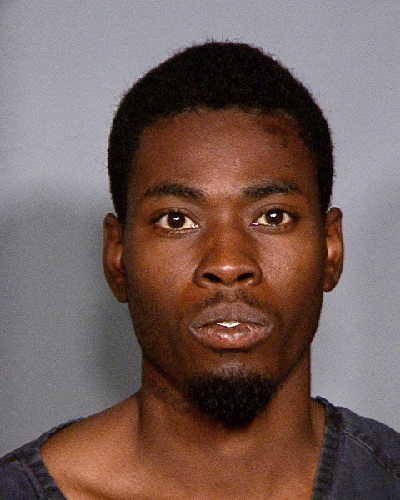 Bryan Clay stands accused of using a claw hammer to randomly kill a woman and her daughter in what authorities are calling one of Las Vegas' most brutal crimes in decades.
On Sunday, during a short phone interview, Clay's mother struggled to understand the sordid nature of the crimes her son is accused of committing.
At times she couldn't find words, but the words she had were filled with emotion.
"No matter who is responsible, I apologize to the (Martinez) family," said the woman who would only identify herself as Latasha. "I apologize to anyone that was hurt."
When asked if her son was innocent, Latasha would only say: "This is unbelievable."
She emphasized that two families have been affected by the slayings, noting that she was very distressed.
Las Vegas police arrested Clay, 22, on Friday in connection with the mid-April deaths of Karla Martinez, 10, and Ignacia "Yadira" Martinez, 38. He is being held in the Clark County Detention Center.
Like Latasha said, relatives of the Martinez family were also coming to grips with the deaths Sunday.
They were joined by friends and strangers touched by the killings who gathered at Shoong Park, near Charleston and Lamb boulevards. They were there to raise money for the funerals of Karla and Ignacia Martinez.
"I'm still angry. I'm still mad," said Lupe Olmedo, brother of Ignacia.
Olmedo said he was devastated by the slayings but was appreciative of all the people who have supported his family. Sunday's crowd was estimated between 300 and 500.
Armando Flores, a cousin of Ignacia, said the family had no enemies. He said he had "a lot of anger inside" when he learned of the deaths
ACCUSED OF OTHER CRIMES
Clay is accused of a string of crimes.
He is suspected of bludgeoning the family patriarch, Arturo Martinez, whose head wounds have placed him in critical condition. Olmedo said he remained unable to talk Sunday.
Police said Clay raped 10-year-old Karla. Clay also sexually assaulted a 50-year-old woman on the same day of the Martinez family slayings, police believe.
According to the county jail website, he faces a litany of charges including two counts of murder with a deadly weapon and two counts of sexual assault against a victim under 14. He also faces an additional count of sexual assault.
Other charges could be forthcoming.
Homicide Lt. Ray Steiber said via text message on Sunday that investigators suspect Clay also sexually assaulted Ignacia. Autopsy reports will determine if that's true, he said.
During an emotional news conference Friday night, Steiber said up to 60 people at once worked on the investigation that police made a priority.
"I've been doing this 24 years, and this is the case you hope you never see," Steiber said. "This is the kind of case that goes on that they write movies about. And I don't say that as to be an enter­tainment factor. I'm saying this was a savage, heinous crime."
Las Vegas police have been investigating the killings since the morning of April 16, when a 9-year-old Martinez boy went to Hoggard Elementary School and told school officials his mother and sister were dead inside his home. The youngest Martinez boy, age 4, was also spared in the attack.
At Friday's news conference, Steiber didn't say how they caught Clay, but a source close to the investigation said DNA linked the slayings at the Martinez family house on 1016 Robin St. to the sexual assault of a 50-year-old woman near Tonopah and Vegas drives the same day, on April 15.
Clay was initially suspected of an attempted sexual assault, which happened April 23 when a 30-year-old woman was attacked near Rancho Drive and Bonanza Road, the source said. The woman was hit in the head with an object but was able to fight off the man, police said. There was no DNA evidence in that case, and Steiber said Friday there was no evidence to link Clay to that crime.
Clay, who was not registered as a sex offender in Nevada or national databases, was first identified by police as a suspect in the assault of the 50-year-old woman and later linked to the Martinez family slayings, the source said.
VICTIMS' FAMILY HISTORY
The Review-Journal received an email Sunday written by family members telling the life stories of Arturo and Ignacia Martinez. The two-page letter said the couple met as 19-year-olds studying law in Mexico. But a family hardship derailed their plans.
They eventually made it to the United States chasing the "American Dream" which at first consisted of odd jobs including washing cars, packaging vegetables and working in the fast-food industry.
In Las Vegas, Arturo worked as an electrician by day, and managed a gym, the Real KO Boxing Club in North Las Vegas. Ignacia kept the books, family friends said.
The Martinez family letter stated the survivors in the attack had their lives changed forever.
"Art and his sons will never recover from this act of hatred and of what has been taken away from them," the letter stated.
Back at the park, Flores pointed to the sky and said a higher power will determine Clay's fate.
"It's not up to me," he said. "Only God knows."
Contact reporter Antonio Planas at aplanas@reviewjournal.com or 702-383-4638.