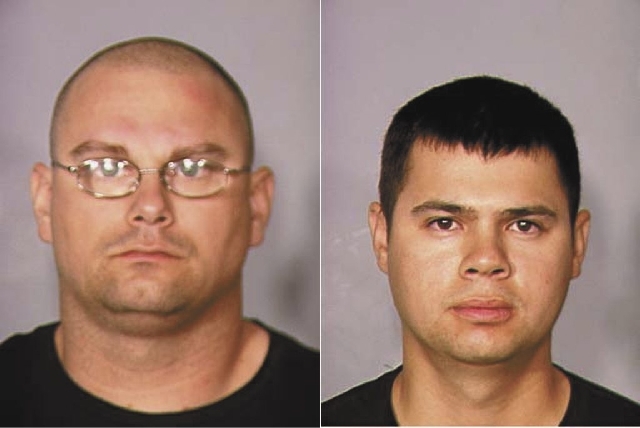 Benjamin Kyker is very familiar with the Nevada prisons system, but the veteran prison guard could soon be bunking with the kind of men he's been guarding.
Kyker, a sergeant with the Southern Desert Correctional Center in Indian Springs, was arrested Thursday and faces charges in connection to conspiring with a security guard to rob a bank.
According to his Las Vegas police arrest report, Kyker, 37, went to the Wells Fargo at 10475 S. Decatur Blvd., near Cactus Avenue in the southwest valley, about 10:45 p.m. Wednesday as the ATM was being serviced.
Kyker placed his .45 caliber Smith & Wesson handgun to the head of the security guard, William Stack, and said, "Give me all you got," the report said. The ATM technician, a woman in her mid-60s, gave the robber two cassettes containing about $21,000 and one cassette of 84 postage stamps.
The sergeant then used Stack as a human shield before speeding away in a red Volvo sedan with no license plates, the report said.
But Kyker didn't make it very far. Police stopped his car five miles away, near Rainbow Boulevard and Windmill Lane. Officers say they found the stolen cash and a handgun in Kyker's car.
Kyker told detectives he is an 18-year veteran law enforcement officer who has fallen on hard times. His wife recently lost her job, and the couple couldn't afford to pay their bills, he said.
He also told detectives he was an Army National Guard member, and recognized the bank guard, Stack, as another guardsman.
"At this point, I felt Kyker and Stack had conspired to commit the robbery," Detective Craig Dunn wrote in the report.
Dunn said he pressed Kyker to tell the truth, and Kyker eventually admitted that Stack had suggested "it would be easy to rob the money for the ATM tech."
Stack told Kyker that "he was guarding an older lady," the report said.
He told police he didn't load his handgun as a precaution against an accidental discharge.
Stack, 25, first told police he didn't know Kyker and hadn't seen the robber's face, but eventually revealed that he knew Kyker for six years through the National Guard.
Stack, who worked with Southern Nevada Security Patrol, said the ATM technician didn't know about the plan and was "very scared" during the robbery, the report said.
Stack and Kyker were booked at the Clark County jail on charges of robbery with a deadly weapon and conspiracy to commit robbery.
Kyker was being held without bail. Stack's bail status remained unclear; he was not listed in Clark County jail records Friday.
Kyker told police "he knows what he did was wrong and was very remorseful."
The Nevada Department of Corrections did not return a call seeking comment about Kyker's job status.
Contact reporter Mike Blasky at mblasky@reviewjournal.com or 702-383-0283. Contact reporter Francis McCabe at fmccabe@reviewjournal.com or 702-380-1039. Follow @blasky on Twitter.