Nevada Supreme Court opens new building with death penalty appeal case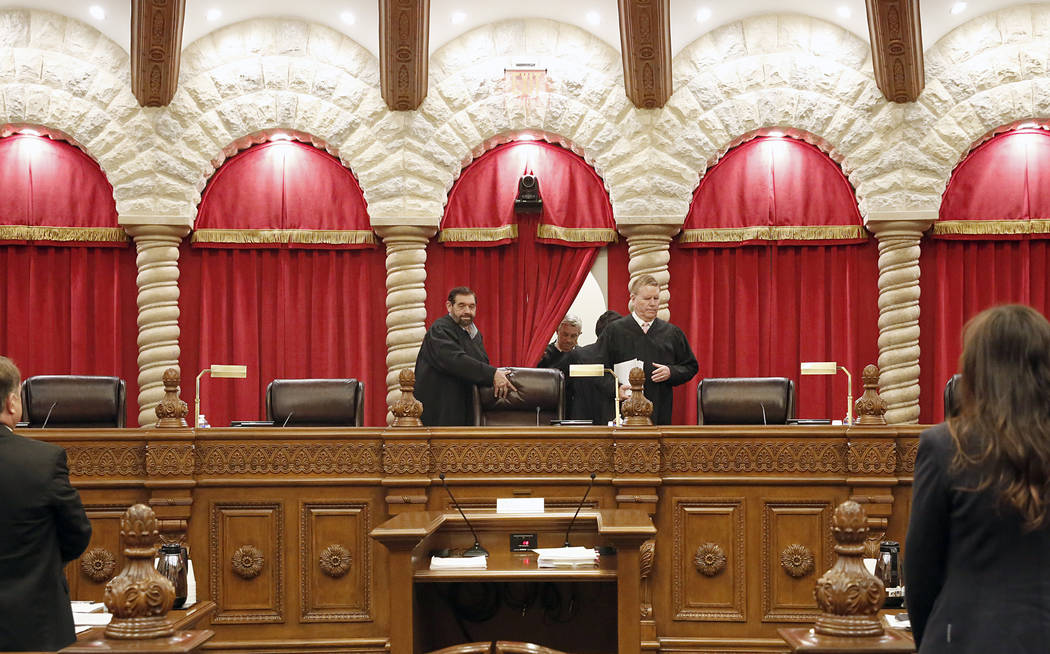 A death penalty appeal in a 1998 quadruple homicide conviction became the Nevada Supreme Court's first case in its new building Monday.
Donte Johnson, 37, was sentenced to death for killing Jeffrey Biddle, 19, Tracey Gorringe, 20, Matthew Mowen, 19, and Peter Talamantez, 17.
The men were bound with duct tape while Johnson and two other men searched their east valley home. Before they left, Johnson fired a single bullet into the back of each victim's head. The robbers made off with about $240, a pager, a videocassette recorder and a video game system.
The trial jury deadlocked in 2000 during the penalty phase, and a three-judge panel later handed down a death sentence. But that sentence was overturned.
A jury again sentenced Johnson to death in 2005. He is on death row at Ely State Prison.
Las Vegas attorney Christopher Oram argued that issues with the jury pool in Johnson's first trial violated his rights, and Chief Deputy District Attorney Steven Owens argued the legal window for Johnson to file an appeal has passed.
Oram said prosecutors were able to exclude the few people in the jury pool who were minorities or were reluctant about the death penalty. But Johnson was unable to persuade the court to dismiss jurors — even a juror who believed inmates sentenced to more than a year behind bars should be entered into an execution lottery.
He said one question the state asked potential jurors, whether they knew anyone in jail, unfairly skewed the jury's racial makeup.
Owens called that argument "absurd" and referred to the proceedings as a "waste of time and effort"
"That jury wasn't even the jury that gave the death penalty verdict," Owens said, pointing to the fact that the trial was 17 years ago.
"It has to be heard in a certain amount of time," he said.
The full panel of seven justices heard arguments Monday.
Contact Wesley Juhl at wjuhl@reviewjournal.com and 702-383-0391. Follow @WesJuhl on Twitter.
Chief justice: 'We've come a long way'
The Nevada Supreme Court began the first hearing in its new downtown courthouse, at 408 E. Clark Ave., with a bit of flair by playing the song "Home Means Nevada" after reciting the Pledge of Allegiance.
Chief Justice Michael Cherry said before the first round of oral arguments that the court has come a long way in recent years.
"You made history today," he told the lawyers afterward.