New trial granted for woman convicted of killing man, cutting off penis
December 20, 2017 - 9:39 pm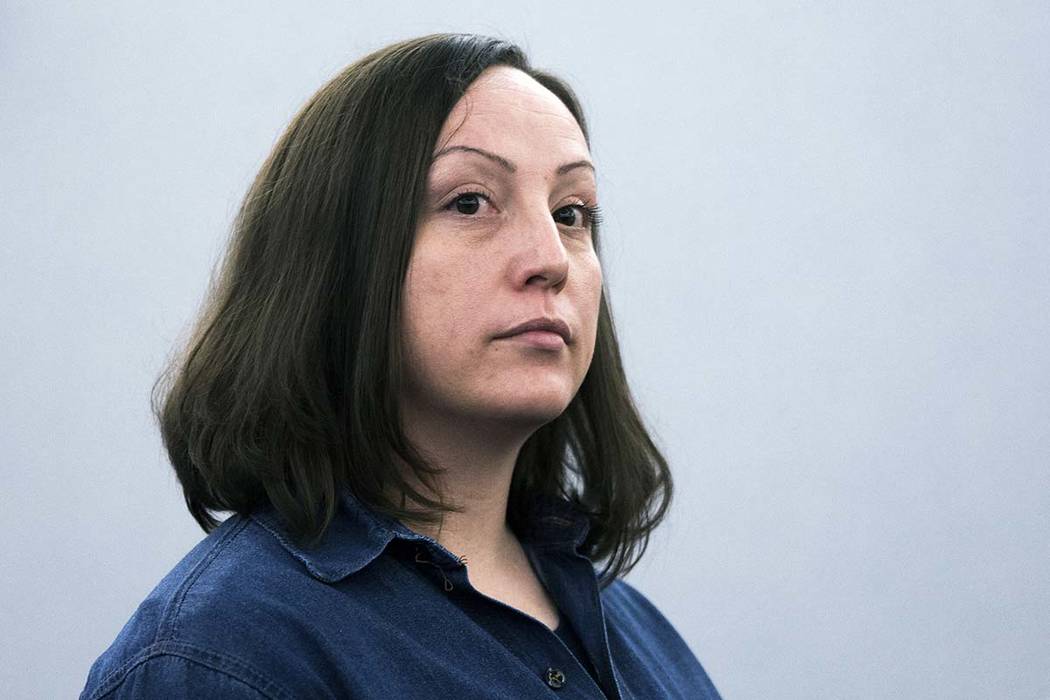 A Las Vegas woman convicted in 2006 of killing a homeless man and cutting off his penis will have her case tried anew, according to a court order issued Wednesday.
District Judge Stefany Miley granted Kirstin Blaise Lobato's request for a new trial after finding that ineffective assistance of counsel may have played a role in her conviction in Duran Bailey's 2001 death.
The 34-year-old woman, incarcerated at Florence McClure Women's Correctional Center since early 2007, filed a petition in May 2010 to challenge the legality of her detention, alleging 79 grounds for relief. The Supreme Court ordered an evidentiary hearing late last year on 25 of the claims.
The order called for a hearing on her counsel's decision not to hire an expert witness to pinpoint the time of death. Time of death is important because there is uncontested evidence that Lobato was in Panaca at midday and early evening on July 8, 2001.
If true, Lobato's allegations suggest a reasonable probability that had counsel presented expert evidence narrowing the time of death, the jury would have had a reasonable doubt about her guilt, the Supreme Court order said.
Bailey's body was discovered about 10 p.m. July 8, but the only evidence regarding time of death came from the medical examiner who said death could have occurred as early as 10 p.m. July 7.
Miley held an evidentiary hearing over several days in October to address Lobato's claims of deficient representation.
Attorney David Schieck, who was working as a public defender in Clark County during Lobato's trial and took over the case from an experienced criminal defense attorney, testified that he should have more closely supervised two less-experienced attorneys who worked on the case.
Schieck said the attorneys obtained an estimate of Bailey's time of death from a forensic pathologist, but did not call the expert as a witness at trial.
Miley noted in her decision that, contrary to the usual practice of giving experts all relevant information, Lobato's less-experienced attorneys also provided their forensic pathologist with only five of about 300 photos of the Las Vegas crime scene and autopsy.
"Mr. Schieck also made clear that any evidence that could have narrowed Bailey's time of death to the late morning, afternoon or evening of July 8, 2001 would have been critical to Defendant's alibi defense," her order read.
Four forensic experts for the defense, including a former Clark County medical examiner and a university professor of forensic pathology, testified that based on photos and reports indicating lack of blowfly egg colonization on Bailey's body, the 44-year-old Las Vegas homeless man likely died about 9 p.m. on July 8, 2001.
The state called two expert witnesses, one of whom determined that Bailey's body temperature and rigor mortis indicated he died in early to mid-morning on July 8, 2001. The second expert, relying on insect analysis, said he could not rule out the possibility that Bailey's body was present on the scene during daylight hours.
Miley also considered testimony from 10 "reliable, consistent" alibi witnesses — including Lobato's neighbor, father, and an unrelated Panaca resident — that put Lobato in Panaca from as late as 11:30 a.m. until she returned to Las Vegas later that night.
This testimony, paired with testimony from the "highly educated, experienced, and credible expert opinions" in the October hearing, created strong alibi evidence placing Lobato in Panaca at the time Bailey was killed, Miley wrote in the order.
Without physical evidence linking her to Bailey's death, the jury likely relied heavily on statements made to detectives, which prejudiced the woman's case, Miley wrote.
"Considering the totality of the evidence, had [Lobato's] counsel provided evidence that narrowed [Bailey's] time of death, it would have, within a reasonable probability, made a difference in the outcome of the trial," Miley wrote in the order.
Miley set a status check for Jan. 24 to schedule Lobato's new trial.
Contact Kimber Laux at klaux@reviewjournal.com. Follow @lauxkimber on Twitter.