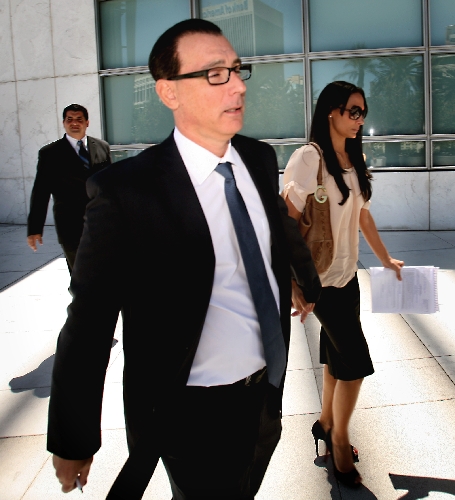 Nightclub impresario Steve Davidovici, who is under house arrest for his role in a tax evasion scheme, has gone to court against his partners at the troubled Chateau Nightclub & Gardens at Paris Las Vegas.
In a complaint filed late Wednesday in Clark County District Court, Davidovici contended that his former ownership interest was improperly confiscated in a move three partners executed in July. This followed by two months a letter from an attorney for Paris Las Vegas owner Caesars Entertainment Corp. demanding that Davidovici be ousted from Chateau because of concerns that his presence could jeopardize the property's licenses.
However, according to the complaint, Davidovici had transferred all of his stake, held by an entity called Entertainmentconcepts Group LLC, to his wife, Charissa, in February. He knew then that federal prosecutors were investigating his part in a scheme to conceal $7 million in tips and said he told his partners, court papers show.
In March, he pleaded guilty to not reporting $403,000 in tip income during 2005 and 2006. He is serving an eight-month electronically monitored home confinement sentence although he is able to travel around Las Vegas during certain hours, attorney James Jimmerson said. Davidovici was also given three years probation and ordered to pay $141,000 to the Internal Revenue Service.
The sentence drew objections from federal prosecutors, who wanted Davidovici, best known on the Strip as the former manager of Caesars Palace's Pure nightclub, to serve prison time. Questions also arose because the son of U.S. District Court Judge Kent Dawson, who oversaw the case, once worked in a Davidovici club.
The Chateau opened in March 2011, after raising $15 million among outside investors. However, overruns caused the cost to balloon to $26 million, forcing Davidovici and partners to borrow to cover the difference. Through different entities, Davidovici, Roland Sturm, Corey Jenkins and Perry Rogers had formed Chateau Management LLC, which owned 49 percent of the club.
By the end of 2011, court papers show, Davidovici and the partners "came to the conclusion that Chateau Nightclub was experiencing serious financial hardship" and looked to sell.
This year, however, the partners decided to keep Chateau and remove Entertainmentconcepts without compensation. Jimmerson said the contracts spelling out the club's governance did not permit this.
Entertainmentconcepts, split evenly between Davidovici and his wife before February, held 45 percent of Chateau Management.
Attorneys for the partners could not be reached for comment.
Contact reporter Tim O'Reiley at
toreiley@reviewjournal.com or 702-387-5290.