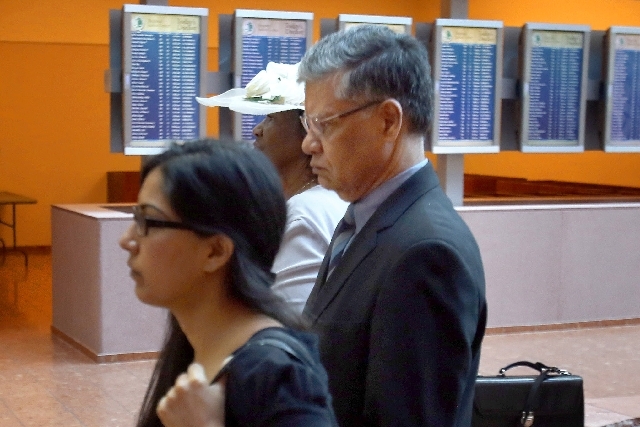 Attorneys representing Dr. Dipak Desai have touted an Accreditation Association for Ambulatory Health Care certificate as evidence that descriptions of filth in Desai's endoscopy clinics were false.
Nurse anesthetist Vincent Sagendorf said when he began work at the Endoscopy Center of Southern Nevada in October 2007, he quickly learned of the certification. He found it surprising because he immediately witnessed what he considered irresponsible practices.
"There were big things that they missed," Sagendorf said from the witness stand Friday, noting that tubes on the ventilators had dry rotted, there were no suction canisters at the heads of the beds and patients were wheeled against the wall – where rescue equipment was mounted – feet first in the recovery room.
Prosecutors claim the position of the patients was because they were hurried out of the procedure rooms in order to bring new patients in more expeditiously.
Desai, 63, and co-defendant, nurse anesthetist Ronald Lakeman, 65, face more than two dozen charges, including murder, in connection to the 2007 hepatitis C outbreak that infected six Las Vegas Valley resident and killed a seventh. The District Court trial has continued for four weeks and will resume Monday.
Based on health investigators' findings, prosecutors contend the deadly virus was spread through unsafe injections of the anesthetic propofol. They believe Desai encouraged hasty procedures and was stingy with medical supplies so that his profit margins would balloon.
Sagendorf did not find it odd that nurse anesthetists used one bottle of propofol on multiple patients, saying that is done "around the world." The practice started, he testified, when propofol first hit the American market in 1985 and was extremely expensive.
He said he used a new syringe and new needle each time he dipped into a propofol vial, regardless of whether it was the same patient or a new client. He saw no chance at cross-contamination using the sterile method.
However, Sagendorf said that open vials of propofol were brought into examination rooms, a practice that prosecutors and health experts believe led to the contamination of patients and spread of hepatitis C.
Sagendorf testified that he was brought four or five vials of open propofol at the end of the day and would throw them away.
"Standard of care says you never give (inject) anything that you didn't open and draw," Sagendorf said.
Sagendorf, who lost his Nevada license in 2008 when the clinics were closed, did believe the manner in which he was instructed to document anesthesia times was strange. In his three decades of practice, he said the billing time coincided with the length of the procedure or the time he was monitoring the patient.
He was told by fellow nurse anesthetist Keith Mathahs, who was initially indicted and agreed to cooperate with the government, that Desai wanted the anesthesia times to exceed 30 minutes.
Sagendorf knew that billing, which sometimes doubled the actual length of an exam, was to collect insurance money. Still, he obeyed the directive.
"I was caught between a rock and a hard place," Sagendorf said. "I had quit my job in California and got an apartment in Las Vegas. I needed to keep the job."