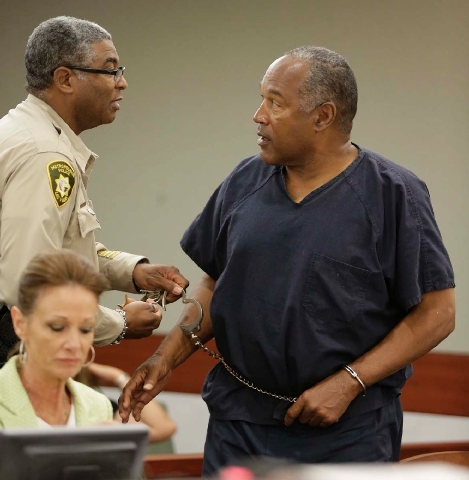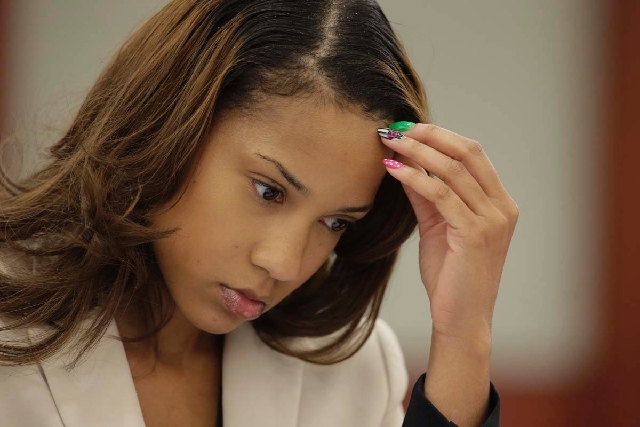 O.J. Simpson's bid for a new trial could hinge on the testimony of his former lawyer Yale Galanter.
The Miami-based defense attorney on Friday will testify for the prosecution and could undermine Simpson's claims that he misadvised, misled and lied to the notorious former actor and football great while representing him in his 2008 robbery case.
Simpson's new lawyers believe the evidence shows Galanter had a financial and legal conflict, causing him to ineffectively represent Simpson. Judge Linda Bell will be the ultimate arbiter.
Simpson, 65, is serving a nine- to 33-year prison term after his convicted for robbing two men of sports memorabilia on Sept. 13, 2007. He argued that he was simply recovering his own property, including family heirlooms and photographs, when he went to the Palace Station hotel room where he and associates, some with guns, confronted the memorabilia dealer.
Galanter won an acquittal for Simpson in a 2001 road rage incident in Florida, but following his 2008 conviction and rejected appeal, Simpson began to question Galanter's motivation.
Testimony has shown that Galanter pocketed about $500,000 from Simpson while representing him in the robbery case. The lawyer was supposed to use part of the money to provide for a proper defense, which included hiring investigators, experts.
Testimony has shown Galanter didn't hire experts or investigators or pay his co-counsel.
Simpson has also said Galanter never informed him about plea deals discussed with prosecutors, deals he said he would have considered.
Meanwhile, as the post-conviction relief hearing adjourned Thursday, prosecutors sought to call a surprise witness to rebut part of Simpson's testimony.
Simpson's attorneys objected to the new witness, saying lawyers on both sides of the case submitted their witness lists five days before the hearing began.
"We were never notified about any other witnesses," Simpson attorney Ozzie Fumo told the Review-Journal.
Prosecutors have not publicly identified the prospective witness, but Fumo said a woman contacted the Clark County district attorney's office after watching Simpson's testimony Wednesday, presumably on television.
"We feel like delay tactics are just meant to keep him in custody longer," Simpson attorney Patricia Palm said.
The Review-Journal learned late Thursday that the unidentified female witness would not be called to the stand.
During testimony earlier Thursday, Simpson's appeal lawyer, Malcolm LaVergne, confirmed part of Simpson's story that Galanter wanted to skip any review of his work during the trial by moving the appeal to federal court.
Simpson eventually cut Galanter off, though Galanter allegedly tried to squeeze extra money out of the case by telling Simpson's trust manager that the Heisman Trophy winner had authorized another payment.
LaVergne stopped the payment and Galanter quit the case.
When asked if Galanter had a conflict of interest, LaVergne responded, "From what I know now, absolutely there's no doubt about it."
Earlier Thursday, prosecutors called two witnesses.
California lawyer David Cook, who represents the family of the late Ronald Goldman, testified that most of the items in the robbery were given back to Simpson.
However, if the nine footballs were ever sold for more than about $6,075, any excess cash would go to satisfy a $33.5 million civil judgment against Simpson for the death of Goldman.
Simpson was found civilly liable in the 1995 stabbing deaths of his ex-wife, Nicole Brown Simpson, and Ronald Goldman, although he was acquitted of criminal charges in the so-called "trial of the century."
Prosecutors on Thursday also called forensic psychiatrist Gregory Brown, who testified that video of Simpson at the Palace Station didn't indicate he was severely drunk at the time of the robbery. Simpson appeared to walk with a normal gait and didn't stumble or trip.
Simpson's lawyers have said intoxication was a viable defense that wasn't used at the trial.
Contact reporter Francis McCabe at fmccabe@reviewjournal.com or 702-380-1039. Contact reporter Carri Geer Thevenot at cgeer@reviewjournal.com or 702-384-8710.