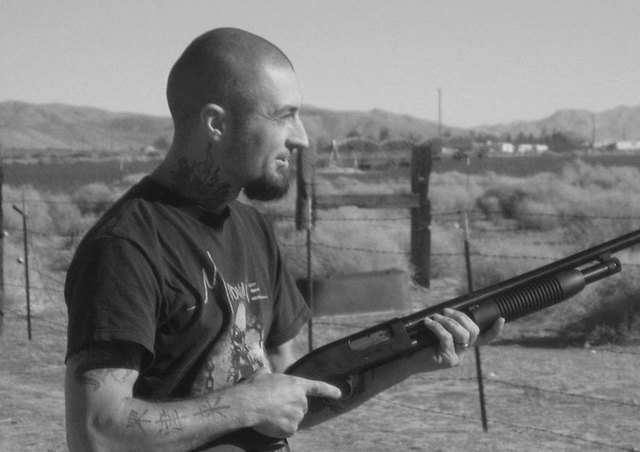 Henderson police released the names of the officers involved in a shootout Wednesday that left a Henderson man dead.
Officers Carlos Chorens, Timothy Donnelly, Troy McDermed and David Woolman all fired their weapons during the incident.
The Henderson man who shot at police, injuring officer Donnelly, was identified as Ryan Allen Marone, according to an official.
Marone was killed by officers' return fire. The Clark County coroner's office did not immediately confirm Marone's name.
Donnelly — who has been with Henderson police since 1994 — was treated at a hospital after being struck in the abdomen by shrapnel from bullet fragments and released.
Officers Chorens, McDermed and Woolman have each been with Henderson police since 2007, 2006 and 2002, respectively. They are currently on routine paid administrative leave.
Henderson police said the man shot at officers responding to reports of gunfire at 489 Flat Plains Ave., near Horizon Ridge Parkway and Gibson Road, about 4 a.m. Wednesday.
Marone's parents lived at the home. It's unclear if Marone, 37, also lived there. According to Facebook, Marone separated from his wife within the last year. He often posted pictures of his family, guns and barbecue.
His family did not immediately return messages. His wife hung up on a reporter.
Arriving officers Wednesday heard shots being fired inside the home, police said, and the front door was open. SWAT was called and neighbors were told to stay in their homes.
But before SWAT arrived, Marone left the home and fired at police. It's not clear what type of gun Marone used.
McDermed was involved in another incident in which police fired their weapons at someone.
On Nov. 6, 2010, McDermed and another officer were dispatched to a robbery at the Check 'n Go at 278 E. Lake Mead Parkway, and pulled over a Pontiac car believed to have been involved. The woman driver, Sabrina Andrews, got out of the car. Justin Mueller refused to come out of the car, and fired one round, shooting himself in the head. McDermed fired seven shots believing he and officer Jarrod DeAngelis were being fired upon. Evidence showed Mueller was the person who had robbed the store.
Wednesday's shooting comes on the heels of Sunday's ambush on Las Vegas police officers Alyn Beck, 41, and Igor Soldo, 31. The officers, along with bystander Joseph Wilcox, died before police shot and killed the shooters, Jerad and Amanda Miller.
Las Vegas police think the Millers acted alone and that Sunday's shooting was an isolated incident.
Contact reporter Mike Blasky at mblasky@reviewjournal.com. Follow @blasky on Twitter.
Contact reporter Annalise Porter at aporter@reviewjournal.com or 702-383-0391.
Related story
Henderson police officer wounded, suspect killed in morning shooting