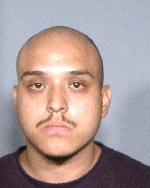 One man has been arrested and one victim identified in a deadly double shooting at a downtown apartment complex.
Anthony Lee Dickerson, 27, of Las Vegas died about 7 p.m. Monday when two armed men entered his home at the Sunflower Apartments complex, a mile east of the Fremont Street Experience.
Dickerson was shot and killed, as was an unidentified woman.
Police confirmed that Marco Guzman, 23, was arrested on a murder charge early Wednesday morning. A second man is being sought by police.
Homicide Lt. Lew Roberts said officers caught Guzman near 28th Street and Stewart Avenue. He was trying to leave the city, Roberts said.
Dickerson's sister-in-law, Alicia, said he was a married father of six children, their ages ranging from 10 to less than 1 year old. One of the children shared a birthday with her father, she said.
"She's really upset that Daddy and daughter won't have cakes together anymore on her birthday," Alicia said.
Alicia did not know the identify of the woman killed Monday but said it was not her sister. Family members think the woman was Dickerson's girlfriend, she said.
"That's one fact we're unsure of," said Alicia, who lives out of state and asked her last name not be used. "My sister had suspected that something may have been going on, but we weren't sure. "
Alicia said the suspect arrested was a longtime friend of Dickerson's and stole his truck after the shooting. She said the dispute was over money.
She said she her brother-in-law used drugs but was unsure whether that played a role in the slaying. Roberts confirmed that drugs were a motive in the shootings but did not provide further details.
Dickerson has a criminal history in Las Vegas that includes several arrests for burglary and possessing stolen goods.
Her sister now will raise six children alone, Alicia said, and she thinks the family will be leaving Las Vegas.