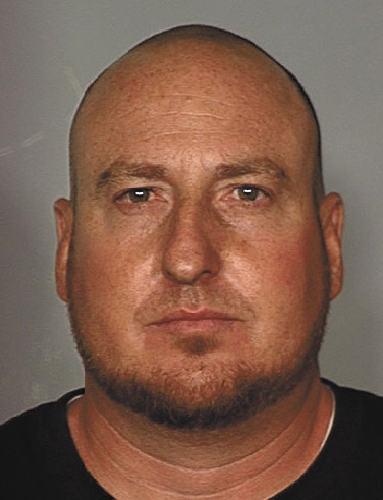 The owner of a suspected "clip joint" where a 25-year-old British tourist was stabbed earlier this week was arrested Thursday on fraud and racketeering charges.
Kenneth O. Stimpson, 33, was booked on four felony charges related to illegal business practices at the Red Devil Fitness Spa, at 3430 Polaris Ave., near Spring Mountain Road, jail records confirmed.
The business, at 3430 Polaris Ave., near Spring Mountain Road, bills itself as a provider of reflexology, where customers have their hands and feet rubbed.
But Las Vegas police said the spa's business practices had made it part of an ongoing racketeering investigation.
Clientele of clip joints generally are tourists who are impaired by alcohol, drugs or a combination of both, a Las Vegas police news release said. The locations usually are suggested by taxi drivers who tell tourists they can get sex for money.
The British tourist, who was stabbed in the head and abdomen, had been dropped off by a cab at the Red Devil spa early Sunday.
A suspect in the stabbing has not been arrested. The stabbing victim has not been charged with a crime.
Clip joint victims usually are charged a "one-time fee for membership" that generally starts at $200 per person, police said. They are falsely led to believe that prostitution will occur before being intimidated into leaving or forced off the property, police said.
Prostitution is illegal in Clark County.
Five women and one man affiliated with the spa have been arrested. All face charges of racketeering, obtaining money under false pretenses, multiple trans­actions involving fraud or deceit and conspiracy to commit racketeering.
Police arrested Brooke Dugan, 21; Hope Tello, 23; Lyeisha Godfrey, 19; Nicole Cramer, 34; James Watkins, 40; and Christine Hall, whose age was unavailable.
According to a police report, the British tourist became agitated after soliciting sex and receiving the "runaround" from employees. That's when he threw a water bottle at a woman. He was then attacked and stabbed multiple times by a security guard.
The report said taxi drivers are involved in the clip joint schemes, usually receiving kickbacks for dropping off tourists.
Clip joint victims usually are too em­barrassed to report their experiences to law enforcement, the report said.
Contact reporter Mike Blasky at mblasky@reviewjournal.com or 702-383-0283.