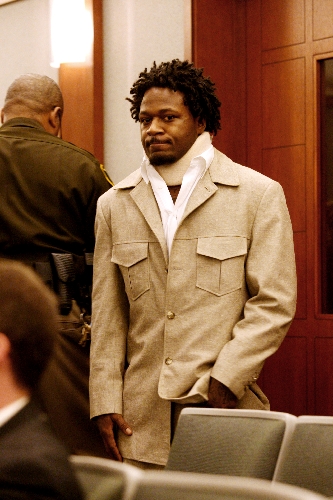 Pro football player Adam "Pacman" Jones was sentenced Thursday to a year of probation for his role in a February 2007 strip club melee that ended with three people being shot.
Jones, 27, pleaded no contest in December 2007 to conspiracy to commit disorderly conduct, a misdemeanor, after agreeing to testify against the shooter, Arvin Edwards.
Jones appeared in District Court and politely answered questions from Judge Douglas Herndon.
A 2005 first-round draft pick who plays cornerback for the Cincinnati Bengals, Jones will have to perform 200 hours of community service, take an anger management class and submit to random drug tests.
Jones, accompanied by defense attorney Robert Langford, wore a neck brace in court because of a neck injury he suffered during the NFL season against the Atlanta Falcons. Jones said later he had recent fusion surgery to correct the problem.
Afterward, Jones said he was glad to put the case behind him.
"This has been a long, long haul. This has affected a lot of families. (I'm) praying everyday for the people that was in this situation that got hurt and (I'm) trying to do what ever I have to do to never come back to nothing near this situation again."
He wouldn't comment on an ongoing civil case involving the victims of the strip club shooting.
Jones said he was engaged to be married in July.
"I'm doing the right things. I've got my life in order."
He said he has another month of recovery from his injury and plans on playing for the Bengals next season.
Authorities said the Minxx strip club fracas, which occurred during the NBA All-Star Weekend, was triggered by Jones.
Jones showered strippers with hundreds of dollar bills as they danced. The act, known as "making it rain," was intended as a visual effect. The fight erupted when strippers began grabbing the cash for themselves.
Jones and his entourage were kicked out of the club, and the shootings occurred minutes later.
Three people were wounded, including bouncer Tommy Urbanski, who was paralyzed from the waist down.
Authorities said Edwards later tried to extort money from Jones for "services rendered." But Jones said he never ordered the shooting and refused to pay.
In September, Edwards pleaded guilty via an Alford plea to one count of attempted murder with use of a deadly weapon.
The Alford plea means Edwards didn't admit guilt but acknowledged prosecutors could prove their case against him.
Edwards is set to be sentenced May 31.
Jones' other co-defendant, Robert "Big Rob" Reid, also pleaded no contest to conspiracy to commit disorderly conduct. He is set to be sentenced in June.
Jones was drafted by the Tennessee Titans in 2005. After multiple incidents involving law enforcement, including arrests in Las Vegas, Georgia and Tennessee, he was suspended for the 2007 season.
In 2008, after signing with the Dallas Cowboys, he was suspended for six games after a scuffle involving a team bodyguard.
Jones has avoided trouble since signing with the Bengals.
Contact reporter Francis McCabe at fmccabe@reviewjournal.com or 702-380-1039.
Pacman and the Minxx
News stories, videos and a timeline of events surrounding the 2007 shooting at the Minxx strip club