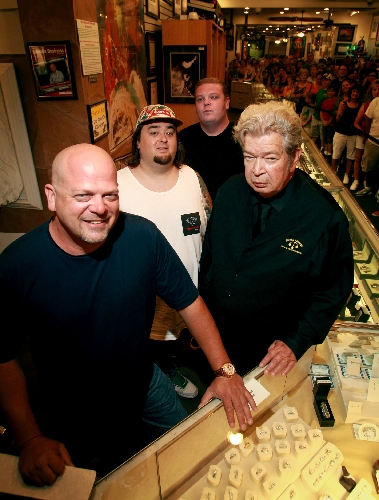 The owners of a business featured in the cable television show "Pawn Stars" and the network that handles the show are being sued in Nevada state court by a Las Vegas promoter who alleges he was wrongly fired in January and denied a share of profits.
Wayne Jefferies seeks unspecified monetary damages on allegations of breach of oral contract by Gold & Silver Pawn Shop Inc. and three generations of stars of the show: Richard Corey "Rick" Harrison; his son, Richard Kevin Harrison; Richard Benjamin "The Old Man" Harrison Jr.; and Austin "Chumlee" Russell.
Attorney Douglas Gerrard, representing Gold & Silver Pawn Shop, said Monday he hadn't seen the civil lawsuit filed Thursday in Clark County District Court in Las Vegas. He declined comment.
Network officials in New York didn't respond to several messages.
In the lawsuit, Jefferies' attorneys, Richard Schonfeld and David Chesnoff, say Jefferies was hired in 2007 as a consultant, manager and adviser to pitch the "Pawn Stars" concept to networks.
The first episode aired in July 2009 on the History Channel and has become a top-rated reality series.
The lawsuit alleges that Jefferies negotiated oral contracts in May 2009 to represent the three Harrisons and in June 2009 to represent Russell.
Jefferies accuses the pawnshop stars and network officials of improperly firing him in January and failing to pay promised fees and shares of merchandising deals.