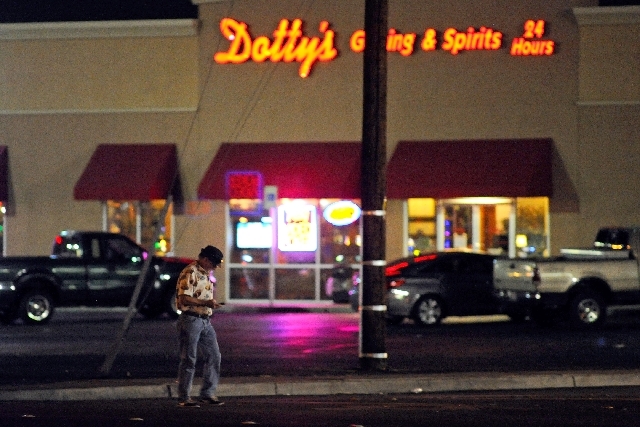 Swarms of pedestrians traverse the sidewalks and streets of Las Vegas every year.
And each year, dozens of pedestrians are killed in crashes.
For years, the public has had it drilled into them that drivers should constantly be on the lookout for pedestrians. But is it really all up to the driver?
"It goes both ways," said Las Vegas police spokeswoman Laura Meltzer on Thursday.
Of the 29 pedestrians killed this year as of Aug. 4 within the jurisdiction of the Metropolitan Police Department, pedestrian error was the leading cause 83 percent of the time.
"It's definitely an issue," Meltzer said. "Pedestrian fatalities caused by pedestrian error has been on the rise since 2011."
The annual national average for pedestrian deaths in cities is 20, according to U.S. Department of Transportation data.
In 2012, 40 pedestrians were killed in the Metropolitan Police Department's jurisdiction, compared to 23 fatalities in 2011.
But even with double the national average of pedestrian deaths, Las Vegas did not qualify as one of the U.S. Department of Transportation's "Focus Cities" and isn't eligible for any of the $2 million in federal grants available to the designated communities.
The grants fund research and engineering development plans to reduce pedestrian fatalities.
Pedestrian awareness has been a growing problem along with poor judgment, Meltzer said, noting that the top pedestrian error is crossing a road outside a marked crosswalk.
"But just because you're in a crosswalk doesn't mean someone is always going to see you," said Meltzer, referring to the age-old rule of looking both ways before crossing, even in a marked crosswalk.
According to data released recently by the National Highway Traffic Safety Administration, pedestrian intoxication is also a growing factor in pedestrian fatalities.
According to the report, 35 percent of the 4,432 pedestrians killed in the United States in 2011 had a blood alcohol level above the .08 legal limit for driving.
Jonathan Adkins, spokesman for the Governors Highway Safety Administration in Washington, D.C., which represents state highway offices, said anti-drunk driving campaigns may be encouraging people to walk home after a night of drinking.
"What it (the data) says to us is that nationally we've done a good job of educating people about the dangers of drunk driving, but we haven't done such a good job of reminding them that other drunk behavior, including walking, can be just as dangerous," Adkins said.
Alcohol can impair pedestrians' judgment and lead them to make bad decisions, like crossing a road in the wrong place, crossing it against the light, or "trying to beat a bus that's coming," he said.
The Strip, known for it's hordes of pedestrians and abundant number of drinking establishments, is considered by many to be surprisingly safe.
Thanks goes to several measures already in place to separate pedestrians from vehicles, including several fences and eight massive bridges that elevate people above the heavy flow of traffic on and near Las Vegas Boulevard.
"The pedestrian bridges are definitely a big factor in that," said Clark County spokesman Dan Kulin of pedestrian safety along the Strip.
Both national and local transportation representatives agree that more needs to be done to raise pedestrian and driver awareness.
"We really feel that it's the responsibility of everyone on the road to be safe," said Nevada Department of Transportation spokeswoman Meg Ragonese.
According to Adkins, "We've done a good job alerting people to the dangers of being a distracted driver, but we haven't done a good job of alerting people to the dangers of being a distracted pedestrian."
The Associated Press contributed to this report. Contact reporter Colton Lochhead at clochhead@review journal.com or 702-383-4638. Follow him on Twitter @clochhead44.