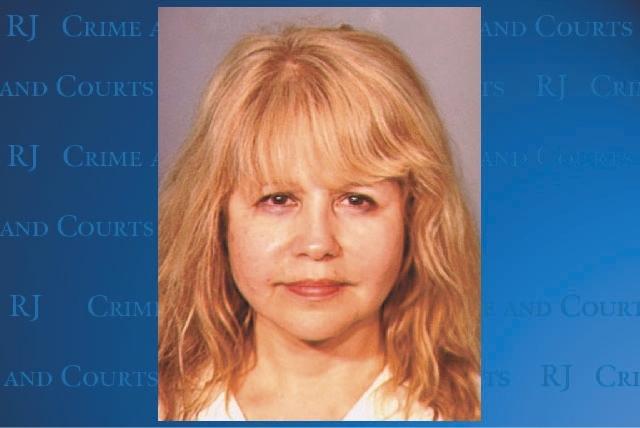 Former Broadway star Pia Zadora was arrested Saturday on charges she scratched and choked her autistic son, but the hours-long SWAT standoff that stemmed from the call was initiated by her husband, an off-duty Las Vegas police officer.
According to his wife's arrest report, officer Michael Jeffries refused to come to the door when patrol officers from his department arrived about 4 a.m. at his home to investigate a domestic dispute.
When officers opened an unlocked door and shouted for the occupants to come outside, an unknown man hiding out of view said, "What are you doing in my house?" the report said.
The officer, who knew it was Jeffries' home, shouted again for the family to come outside to speak to police. The man replied, "Why don't you (expletive) come back here and get me?" the report said.
The officers left the home in the 60 block of Hawkridge Drive in Summerlin and waited for SWAT officers.
Zadora, 61, and her 16-year-old son, Jordan, came outside later that morning and detectives began their interviews about 9 a.m. Jordan is Zadora's son from a prior relationship.
Jeffries' biological son, Mike Jeffries Jr., 32, was also home. Neither Jeffries nor his son spoke with police or were arrested. It's unclear which of them shouted at police.
Jordan, 16, told detectives the family gathered outside about 11 p.m. Friday as the adults drank alcohol.
Jordan, who suffers from the social development disorder autism, argued with his mother after she told him to go to bed, he told police.
The argument escalated, and Zadora began spraying the family with a hose, the report said. Jordan told detectives she scratched her husband and stepson's faces when they tried to calm her down.
About four hours later, Jordan called 911. He told police Zadora grabbed his eyes and face, scratched his ear and briefly choked him as they wrestled for the phone.
Jordan said when police arrived the family hid in the downstairs theater room and planned their next move. Jordan said he was first restrained from going outside by Jeffries, his stepfather, then also by his mother and stepbrother.
At one point, Jeffries fought with his own son. Jeffries Jr. slammed his dad's hand against the wall, possibly breaking fingers, Jordan told police.
The teen also said he refused when promised money to make up a story. He said Jeffries told them "if the police force their way in, we will get rich," the report said.
In her interview with detectives, Zadora said Jordan called 911 only because he didn't want to go to bed. She didn't go outside when police first arrived because her husband "said he would take care of it," the report said.
Zadora said she was asleep during most of the standoff and went outside after she awoke to "firecrackers" and noticed the electricity was off. SWAT officers were using flashbang grenades.
Police spokesman officer Lawrence Hadfield said officers at the scene decided not to arrest Jeffries. He did not give a reason.
"If there's any internal review into this, it is not made public," Hadfield said.
Internal affairs detectives were at the scene and opened an investigation, one officer said.
Police left without speaking to Jeffries because, after Zadora and his stepson came outside, the officers determined no one inside the house was endangered.
The likely charge against Jeffries would have been a misdemeanor for obstructing justice, but police didn't want to escalate the situation for a minor offense.
If Jeffries had been accused of a felony, SWAT would have stayed, the officer said.
"All we had was a weak misdemeanor obstruction charge, or maybe a weak coercion charge. It wasn't kidnapping or a hostage situation, and he didn't touch his wife or kid," said one officer with knowledge of the situation who wasn't authorized to speak on the case. "The risk outweighed the reward."
Jeffries will be likely be suspended when he returns to work pending the internal investigation, and a police are investigating him for possible criminal charges. His wife has not yet been formally charged by prosecutors.
The report also had no statement from Jeffries' son, who is already facing very serious charges.
Michael Jeffries Jr. was charged with murder in 2011 after he shot his best friend, Eric Allen Gore, just after midnight Oct. 23, 2011.
Jeffries Jr. called 911 after the shooting at his home on Don Horton Avenue. According to his arrest report, investigators saw a .45-caliber handgun on a kitchen counter and heard Jeffries say: "I just shot my friend. I just shot my (expletive) friend."
The two had been arguing during a party, the report said.
Jeffries Jr.'s murder trial is set for Nov. 4. He posted bond and was released from the Clark County jail on Oct. 17.
Both Zadora and her publicist declined to comment on the incident when reached by phone Sunday.
Zadora was in the original 1964 Broadway production of "Fiddler on the Roof," in which she portrayed Bielke. She gained national attention in 1981 when she won a Golden Globe Award as "New Star of the Year" for "Butterfly."
She performed last July at Cabaret Jazz at The Smith Center for the Performing Arts.
Contact reporter Mike Blasky at mblasky@reviewjournal.com or 702-383-0283. Follow @blasky on Twitter.