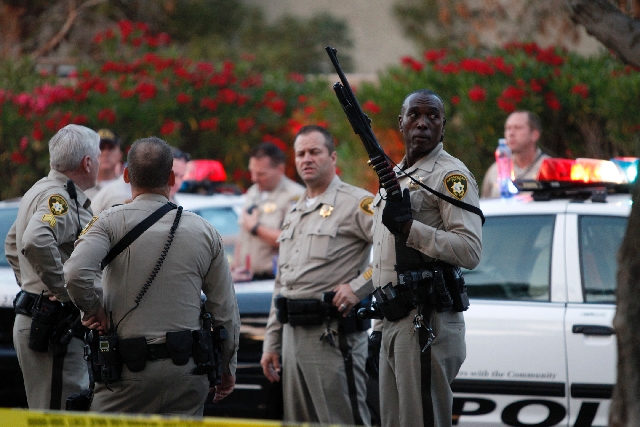 One person is in custody after a double-shooting led to a four-hour standoff in northwest Las Vegas apartment complex Wednesday night.
The suspect barricaded himself inside an apartment unit, along with three small children, after Las Vegas police allege he shot two people at the Cornerstone Crossings apartments near Rainbow Boulevard and Washington Avenue about 6:30 p.m.
SWAT personnel entered the residence about 10:30 p.m. and apprehended the suspect without incident, police said. The three children were returned safe to their family, Lt. John Pelletier said.
The two shooting victims suffered non-life threatening injuries and were transported to a local hospital, police said.
According to witnesses, five or six shots were heard. A male was struck in the leg and a female was hit in the arm.
"He was standing out here with his pants down and his boxers all bloody," said Yvette Castillo, an apartment resident, of one of the victims. "All the meat from the back of his leg was missing."
A second suspect fled the area and may be armed, police said.
"We have no idea what prompted this," said Pelletier.
Police comments and witness statements indicate that the shooting may have been gang related.
After the suspect took cover in the apartment, police cleared out several residents from the complex, called in SWAT, and shut down Washington Avenue near Rainbow Boulevard in both directions.
After hours of communicating with the suspect via bullhorn, SWAT units entered the apartment and arrested the suspect, Las Vegas police said.
The residents who were displaced due to the barricade were transported via CAT bus to Garside Middle School where food and water were provided for the duration of the standoff.