Police disclose arrest of Five Finger Death Punch singer at Vegas hotel
August 12, 2015 - 6:48 pm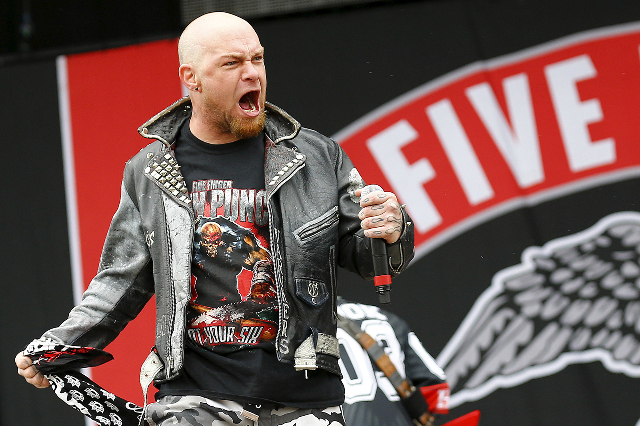 Ivan Lewis Greening, the singer of heavy metal band Five Finger Death Punch, was arrested in April at a Las Vegas hotel on charges of domestic battery by strangulation, according to Las Vegas police.
Greening, who also goes by Ivan L. Moody, was arrested after police were called about 4:15 a.m. April 21 to the Hilton Garden Inn, 7830 S. Las Vegas Blvd. on reports of domestic abuse.
According to Greening's arrest report, his on-and-off girlfriend of 17 years told staff at the hotel's front desk to call police because she had been battered by her boyfriend. The two have a 17-year-old daughter.
Holly Smith told Metro officers she woke about 4 a.m. April 21 when Greening punched her in the face. Greening, who was enraged and intoxicated, was straddling Smith, she told police in the report.
Greening shoved blankets into Smith's mouth and said, "I'm going to f—— kill you!," his arrest report said. Smith said she fought Greening off of her and ran to the hotel's lobby.
When police arrived at the hotel they found Smith in the lobby with a swollen lip crusted with blood and a bleeding cut to the roof of her mouth. They also found scratches at the back of her throat from the blanket being shoved into her mouth, the arrest report said.
Officers went to Greening's hotel room but couldn't get his side of the story because of his "intoxication level," the arrest report said. Greening was disoriented and confused and told police the argument with Smith had started over his buying a comic book.
Greening was arrested and booked into the Clark County Detention Center about 5:30 a.m. on a charge of domestic battery by strangulation.
The singer posted $15,000 bail the night of his arrest, according to Las Vegas Justice Court records. The domestic battery case was dismissed July 14, the records show.
Contact Kimber Laux at klaux@reviewjournal.com or 702-383-0381. Find her on Twitter: @lauxkimber