Police identify mom arrested in child hostage incident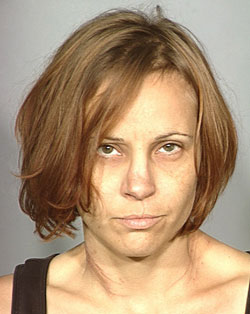 Las Vegas police said Sunday they are recommending five charges be filed against a woman who threatened to kill herself and her 1-year-old son.
They identified the woman as Kimberly Kardell, 34, of Las Vegas.
She was arrested about 11 a.m. after a four-hour standoff with police at a Budget Suites in the 2200 block of North Rancho Drive on Saturday.
Police received a call shortly after 7 a.m. from a woman who said she planned to kill her child and commit suicide. After arriving at the hotel, officers looking through a window saw Kardell holding her son along with a knife. Police negotiators talked with Kardell by phone before officers knocked down the hotel unit's door.
Kardell was arrested on charges of assault with a deadly weapon, child abuse with a deadly weapon, allowing a child to be near controlled substances and resisting a police officer. Because she held her son hostage, she was also charged with first-degree kidnapping. She will be undergo a mental evaluation, according to police.
Police said Kardell's son has been placed with Child Protective Services. An investigation into the incident is ongoing.
Contact reporter Ben Frederickson at bfrederickson@reviewjournal.com or 702-224-5512.