Police: Mother deprived daughter, 4, of food, water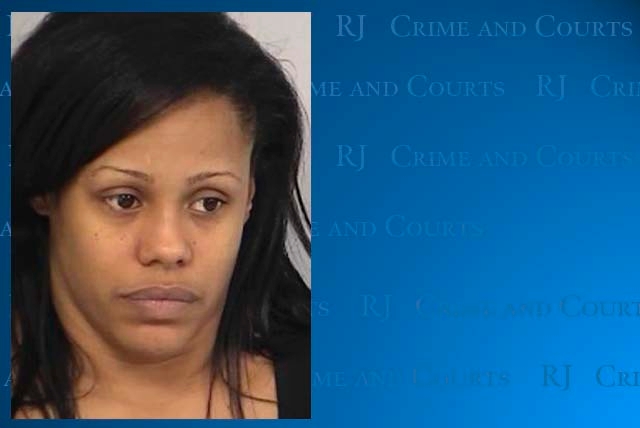 A 36-year-old woman arrested Tuesday night is accused of repeatedly locking her 4-year-old daughter in a bedroom and depriving her of food, water and a bathroom, North Las Vegas police said Wednesday.
Laketha Moore was booked into the Las Vegas jail on 31 counts of felony child abuse. Her bail was $620,000, according to police spokeswoman Chrissie Coon.
She said the case includes some of the worst instances of child abuse she can recall.
Police suspect Moore locked her daughter inside a bedroom for up to 10 to 12 hours a day, five to seven days a week. The abuse may have begun Feb. 5, police said.
"We charged her with 31 counts of child abuse," Coon said. "That barely scratches the surface of what she could be charged with."
Police said officers responded at 1:45 p.m. Tuesday to an apartment in the 1200 block of West Cheyenne Avenue, near Martin Luther King Boulevard.
When police found the girl, she had injuries to her neck, torso and legs.
Her injuries were not life-threatening, and she was treated at University Medical Center, police said.
The child was tied to a bed at her ankle and locked in a bedroom, and she was left little to eat or drink, police said. The bedroom did not have access to a bathroom, police said.
The girl was physically abused with a belt, police said. No one other than Moore and her daughter lived at the apartment.
The girl was initially found alone inside the locked bedroom by apartment personnel. Coon would not disclose why they were in Moore's apartment.
The investigation in the case is ongoing. Moore could face additional charges related to suspected emotional abuse of her daughter, Coon said.
Kristi Jourdan, a spokeswoman for Clark County Family Services, said late Wednesday afternoon that Moore's daughter is in the custody of her agency.
The agency generally attempts to place children in the care of relatives if those relatives pass a background check and the home passes a safety inspection, Jourdan said.
She said state law bars her from disclosing whether Moore has a history with her agency because the police allegations did not involve death or near death.
Moore did not have any convictions within Clark County, according to the District Court website.
The accusations against Moore are not the first in recent history against adults accused of abusing children by restraining them.
On June 10, 2009, Jonathan Weaver was arrested on attempted murder charges after Las Vegas police found his girlfriend's 1- and 2-year-old boys tied up in their car seats in an apartment complex garage.
A neighbor alerted police after hearing the children crying. Police found the boys hooded, bound and restrained in their car seats. Weaver was not the boys' father.
In May 2011, Weaver, then 22, was sentenced to two to six years in prison on two counts of child abuse with use of a deadly weapon. A judge gave Weaver credit for 713 days already served. At the time of his sentencing, Weaver was only 16 days short of being eligible for parole.
In February 2009, Robert Blue, then 53, pleaded guilty to a felony charge of child abuse and neglect.
Blue was accused of repeatedly chaining his 15-year-old daughter to her bed and withholding food and beating her. He was also accused of abusing his 14-year-old son.
When confronted by Las Vegas police, Blue admitted that he had chained his older daughter to the bed "to keep her out of the kitchen and from overeating," a police report said.
In April 2009, Blue was sentenced to 15 years in prison with parole eligibility after five years.
Contact reporter Antonio Planas at aplanas@review journal.com or 702-383-4638.