Police: Officer kills wife, son, himself in Boulder City
January 21, 2013 - 10:38 am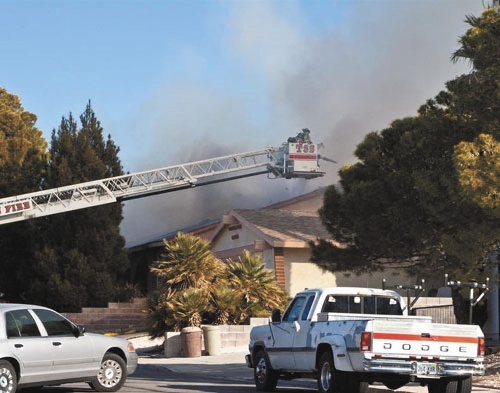 Nothing seemed unusual with Lt. Hans Walters on Saturday night.
"He didn't seem out of the ordinary at all," said one Las Vegas police officer, who asked to be anonymous. "Cops are pretty intuitive. They can tell when something's wrong with someone.
"He seemed totally fine."
But two days later, something clearly changed.
Authorities said Walters killed his family, set his Boulder City home ablaze and then killed himself Monday morning.
"You just wonder how and why this could happen," the officer said.
Sheriff Doug Gillespie acknowledged "it's human nature" to speculate but asked the public to reserve judgment.
"I urge you to wait and allow the facts to come forward first," Gillespie said at a brief, morose news conference Monday afternoon.
Boulder City police responded to a call at 8:20 a.m. Monday from a 52-year-old man at 1313 Esther Drive who said he had killed his wife and son and was setting his house on fire. The man also threatened to harm responding officers, Henderson police spokesman Keith Paul said. Henderson police are handling the investigation for the Boulder City department, which lacks resources for such major investigations.
Paul would not confirm that Walters was the man who called police but said the caller was an "off-duty Las Vegas police officer."
The home is owned by Walters and his wife, Kathryn Michelle Walters, 46.
Gillespie confirmed that the incident involved a Las Vegas police lieutenant with more than 20 years of experience. Hans Walters, 52, was hired in 1991.
When officers responded, the man was outside the house carrying what appeared to be a handgun. He ignored officers' commands and returned to the burning house, where he apparently killed himself.
Clark County Coroner Mike Murphy confirmed that three bodies were found in the house but did not release the names of the dead.
Walters supervised patrols in the department's Enterprise Area Command, which serves the southwest valley.
Kathryn Walters also was a Las Vegas police officer. She received a community service award in 1999 and a lifesaving award in 2004. She left the department in 2005.
At the news conference, Gillespie deferred to the Henderson police investigation and refused to take questions out of respect for the victims' families.
"We will stand by your side and move through this unspeakable grief and support you any way we can," he said in remarks intended for the families.
The murder-suicide sent shock waves through the Metropolitan Police Department on Monday morning as rumors began swirling.
"Terrible," one veteran supervisor said.
"I can't think of a reason for this, where something can get so bad that you'd do this," another officer said.
The incident also rattled Boulder City.
A neighbor who asked not to be identified said, "It's horrific. It's hard to understand what would drive someone to do something like that."
Authorities took down crime tape blocking off Esther Drive shortly after
5 p.m. The smell of smoke lingered on the block of ranch-style homes.
Neighbor after neighbor told the same story: Gunshots weren't heard; the family was reclusive, so much so that several neighbors didn't know a child lived in the house.
Some neighbors said Hans Walters would give them the occasional hello as he went to his mailbox.
"He was normal. He was nice," said Alyssa Gossard, 21. "He would wave to us every now and then."
Much of the roof of the family's house caved in because of the blaze, and the portion of the roof above the garage collapsed. A charred sport utility vehicle sat inside the garage.
Three women, who declined to comment or give their names, placed a vase with yellow and white flowers on the sidewalk in front of the Walters' home. They also placed a red stuffed animal next to the vase.
They said a prayer for the family. "Please let (Kathryn) Michelle hold onto Max in their next journey," a woman said.
Patrick Brewer was getting coffee about 8:45 a.m. when he looked outside and noticed smoke coming from his neighbor's house.
He was startled when he saw that first responders were not firefighters but Boulder City police officers carrying rifles and moving with caution.
SWAT units with Henderson and North Las Vegas police also responded to the burning house.
One neighbor said he heard an officer yell to "put your gun down" two or three times.
Brewer, 44, said he moved his family to the bedroom.
Firefighters arrived soon after the officers and began dousing the flames, even as the officers continued to circle the house with guns drawn.
"The house was definitely not secure, let's put it that way," he said. "I realized I was looking at something that was definitely not normal."
Brewer said he heard a person yell, "I did not do this," as authorities circled the house, but he wasn't sure who spoke.
Karlee Kovacevich, 18, lives four houses away. She said that shortly after 9 a.m. she saw flames 15 feet high shooting from her neighbor's roof. The house was surrounded by police and firefighters.
She said she later saw what appeared to be the body of a child under a white sheet beneath a canopy set up in the street.
In the five years Brewer lived next to the family, he never had a real conversation with them.
He didn't know Walters was a police lieutenant. He also never saw children around the house.
"If I saw him in person, I could say, 'Yeah, that's my neighbor,' but I couldn't even describe him to you right now," Brewer said. "It's a pretty friendly, warm neighborhood, but I've never spoken to him."
David Gossard, Alyssa's father, said that after an officer told him a neighbor might be armed and suicidal, he called his family, prompting some of them to run out of their house without shoes.
Gossard said that despite the tragedy, life goes on. He said Boulder City is no different than anywhere else because murder-suicides happen everywhere.
"You just never know when people are going to snap," Gossard said.
Boulder City Review editor Arnold M. Knightly and Review-Journal staff writer Brian Haynes contributed to this report.
Contact reporter Mike Blasky at mblasky@reviewjournal.com or 702-383-0283.