Police officer son testifies at trial of mother charged with attempted murder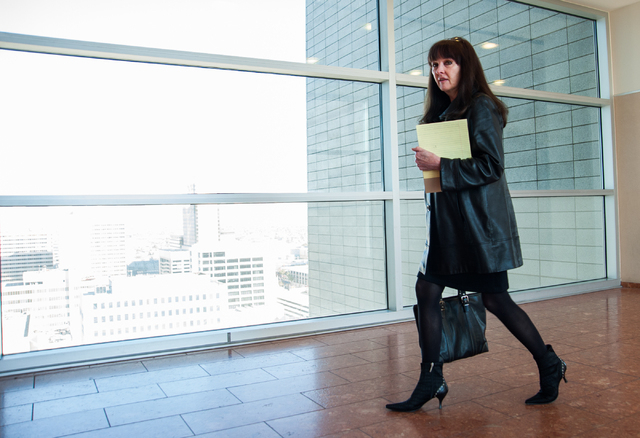 Linda Cooney was asleep on the couch in the cluttered living room of her family's Summerlin home when her 6-foot- 9-inch son, Kevin Cooney, began to pummel her, a jury learned Thursday.
The testimony came from Linda Cooney's other son, Las Vegas police officer Christopher Cooney. He told the jury that over time his mother revealed what happened early June 28, 2011, when his brother was shot and paralyzed. Linda Cooney is standing trial on attempted murder charges.
Christopher Cooney told the jury: Linda Cooney awoke with Kevin Cooney on top of her. They had been feuding over Kevin Cooney's then-girlfriend. A struggle ensued, and Linda Cooney reached for a .357-caliber handgun that was kept near the couch for protection against robbers.
She grabbed for the gun because she thought Kevin Cooney was going for it. As the struggle continued, Linda Cooney made her way around Kevin Cooney, cradled the gun in her arms and tried to get away.
Kevin Cooney, a former nightclub bouncer and doorman, grabbed for his mother as she fled.
He then grabbed for the gun and "bang," Christopher Cooney said.
The officer added that his mother told him she never pointed the gun at Kevin Cooney and never pulled the trigger.
Defense lawyer Michael Becker did not cross examine Christopher Cooney following two days of testimony by the officer under questioning by prosecutors, which was often contentious and sometimes emotional.
Becker said he was satisfied that Christopher Cooney had given a "thorough, honest and sincere account of what happened that morning. I would have motioned to dismiss the case at that point if I could."
Linda Cooney, 66, faces four counts, including attempted murder, battery with use of a deadly weapon and intimidating a witness. She also is charged with stalking Kevin Cooney's ex-girlfriend, Karina Taylor. If convicted of all counts she faces 3- to 65-years in prison.
Prosecutors say that before the shooting Linda Cooney was trying to sabotage her son's relationship by sending text messages to an employer saying his girlfriend was "an evil whore." She had sabotaged her son's previous relationships before, they say.
Prosecutors say Linda Cooney shot Kevin Cooney with the same handgun she used to shoot and kill her ex-husband and his father, James Cooney, more than two decades ago in Florida. A Florida jury acquitted Linda Cooney of murder charges after they found she had shot her husband in self-defense in 1992. Linda Cooney said she shot James Cooney after he attacked her with a kitchen knife in her home.
As an 11-year-old, Kevin Cooney testified on his mother's behalf at the murder trial.
Kevin Cooney, who following the shooting was diagnosed as an incomplete quadriplegic, meaning he has some movement in his arms and legs, has not cooperated with authorities.