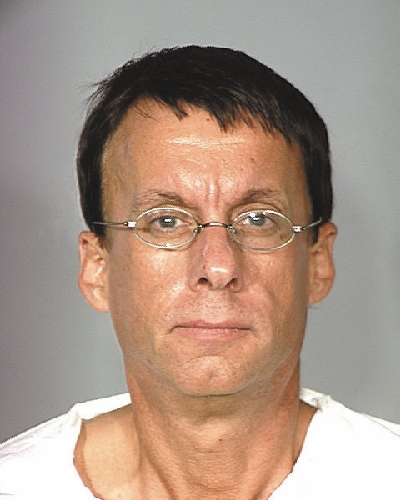 Tracy Kauffman walked into a bar early Monday morning, greeted his ex-boyfriend for the last time and then started firing.
He kept firing as Phil Wells, a 29-year-old bartender, fled into the storeroom.
He kept firing even as Wells, already wounded, collapsed to the floor.
Kauffman only stopped firing when his .40-caliber Glock handgun ran out of ammunition — and then he reloaded and started again, striking Wells at least 15 more times in the back and head.
The gory crime of passion was detailed in the Las Vegas police report on Kauffman's arrest released by authorities Tuesday.
Kauffman, 50, told detectives he flew to Las Vegas from his hometown of Knoxville, Tenn., about a week earlier in search of Wells, who he believed had "taken advantage of him," the report said.
The couple had dated in Knoxville, where Wells had tended bar for nearly a decade before moving to Las Vegas late last year, friends told the Review-Journal at a vigil Monday.
It's unclear from the report whether Kauffman sought reconciliation or revenge, but he told detectives he brought the gun on an airplane in his checked luggage to "scare" Wells.
Kauffman told police he drove his rented Toyota Corolla to The Garage, a gay bar on Flamingo Road near Maryland Parkway, about 4 a.m. Monday.
About 5:30 a.m., Kauffman entered the bar and pulled the handgun on Wells, who was working the graveyard shift, and two customers fled the bar as he began shooting, the report said.
Kauffman told police he returned to his room at the Motel 6 at 195 Tropicana Ave., where he showered and threw his gun and clothes into a trash bin.
He watched a garbage truck collect the trash, and then he went to McCarran International Airport to return to Tennessee, the report said.
Police arrested Kauffman at the airport.
He was booked at the county jail on charges of murder with a deadly weapon and burglary with a deadly weapon. His first court appearance will be this morning.
About 150 customers, friends and family of Wells gathered outside The Garage on Monday.
"He always just listened to our problems and helped us with ours," said Brandon Busche, a 29-year-old regular customer and friend. "He'd give the shirt off his back. He would pull money from his tips to buy me a drink."
"It's the bartender's job to make you feel like you're the only one in the world," said Ron Holsey, 46, another regular. "He did that. He was an exceptional bartender."
Contact reporter Mike Blasky at mblasky@reviewjournal.com or 702-383-0283.