Police union lawyer says Nye County assistant sheriff's arrest wasn't such a tense standoff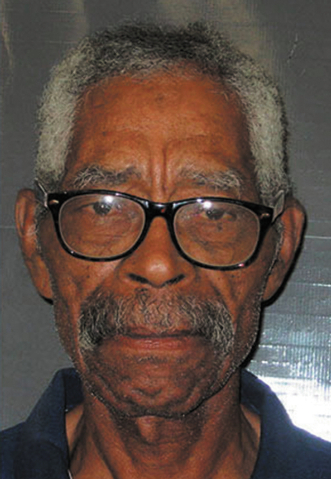 PAHRUMP — A lawyer for a Nye County police union said Thursday that cell phone video from the arrest of the sheriff's second in command by his underlings shows the confrontation was much less tense than previously described.
Assistant Sheriff Rick Marshall and long-time sheriff's volunteer Ben Gulley are accused of stealing and destroying 40 to 50 political signs paid for by a group trying to stop Marshall's election as sheriff.
Six deputies showed up, and at least one drew a gun, at Marshall and Gulley's April 22 arrest on misdemeanor charges including possession of stolen property.
But if those moments were strained, the lawyer for the Nye County Law Enforcement Association said, it doesn't look that way in video he made public Thursday. Deputies stopped Marshall and Gulley while they drove a truck pulling a trailer hauling Marshall's campaign signs. The 76-year-old Gulley, who has volunteered for the sheriff for more than a decade, said he was terrified.
"Contrary to the claims that the occupants were in fear for their lives, or thought they were going to be shot, you will see Mr. Gulley relaxing, almost lounging against the back of the pickup truck talking to the deputies," union attorney Adam Levine said at a news conference. "You'll also see a very relaxed atmosphere while the deputies were questioning Mr. Gulley and the assistant sheriff before making their determination that they did in fact have probable cause to arrest."
Levine said he and his clients hoped releasing the video and clarifying details of the arrest would restore faith in the sheriff's deputies involved in the arrests.
The video was captured by Steven Lee, president of Citizens to Elect an Ethical Nye County Sheriff, who is behind the "Anybody but Rick" signs Marshall and Gulley are accused of stealing. Levine said the video also shows Marshall bending down and looking both ways before picking up one of Lee's signs and tossing it to the ground.
Marshall also faces a count of resisting arrest. The video was shot from an angle that obscured his being taken into custody, Levine said.
When asked why portions of last week's incident were not called out over the radio, but instead handled by cellphone, Levine replied those involved may not have wanted the assistant sheriff to hear everything they were doing over the radio system.
Sheriff Tony DeMeo was on vacation on the Mediterranean island of Malta at the time of the arrests. DeMeo said Wednesday that his office had surveillance footage that showed Det. David Boruchowitz, who was involved in Marshall and Gulley's arrests and is president of the law enforcement union, meeting with Lee at a store prior to their being taken into custody.
The sheriff declined further comment Thursday.
Levine said Thursday that he saw nothing wrong with a detective meeting with the victim of a crime as part of his investigation.
Although Levine acknowledged some people have questioned the number of deputies who responded to Marshall and Gulley's traffic stop, the attorney said they were simply responding to a fellow officer's call for backup to a crime in progress. Levine also said they wanted to have one or more vehicles at the scene equipped with dashboard cameras to videotape the investigation in case parts of it were questioned.
"Things might have gone differently if they had acknowledged the fact that they had stolen the signs. Maybe they would have gotten a citation. They do not appear to have been honest with the deputies," Levine said.
Both Marshall and Boruchowitz were put on leave after the arrest but have since returned to work.
Marshall's attorney, Josh Tomsheck, said Thursday he had not seen video linked to the case. But Tomsheck said it's clear there is a "personal vendetta" against his client.
"You have to look no further than the fact he (Lee) started a political action committee and put up signs all over the valley against my client," Tomsheck said. "But what concerns me is that it's pretty apparent that members of the sheriff's department are taking a directive from a member of the community who has a personal vendetta."