Preliminary hearing resumes in Alpine Motel fire case
Updated February 21, 2023 - 1:22 pm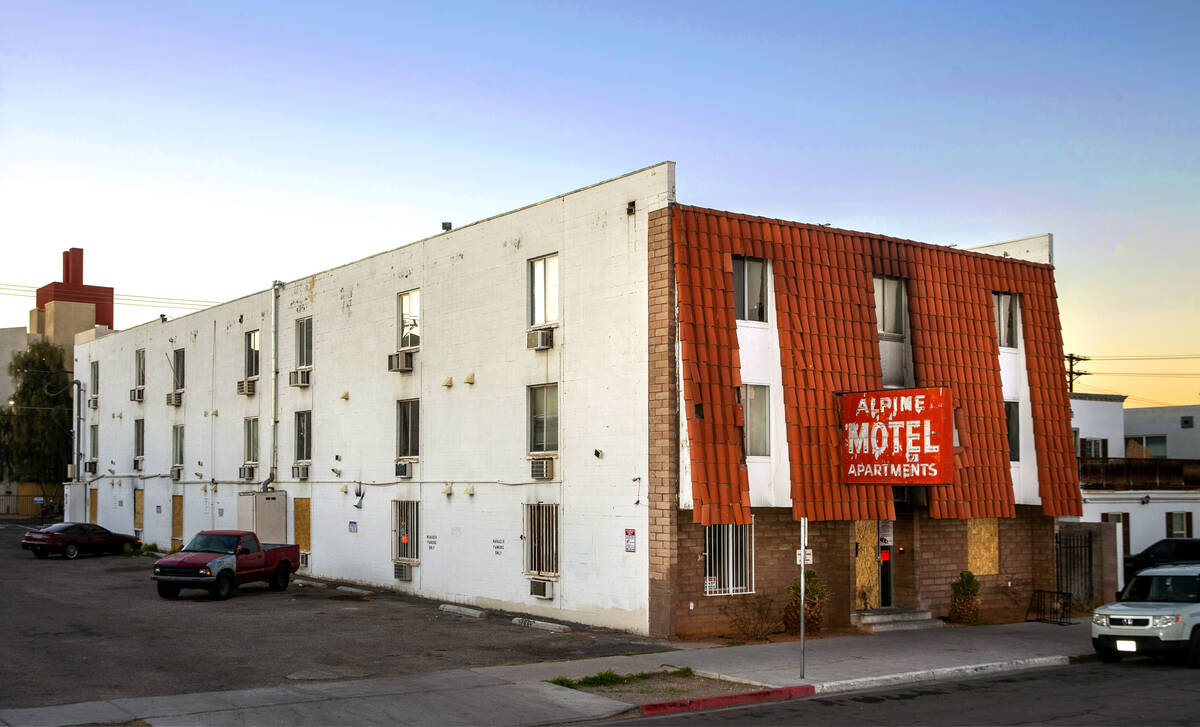 After stalled proceedings over more than two years, a preliminary hearing resumed Tuesday in the manslaughter case against the owner of the former Alpine Motel Apartments.
The case resumed with testimony from Don Dibble, an investigator working for Alpine owner Adolfo Orozco's defense team, who refused to testify in 2020. Court filings over Dibble being held in contempt of court ground the case to a halt until the Supreme Court upheld the decision in December.
Orozco, who owned the building at the time of the fire, and Malinda Mier, the complex's manager, were charged in connection with the blaze that occurred on Dec. 21, 2019. It left six dead, 13 injured and nearly 50 people without shelter.
City inspectors reported that when the fire started, the building's rear door was locked, its fire alarms did not work, and it had no functioning sprinkler system. The complex had not had a fire inspection for nearly three years, and officials later found more than 40 fire code violations in the building, which was constructed in 1972.
Prosecutors called dozens of witnesses in 2020, including fire inspectors and residents of the apartment building who detailed their encounters with Orozco and Mier.
Locked door issue
Dibble, the state's last witness, testified for an hour and a half on Tuesday about an interview he conducted with Mier in June 2020. Prosecutors have written in court documents that during the interview, Mier "essentially confessed to her involvement in the crimes charged."
Much of the testimony centered on what Dibble said Mier told him about the locked door that prevented at least one resident from escaping the deadly blaze. Mier said that Jason Casteel, the complex's live-in manager, told her that the door needed fixing and that he was going to get the supplies at Home Depot, but Mier told him that she could find the materials for cheaper, according to Dibble's testimony.
Dibble testified that Mier told him she took a trip to Louisiana after her conversation with Casteel, during which she forgot about the door.
"She said that she had never discussed it with Orozco," he testified.
Casteel has previously testified that he told Orozco about the door but that he needed approval from the owner to buy anything and did not have the authority to make purchases for the company.
'I was skeptical'
Dibble also testified that he had concerns during the interview if all of Mier's statements were accurate.
"I don't think she was lying," he testified. "I think, for one reason or another, she got some things wrong and I wasn't sure what to do with it. I was skeptical."
The day of the fire, Mier identified herself in an interview with the Review-Journal as a co-owner of the property and claimed that the building was up to code.
In cross-examination from Mier's attorney, Kristina Wildeveld, Dibble said that it was unclear what Mier's exact job description in Orozco's company was or how much authority she had to make changes at the property, Dibble said.
"It's never really clear from one day to the next who's in charge of what," he testified.
Wildeveld also said during questioning that she and an investigator from her office were present during Dibble and Mier's interview, and that she had to correct Mier's statements multiple times.
Mier was not in court on Tuesday, but she attended the hearing through a video call because she was out of the state, Wildeveld said. She was seen shaking her head while Dibble answered questions from Chief Deputy District Attorney John Giordani, but she turned her camera off for the remainder of Dibble's testimony.
Orozco's attorney, Dominic Gentile, has fought to prevent Dibble from testifying. He has previously argued that prosecutors only knew about Dibble's interview with Mier after they were provided documents by Gentile's office during a plea negotiation meeting, when the attorneys discussed whether Orozco would be charged in connection with the fire.
Mier was not charged until after the conversation between prosecutors and Orozco's attorney.
The Supreme Court upheld the order holding Dibble in contempt and ruled that the state law protecting privileged communication does not extend to statements made by people other than the accused or the accused's attorney. The justices wrote that there was no indication that Dibble testifying about the interview with Mier would implicate Orozco or potentially raise "co-defendant testimony issues" or "right to counsel concerns."
Last month, the Supreme Court also denied Gentile's motion seeking a rehearing on the ruling, court records show.
Hearing continues Wednesday
The defendants face six felony counts of involuntary manslaughter, along with charges of disregarding the safety of a person resulting in death or substantial bodily harm and a gross misdemeanor count of destroying or concealing evidence.
Orozco also faces charges of attempting to dissuade someone from testifying and attempting to prevent a person from reporting a crime. Prosecutors have said that Orozco offered the Alpine's live-in manager and his fiancee money to leave town after the fire and that he tried to persuade them not to talk to detectives "by brandishing a modified AK-47 style assault rifle."
The preliminary hearing is expected to continue Wednesday, as Gentile said he is prepared to call up to 10 witnesses. Justice of the Peace Ann Zimmerman also scheduled court hearings in March to continue witness testimony and hear arguments from the attorneys.
At the end of the hearing, Zimmerman will decide if there is enough evidence for the defendants to stand trial.
Both Mier and Orozco are out of custody under intensive supervision.
Contact Katelyn Newberg at knewberg@reviewjournal.com or 702-383-0240. Follow @k_newberg on Twitter.