Prosecutors drop two most serious charges against accused sovereign citizens
September 10, 2013 - 5:00 pm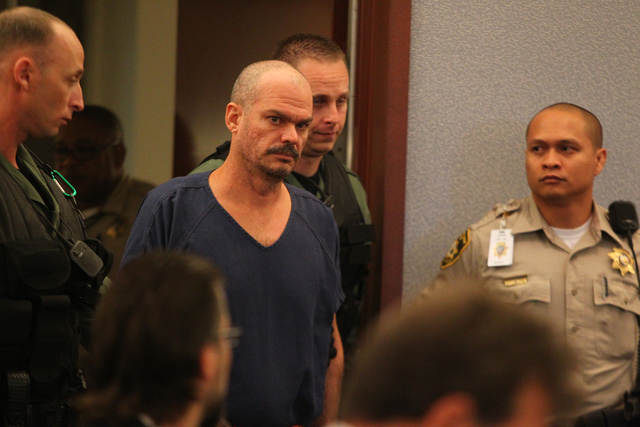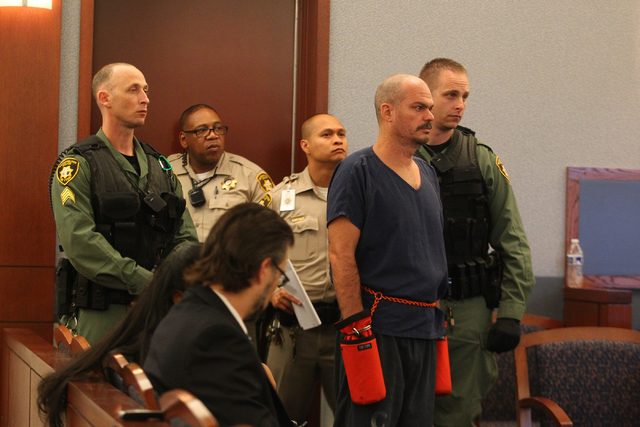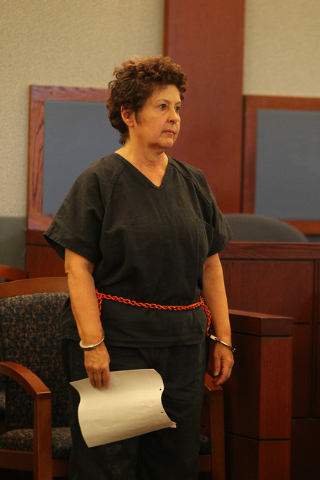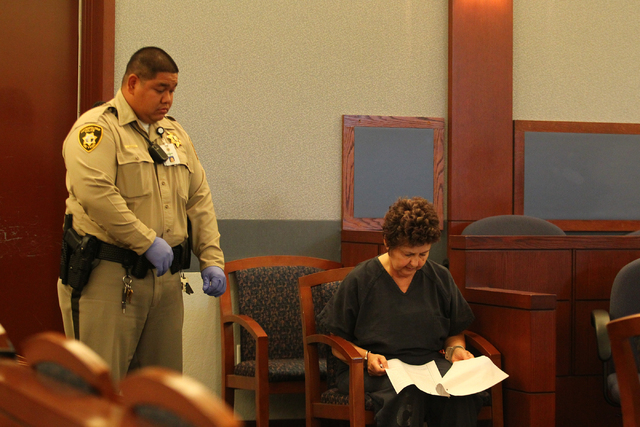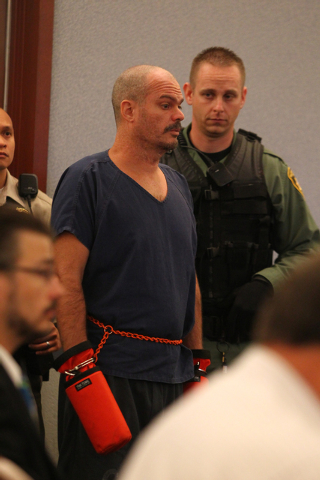 Clark County prosecutors have dropped two of three charges against a man and a woman who Las Vegas police said planned to kidnap, convict and execute a random police officer in their own court of law as part of a domestic terrorist movement.
David Allen Brutsche, 42, and Devon Campbell Newman, 67, still face the lightest of the three charges, one felony count of conspiracy to commit kidnapping, according to a criminal complaint filed Monday. Prosecutors dropped one count each of attempted kidnapping and conspiracy to commit murder.
The complaint said their plan was to randomly kidnap a police officer and place the officer on trial. The two defendants took several actions to further the conspiracy, including training in firearms, producing videos explaining the conspiracy and constructing a metal bar that could be used to detain a person against a wall, according to the complaint.
Assistant District Attorney Chris Lalli said the two other counts were dropped after prosecutors recieved new information from police that would prevent them from proving those charges beyond a reasonable doubt.
Authorities have said both Brutsche and Newman are part of the sovereign citizen movement — a loosely formed group of people about 100,000 strong. The group doesn't believe in U.S. laws or paying taxes, but mostly the members hate police, factors that make them a viable terrorist threat in the eyes of the FBI.
Brutsche, who has lived in Las Vegas for about 10 months, has denied an affiliation with the group, but espouses some of their principles after being harassed by police while selling water on the Strip.
Brutsche and Newman were arrested at a warehouse on Valley View Drive last month, following a five-month investigation by police.
A police report said the pair "expressed a deep hatred" for police and targeted officers for "perceived violations of Constitutional Civil Rights" during traffic stops.
But Newman, a mother and paralegal who moved to Las Vegas from Los Angeles, said undercover officers were the ones who called a meeting in the warehouse where they were arrested. Everyone was supposed to gather and talk about the "persecution" of Brutsche while selling water on Las Vegas Boulevard, Newman told the Review-Journal in a jailhouse interview.
Brutsche, in a separate jailhouse interview with the Review-Journal, said the time has come for police in the United States to be held accountable for trampling on individual freedoms protected by the U.S. Constitution.
"They put the terror in people's hearts every day," said Brutsche, a six-time felon. "They harass people for no reason … even though their job is to apprehend those who are causing injury to somebody else."
A preliminary hearing set for both defendants, where prosecutors must show they have enough evidence to take the case to trial, was delayed until Sept. 26 and could be delayed even further.
On Monday, Brutsche argued with Las Vegas Justice of the Peace Conrad Hafen that he did not want to be represented by the public defender's office and did not recognize the authority of the court. Brutsche said he was there to "intervene" on his own behalf, court records show.
Hafen found Brutsche was not competent to represent himself and appointed the public defender's office as his counsel.
But the public defender's office objected to Hafen's decision and is expected to soon file a motion in District Court seeking to overturn the judge's ruling.
Hafen appointed defense lawyer Carl Arnold to represent Newman in August.
In a separate case, Brutsche faces a felony charge for not registering as a sex offender.
On Tuesday, he again rejected the authority of the court, this time in front of Justice of the Peace Joseph Sciscento.
Brutsche told Sciscento that he had "much respect for you as a human being," but wanted to be tried in a common law court.
Sciscento tried to determine if Brutsche was competent to represent himself, but the defendant was uncooperative in answering yes or no questions.
"I can mentally comprehend what your saying," Brutsche repeatedly said.
Brutsche refused to cooperate with a public defender that was appointed to represent him and told Sciscento to "dismiss the charges and release me."
The hearing, which lasted at least 20 minutes, drew laughs at first from inmates and the court audience and then groans.
Sciscento at first ordered Brutsche to attend a competancy hearing, but prosecutors objected and the judge said he would allow Brutsche to represent himself and appointed the public defender's office as standby counsel.
Brutsche objected to having standby counsel.
A preliminary hearing was set in that case for Sept. 23.
In the meantime, Brutsche and Newman remain at the Clark County Detention Center, where Brutsche is being held on $600,000 bail and Newman is being held on $200,000 bail, according to jail records.
Contact reporter Francis McCabe at fmccabe@reviewjournal.com or 702-380-1039.