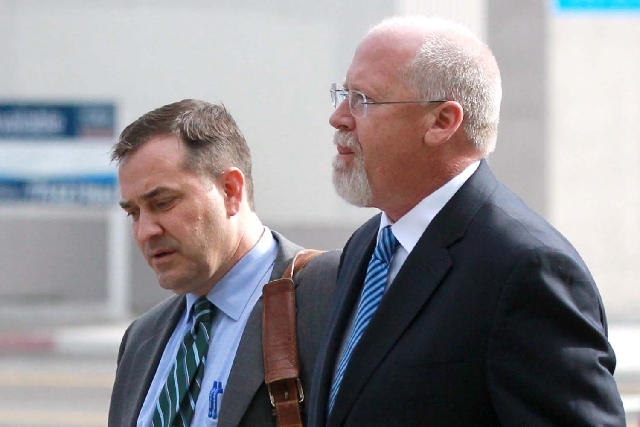 RENO — Harvey Whittemore chose to "break the law" rather than break a promise to raise campaign money for Senate Majority Leader Harry Reid, considered the most powerful member of Congress, a federal prosecutor told a jury Wednesday.
In his opening statement in Whittemore's trial, First Assistant U.S. Attorney Steven Myhre described how Whittemore, once an influential legislative lobbyist, promised to raise $150,000 for the Nevada Democrat's re-election when the two men met for lunch at the Four Seasons hotel in Las Vegas on Feb. 19, 2007.
But four days before the March 31, 2007, campaign contribution deadline, Whitte­more had done little to raise the $150,000. So he devised a scheme to un­lawfully use roughly 29 family members and employees as conduits to funnel more than $130,000 of the money to the Reid campaign, Myhre said.
Whittemore wrote personal checks of either $5,000 or $10,000 to his surrogates, who turned around and made either the maximum $4,600 single donation to "Friends of Harry Reid" or the $9,200 maximum contribution for a couple, Myhre said.
Whittemore, his wife and his sister also contributed to the Reid campaign, bringing the total amount to more than $147,000, Myhre said.
"He could choose to break his promise to Reid, or he could choose to break the law," Myhre told the jury. "And he chose to break the law."
Whittemore put his children and grandchildren "in harm's way" as he "cheated and deceived the public," Myhre added.
Reid was so pleased that he wrote Whittemore a personal note on March 30, 2007, thanking him for the contributions, the prosecutor said.
"Dear Harvey, you are a man of your word," Myhre quoted the note. "You also are my friend for today and for all tomorrows."
Prosecutors contend Whittemore duped Reid's campaign committee into believing the contributions came from his family members and friends.
At the time, Whittemore was orchestrating the development of Coyote Springs, a master-planned community in Southern Nevada, and needed help to overcome several governmental hurdles.
The development was part of a $1 billion company, Wingfield Nevada Group, that Whittemore was running with two wealthy California partners, Thomas and Albert Seeno. Whittemore eventually left the company.
In his opening statement, lead defense lawyer Dominic Gentile displayed a large photo of Whittemore and his family and told the jury that to convict Whittemore, it would have to believe that he would "knowingly and willfully use his family to commit a crime."
"That's not Harvey Whittemore. That would never happen," Gentile said.
As a lobbyist, political fundraiser and lawyer for more than 30 years, Whittemore was well-versed on campaign contribution laws and never believed he was breaking any of them, Gentile said.
The checks he gave to his family members and employees were gifts with no strings attached, Gentile said.
Though Whittemore might have suggested they contribute to Reid, they were free to do whatever they wanted with the money, Gentile explained.
None of the people prosecutors intend to call to testify about the checks they received believe Whittemore was committing wrongdoing, and all clearly understood that the checks were "un­conditional" gifts, Gentile said.
As their first witness, prosecutors called Whittemore's former personal assistant, Roxanne Doyle, to the stand.
Doyle testified that Whittemore had asked her to contribute to Reid's campaign and that after he gave her a $10,000 bonus on March 27, 2007, she and her husband donated $9,200 to the campaign in two separate checks.
She said she kept the remaining $800 as "my part" of the bonus.
Doyle also testified about a string of other $5,000 and $10,000 checks Whittemore made out to his family members and employees at the time. And she talked about a memo she sent to a top Reid campaign aide in Washington on March 28, 2007, with a spreadsheet identifying the money coming from the surrogate donors.
Doyle, who now works for Nevada Supreme Court Justice Ron Parraguirre, described Whittemore as a workaholic and said he often got phone calls from top politicians. She said she recalled fielding calls from the likes of Sen. Dean Heller, R-Nev., Secretary of State Ross Miller, Rep. Dina Titus, D-Nev., and former Rep. Shelley Berkley, D-Nev.
Defense lawyers will continue cross-examining Doyle on Thursday.
Whittemore, 59, faces four felony charges, including making excessive campaign contributions, making contributions in the name of another and lying to the FBI and the Federal Election Commission.
Reid is not expected to testify at the trial, which is taking place in the courtroom of Senior U.S. District Judge Larry Hicks.
Contact reporter Jeff German at
jgerman@reviewjournal.com or 702-380-8135.