Sands lawyers pushing for secrecy as dispute with security team proceeds
August 29, 2011 - 10:58 am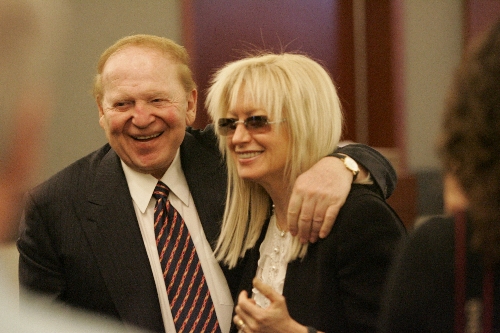 Lawyers for Las Vegas Sands Corp. are trying to seal proceedings in a lawsuit filed by members of an elite security team that protects the family of billionaire and company Chairman Sheldon Adelson.
It is the second sideshow this month in the closely watched case, which has provided a rare look into the personal security operations of one of the richest men in the world.
Nine current and former members of the casino company's Executive Protection Team, which keeps watch over the Adelson family 24 hours a day, are suing Las Vegas Sands and its lead Strip resort, The Venetian, to collect hundreds of thousands of dollars in overtime they claim they are owed.
Earlier this month, U.S. District Judge Philip Pro blocked an attempt by Las Vegas Sands to transfer five of the highly trained protection agents to routine uniformed duties. The other four security team members are no longer with the company.
The secrecy issue surfaced recently in court papers filed by Las Vegas Sands attorneys Patrick Hicks and Rick Roskelley.
The attorneys would not say how much of the case they wanted sealed, and they would not provide public details of their argument.
They said they didn't want to disclose their reasons "because the security of individuals being protected would be severely compromised."
The nation's courts "have overwhelmingly recognized that safety and security-related interests are more than good cause" to seal court records, Hicks and Roskelley wrote.
In a sworn affidavit, Brian Nagel, senior vice president and chief of security for Las Vegas Sands, said the information being offered in the court papers is "extremely sensitive." Nagel is a former deputy director of the U.S. Secret Service.
Pro allowed the attorneys to file a motion for a protective order under seal with that information and instructed lawyers for the security officers, Donald Campbell and Philip Erwin, to file their response under seal.
The judge set a hearing for Thursday and said he would decide in open court whether to close it after listening to arguments from both sides.
On Aug. 2, Pro ordered the two sides to work out suitable plainclothes assignments for the officers while the overtime lawsuit is playing out in court.
The five officers — James Jackson, Christopher LaCascia, James Martin, Jonathan Molnar and DeJuan Robinson — had been temporarily assigned Aug. 1 to uniformed positions at the Sands Expo and Convention Center. Campbell and Erwin argued the transfers amounted to a humiliating demotion for the officers, a charge the Las Vegas Sands attorneys denied.
The officers, who all have impressive military or law enforcement backgrounds, filed a joint affidavit in the case explaining that they primarily have been protecting Adelson's two teenage boys and his wife, Miriam. They did not provide details about their services but said, "Our professional relationship with these children is exceptionally close."
Contact reporter Jeff German at jgerman@reviewjournal.com or 702-380-8135.