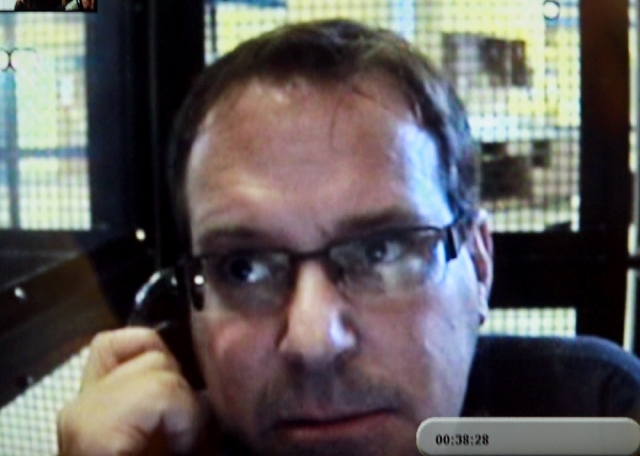 David Schubert, a former prosecutor who once fled to Mexico to avoid time behind bars for a drug conviction, was found dead at his Las Vegas home Wednesday.
His decomposing body was discovered about 8:30 a.m. at the 8448 Cambrils Ave. home, authorities said.
A note was found near his body, but it was not immediately known what the note said.
A neighbor said the Clark County Coroner's Office was called to remove Schubert's body from the home.
Schubert's lawyer, Louis Schneider, said he got an inkling something was wrong two days ago, when he was informed Schubert had failed to show up for a meeting with his probation officer Friday. Authorities had been looking for the former chief deputy district attorney, Schneider said.
Clark County Coroner Mike Murphy wouldn't confirm or deny that his office is investigating Schubert's death.
He said his office received new cases Wednesday, but he couldn't discuss them until family is notified and examinations are completed.
Schubert, 49, who prosecuted the drug cases of celebrities Paris Hilton and Bruno Mars, may have died weeks ago. His last Facebook post on June 27 said, "Its peaceful."
Schneider said he was upset at the way Schubert was treated by the justice system.
"This was a tragedy from the beginning," Schneider said. "David needed help. He didn't need to be punished."
District Attorney Steve Wolfson said his "thoughts and prayers" were with Schubert's family.
"It's a sad day because David was a friend and a colleague and a good attorney," said Wolfson, who was not district attorney when Schubert was arrested.
"His death reminds us all that none of us are immune from the things that can happen in life to the best of us, whether you're a doctor or lawyer, a ditch digger or carpenter or electrician, we are all susceptible to addictions."
Last November, District Judge Carolyn Ellsworth revoked Schubert's probation on the drug conviction and ordered him sent to prison. He was released on parole April 29.
"I wish I had a good feeling that you will go out and seek help," Ellsworth told Schubert in court. "I think you really need to do that if you want to be a productive lawyer again."
Schubert, a 10-year prosecutor, was taken into custody at the Mexican border Sept. 30 while re-entering the United States after a national law enforcement alert was put out for his arrest. He failed to surrender in court Sept. 21 to serve a nine-month jail term as part of his probation and stayed in Mexico until he was arrested at the border and jailed in San Diego.
"Your honor, he snapped and did the wrong thing," Schneider told Ellsworth in November. "The measure of a man is he returned and understood what he did."
Schubert lost his job as a chief deputy district attorney after he was arrested for buying cocaine in 2011. He later pleaded guilty, and the day before he fled the country, the Nevada Supreme Court temporarily suspended him from practicing law.
His girlfriend, a fellow lawyer, had driven him to McCarran International Airport, where he boarded a flight to San Diego and later walked across the border to Tijuana, Mexico.
In a jailhouse interview with the Las Vegas Review-Journal after his return in October, Schubert said that while in Mexico, he recognized he had made a mistake.
"I realized that this wasn't the solution," he said. "I didn't want to be on the run. I missed everyone."
He said he spent time in the coastal resort towns of Rosarito Beach and Ensenada, at the beach and in nice restaurants.
While there, a photo appeared on Schubert's Facebook page of an empty beach with the note: "Thank you all so much for the birthday wishes! All is well. Here is a present for you."
Schubert said he posted the photo on his birthday to let his friends know he was fine and at a nice location.
In the end, however, he said he underestimated the loneliness of being a fugitive and not being able to trust anyone and decided to return to the United States to face his punishment.
He said he felt he wasn't being treated fairly by the legal system but added, "I did what I did, and I accept the consequences."
Review-Journal writer Mike Blasky contributed to this report.
Contact Jeff German at jgerman@reviewjournal.com or 702-380-8135. Follow @JGermanRJ on Twitter. Contact Francis McCabe at fmccabe@reviewjournal.com or 702-380-1039.