Scott Gragson indicted in fatal DUI case in Las Vegas
Updated July 19, 2019 - 2:35 pm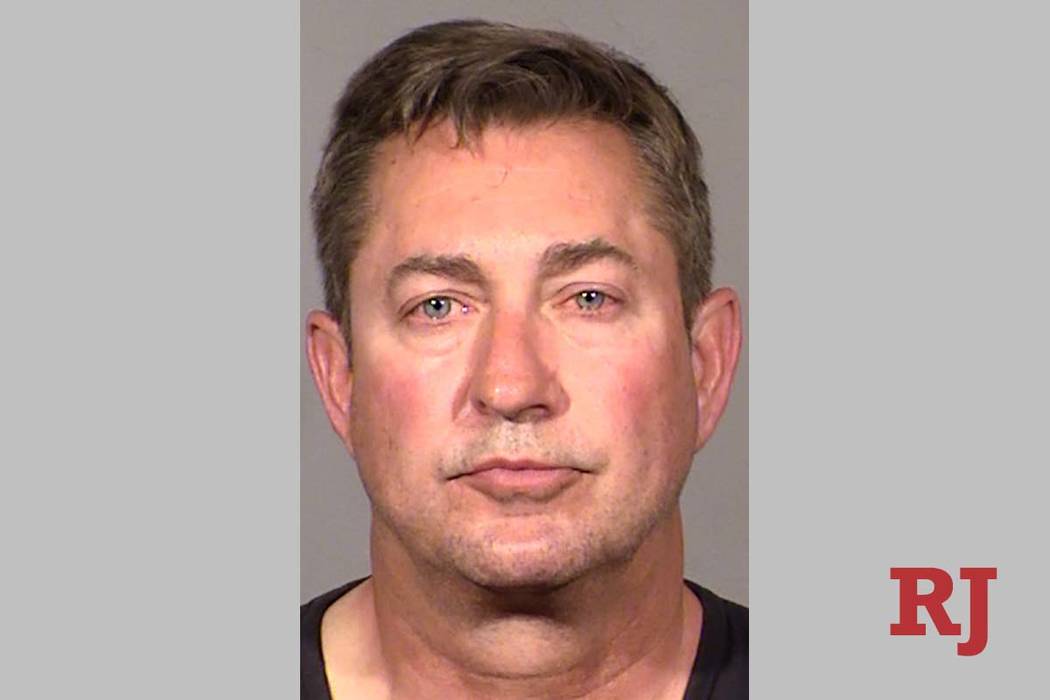 Scott Gragson, a prominent real estate broker and the grandson of a former mayor, was indicted Friday on multiple felonies in connection with a fatal DUI wreck in May following a charity golf event.
Gragson, 53, originally was charged with one count of DUI resulting in death, two counts of DUI resulting in substantial bodily harm and three counts of reckless driving.
He now faces one additional count each of DUI resulting in substantial bodily harm and reckless driving, according to the indictment, which was filed Friday in Clark County District Court.
The high-speed rollover crash happened May 30 outside The Ridges, an upscale Summerlin community where his grandfather, former Mayor Oran Gragson, owns a home, police have said.
Scott Gragson had worked since 1997 as the executive vice president of the Las Vegas land division of Colliers International, a large commercial real estate firm.
Chief Deputy District Attorney Eric Bauman, the lead prosecutor in the case, told the Las Vegas Review-Journal on Friday that the grand jury indictment was done to "keep the case moving along at a speedy fashion."
"We thought this was the best way to do it, to get it up in District Court now instead of waiting until late October," he said, referring to the preliminary hearing that originally was set for Oct. 28 in Las Vegas Justice Court.
A summons was issued Friday, Bauman added, and the arraignment is scheduled for Aug. 1.
After the wreck, Scott Gragson, who has been free on $250,000 bail, admitted to Las Vegas police that he had started drinking alcohol at a charity golf event hours before he crashed his Range Rover SVR, killing 36-year-old Melissa Newton and injuring three others, according to his arrest report.
By 2 p.m. that day, according to his statement to police, he had consumed "four to five mixed drinks" and Coors beer.
Once at The Ridges' security gate, near Granite Ridge and Grey Feather drives, he told a guard — who later reported that Scott Gragson was "verbally aggressive" with slurred speech and bloodshot eyes — that he was headed to an "after party" and wanted the guard to allow vehicles behind him through the gate without checking in. It was about 4:50 p.m.
Then he "accelerated south on Granite Ridge Drive at a high rate of speed, not slowing," the report stated.
The Range Rover lost control at a curve in the road and struck several large trees, throwing three of his back-seat passengers, including Newton, from the SUV. None were wearing seatbelts, police have said.
Scott Gragson failed field sobriety tests and, along with the other passengers, was taken to University Medical Center, where a blood draw showed that his blood alcohol level was 0.147 percent at 8:18 p.m., more than three hours after the crash, according to the report.
His attorney, David Chesnoff, could not be reached for comment Friday but has told the Review-Journal, "Police reports are not evidence, and the facts of the case will be tested in court."
Just over a week after the crash, one of the people thrown from the SUV, real estate executive Christopher Bentley, sued Scott Gragson. Bentley suffered brain damage and was being treated in Colorado, according to his lawyer, William Kemp.
Another attorney, Robert Eglet, representing Newton and the two other people in the crash, Greg Tassi and Christie Cobbett, has said that companion lawsuits to Bentley's were "imminent," although he did not offer a specific date.
Kemp recently told a Las Vegas judge that the combined lawsuits could seek $68 million in compensatory damages, with upward of $400 million in punitive damages.
"The bottom line, your honor, is this is probably the largest single accident case in the United States at the present time," Kemp said.
Contact Rio Lacanlale at rlacanlale@reviewjournal.com or 702-383-0381. Follow @riolacanlale on Twitter.