SEAL facing Navy discharge after federal arms conviction
October 13, 2011 - 7:32 am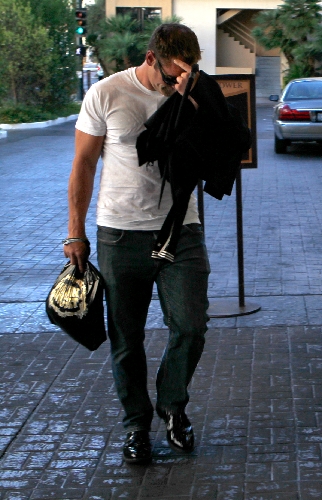 With Navy SEAL Nicholas Bickle awaiting sentencing on a 13-count conviction in a federal arms trafficking case, Navy officials are trying to decide how to handle his imminent separation under military law.
"In past cases in which a military service member has been convicted in civilian court of a serious offense, the Navy has decided to pursue administrative separation of the military member," said Lt. Cmdr. Frank Magallon, public affairs officer for Naval Special Warfare Group One.
In an email Tuesday, Magallon said a decision on Bickle's status, currently an active-duty petty officer first class, "has not yet been made."
"He would be eligible to elect a board to hear his administrative separation," Magallon wrote in response to a Review-Journal query.
Magallon noted that board members would determine whether to discharge Bickle "and how to characterize his length of service."
"I would like to emphasize that his behavior is not reflective of the caliber of men within the Naval Special Warfare community, and that on any given day, Navy SEALs are deployed throughout the world serving with honor and integrity, on and off the battlefield," Magallon wrote.
Bickle, 34, a decorated SEAL who wore his uniform through his three-week trial in U.S. District Court in Las Vegas, was found guilty by a jury on 13 of 15 counts related to arms trafficking.
During the trial, prosecutors described him as the ringleader of a conspiracy to bring machine guns and other weapons into the country from Iraq to sell for his own profit.
The jury convicted him of conspiracy, dealing in firearms without a license, four counts of unlawful possession and transfer of machine guns, five counts of unlawful possession and sale of stolen firearms, receiving and retaining property of the United States, and distributing explosives to a nonlicensee. His sentencing hearing is scheduled for Jan. 20.
Under the Uniform Code of Military Justice, Bickle's conviction in civilian court probably would preclude him from facing double-jeopardy penalties or confinement from a military court for the same charges, but he could face other charges related to bad conduct in a court-martial proceeding.
In court last week, a federal prosecutor described former Navy SEAL Dave Perry as an unindicted co-conspirator in the arms trafficking case.
Because Perry wasn't charged with any wrongdoing, Magallon said it would be "inappropriate for us to comment on this portion of the investigation."
Magallon deferred comment to the Nevada U.S. attorney's office spokeswoman Natalie Collins, who said she couldn't confirm or deny whether Perry was under investigation.
Las Vegas Review-Journal writer Carri Geer Thevenot contributed to this report. Contact reporter Keith Rogers at krogers@reviewjournal.com or 702-383-0308.