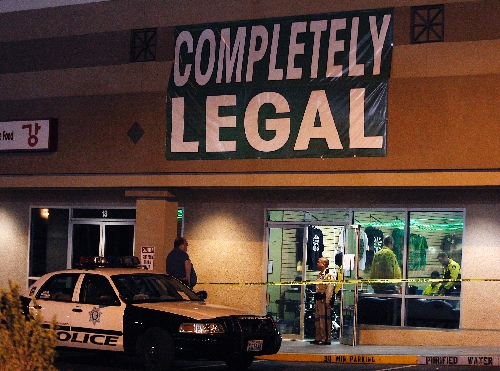 Two nonprofit medical marijuana co-ops run by Completely Legal were among five locations raided late Wednesday by the Metropolitan Police Department.
Seven people were arrested, including Completely Legal co-founder and manager Jacob "Jake" Lill.
Lill, 24, faces multiple drug charges, including the sale of marijuana, possession of marijuana with intent to sell, trafficking in a controlled substance, conspiracy to violate the uniform controlled substance laws, and maintaining a place to sell, use or give away a controlled substance. Lill also faces charges of selling a controlled substance within 1,000 feet of a school.
In a statement released Thursday, police said they raided Completely Legal 1.0 at 3655 S. Durango Drive, Suite 19; Completely Legal 2.0 at 6401 N. Durango Drive, Suite 120; Preferred Medical Marijuana, 3655 S. Durango Drive, Suite 8; and Perfect Grow, at 3655 S. Durango Drive, Suite 7. Police also raided a private residence in the 3300 block of Antique Rose Drive.
In all, police seized 28.6 pounds of marijuana with an estimated street value of $86,000, 52 pounds of marijuana edibles, 1.1 pounds of hashish, 454 marijuana plants with an estimated street value of $1.2 million, a Mercedes CLK 350 automobile and about $100,000 in cash.
Besides Lill, police arrested Edmund Schroback, 32, of Denver, who is affiliated with Completely Legal; and 20-year-old Anna Martinez, 25-year-old Michael Savino, 26-year-old Kyle Lair and 26-year-old Richard Wheaton, all of Las Vegas; and Lisa Roth, 53, of Englewood, Colo.
In all, the suspects face 78 charges including trafficking in a controlled substance, possession of a controlled substance with intent to sell, violating the Controlled Substances Act and sale of marijuana within 1,000 feet of a school.
Roth, who is Lill's mother, was working in a medical office in the same complex as Completely Legal's South Durango Drive location, Lill told the Review-Journal in March.
Lill, Roth and Schroback are tentatively scheduled to appear in court at 7:30 a.m. today, Clark County Detention Center records showed.
Under Completely Legal's business model, medical marijuana patients registered with the state own the co-ops, which accepted donations, Lill told the Las Vegas Business Press and Las Vegas Review-Journal in a March interview.
When he was interviewed, Lill denied that Completely Legal sold any marijuana. He denied that the co-ops were dispensaries, which are illegal in the state. Nevada law allows patients registered with the state to possess up to eight cannabis plants and up to an ounce of pot.
A Completely Legal representative read a statement Thursday that said his company would defend itself vigorously.
"The issue of the raid has not yet been resolved," the statement said. "While the use of medical marijuana is legal in the state, laws and regulations have not yet been written."
Contact reporter Valerie Miller at vmiller@lvbusinesspress.com or 702-387-5286.