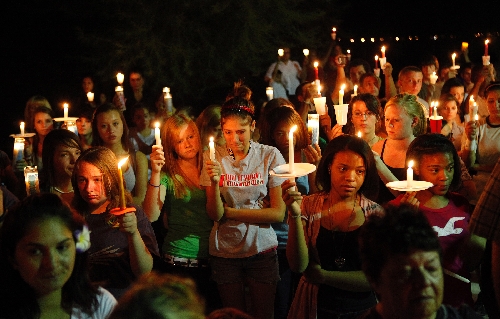 Frightened. Devastated. Disgusted.
Those were some of the words used by students and parents to describe their reactions to 15-year-old Alyssa Otremba's savage slaying.
The Arbor View High School freshman's body was found Saturday in a vacant lot by volunteers who were searching for her in the northwest valley. Police said she had been raped, stabbed and burned.
At least 200 people gathered Wednesday night to honor Alyssa during a candlelight vigil in Arbor View's parking lot on Whispering Sands and Buffalo drives.
People, using a megaphone, took turns speaking about Alyssa.
"She became my best friend. She knew me better than anybody," said Samantha Forecki, 15. "I'll never be able to call anybody else my best friend."
A pastor who was the first to speak at the vigil told the crowd to stand up against evil and to honor Alyssa by coming together as a community and a school.
Kim White, whose son is a sophomore at Arbor View, said Alyssa's slaying was a rude awakening for area residents who thought their neighborhoods were safe. She already has told her sophomore son she would drive him where he needs to go.
"It's frightening to think something like this can happen," White said. "It's very disturbing to think that someone could be so violent."
Alyssa was last heard from about 6:30 p.m. Friday. She sent a text message to her mother saying she would return home in 30 minutes. She had gone to borrow a geometry book from a friend, a Las Vegas police report said.
The vacant lot at Grand Teton Drive and Tee Pee Lane where her body was found was on her route between home and school.
Alyssa's death drew outrage from law enforcement.
In a recent YouTube video, Clark County Sheriff Doug Gillespie said he is often left speechless when asked to respond to tragic and senseless slayings that occur within the jurisdiction of the Metropolitan Police Department.
He offered his sympathy to the grieving Otremba family and said the perpetrator of Alyssa's death will be brought to justice.
"Let's use this opportunity to remind all those kids that are out there — whether they are 8 years old or 15 years old — of the dangers that lurk," Gillespie said on the video.
"But also understand, this is an isolated incident. A predator such as this, thank God, doesn't come along that often," Gillespie said. "He's going to be held accountable. He's never going to see the streets again."
The "predator" Gillespie referred to is 19-year-old suspect Javier Righetti. He told detectives Monday he raped and robbed the girl before setting her ablaze, his arrest report said.
Police said it appeared the slaying was a random act. The suspect and victim, who attended Arbor View at different times, did not know each other.
Righetti was arrested at his home on the 7900 block of Willow Pines Drive, minutes from Alyssa's home and less than a mile from the vacant lot where her body was found.
Righetti is being held without bail at the Clark County Detention Center. He faces charges of murder with a deadly weapon, sexual assault with a deadly weapon, first-degree kidnapping with a deadly weapon and robbery with a deadly weapon.
The report said Righetti also admitted to a second rape and robbery, a claim detectives are investigating.
Police tracked down Righetti after the suspect called a friend, Daniel Ortiz, and said he had killed a girl during a robbery, the report said. Ortiz "thought he was high," the report said he told police.
Ortiz gave Righetti a ride to a convenience store, where Righetti bought gasoline and matches, the report said.
Ortiz then drove Righetti to the vacant lot on Grand Teton Drive. Ortiz told detectives he "felt like he was going to throw up" and left.
Ortiz's girlfriend called police after she learned of the missing girl and became suspicious of Righetti, the report said.
The shaken Arbor View community also plans to remember the slain girl on Friday, during the Aggies' home football game against Centennial High School.
A moment of silence will be observed for Alyssa before kickoff. Players will decorate their helmets with her initials, "A.O." Fans in the stands are being asked to don neon colors, which were Alyssa's favorites.
Arbor View's band will play for her. Alyssa was a band member whose instruments were the bass drums and gongs, one student said.
Mikayla Corrow, an eighth-grader at Cadwallader Middle School, was friends with Alyssa. She said Alyssa's death has changed her behavior; she won't walk alone at night anymore.
Corrow described Alyssa as a "very sweet girl" who was always caring. She said her heart broke when she learned of her friend's death.
"Just like anybody else, she didn't deserve something like this to happen to her."
Review-Journal reporter Trevon Milliard contributed to this report. Contact reporter Antonio Planas at aplanas@reviewjournal.com or 702-383-4638.