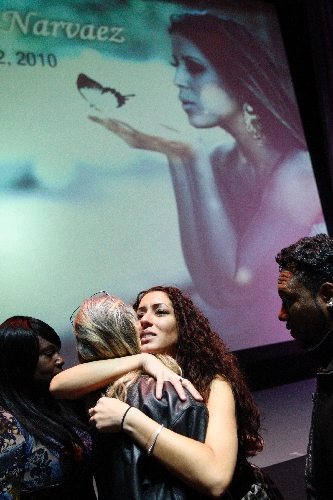 Strip dancer Debora Flores Narvaez went full out every time. She attacked life with passion. She chased her dreams of dancing professionally with a vengeance.
She was a perfectionist and strong minded and was never afraid to butt heads with producers and choreographers. But she was also kind to her fellow performers and generous to those in need.
That was how her friends and colleagues remembered the slain "Fantasy" dancer at a memorial service inside the show's theater at the Luxor Friday.
The death of the 31-year-old has shocked the Las Vegas performance community and more than 100 people came to the service to share memories with Flores Narvaez's family and friends.
Authorities believe Flores Narvaez was strangled to death Dec. 12 by a former boyfriend, Jason "Blu" Griffith, who also was a performer in a Strip show.
Las Vegas police say Griffith dismembered her body and hid it for weeks at an empty downtown home. It was discovered Jan. 8. Griffith is facing murder charges and is being held without bail at the Clark County Detention Center.
Friday's tearful service was led by "Fantasy" producer Anita Mann who praised Flores Narvaez kindness and hard-work ethic.
The backup dancer died a few days before she was to take the lead role in a dance number that would feature the pop singer Sisqo, who Flores Narvaez knew from college.
Mann read the last e-mail she received from the dancer the day she was killed: "I just wanted to take the time to thank you ladies for everything you do. I very much look forward to this addition to the show, just in time for the holidays. Love Debbie."
With tears in her eyes, Mann described the 31-year-old, "She cared. There was nothing she would not do. She wasn't that fantastically trained. (But) she attacked it with such a vengeance, I said, 'I love it.' That's the way she attacked life, full out with a vengeance and a passion."
Friends said Flores Narvaez had a strong personality and was ambitious in chasing her dreams, which sometimes led to creative "head butting."
But it was her kindness that touched most. Several stories from friends focused on her willingness to help anyone in need.
Dancer and choreographer Deon Ridley recalled an occasion when he had no money to pay his cell phone bill and she paid it for him. He told her he would pay her back, but she insisted he do something for someone else in need, Ridley said.
Sobbing, Sonya Sonnenberg, a "Fantasy" dancer and Flores Narvaez's roommate, said, "She did things with so much passion and everything was full out every time. Anything you needed she was there full out every time."
Sonnenberg said living with her, "There was never a dull moment."
Tessa Cecilia, a professional dancer and former roommate, said Flores Narvaez, "in her own way would always take control of things. She was a perfectionist, she wanted everything good and everything right."
Performers and cast members of other shows also attended the service, including from "Striptease" at the Sahara, where Flores Narvaez was also a backup dancer, as well as dancers from the show "Voices" at the Hilton, where she once performed.
Flores Narvaez, who was born and raised in Puerto Rico and went to college in Maryland, came to Las Vegas to pursue dreams of dancing. She has also danced at several Strip nightclubs, including Jet at The Mirage and Haze at Aria, among others.
Mann also mentioned her support for the cast of the Cirque du Soleil show "Love."
"The cast of 'Love' has been going through a difficult time as well and I send them my support and prayers as well," Mann said.
Griffith, who is charged with killing Flores Narvaez, was a performer in the show at the Mirage.
The slain dancer's sister, Celeste Flores Narvaez, who put her family and job in Atlanta on hold to search for her sister, thanked everyone for their help and support.
She said she plans on being very involved in the case against Griffith. "My battle is … giving her justice," she said.
Celeste Flores Narvaez plans to give any remnants of donations made to a funeral fund set up for her sister to The Shade Tree, a shelter for battered women, children and their pets.
The two-hour service also featured a montage of photographs, numerous speakers and video of dance practice sessions.
Contact reporter Francis McCabe at fmccabe@review journal.com or 702-380-1039.