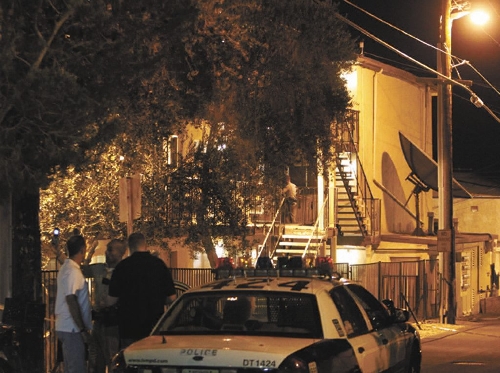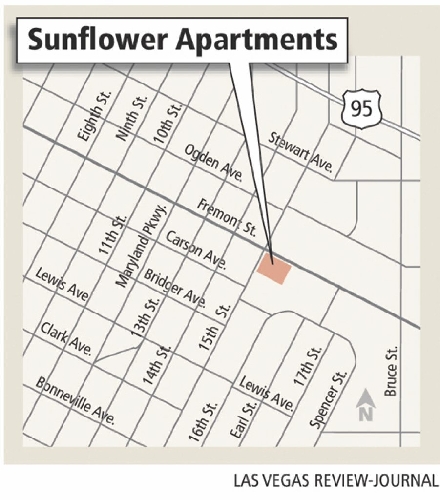 Some residents of the Sunflower Apartments complex, about a mile east of the Fremont Street Experience, know their home by a different name.
"Call it 'Gun Power,' " joked one resident who called himself Will.
As in: "How much you got?"
Will laughed.
"To live in this place, I don't know. … "
Early Tuesday morning, after a deadly double shooting the evening before, residents painted a grim picture of their downtown apartment complex at 1500 Fremont St. and the crime that consumes the area.
"If you're a rapist, a murderer, a prostitute, a drug dealer or a violent person in general, this is the place for you," said resident David Mitchell, 45 — "and hoping to see 46."
As of Tuesday evening, the victims — a man and a woman — had not been identified, and few details of the slaying had been released.
Lt. Lew Roberts, who oversees the Las Vegas police homicide section, said two Hispanic men wearing dark pants and shirts were seen fleeing east in a black truck.
Mark, whose apartment is around the corner from the unit where the victims were found, said he was home at 7:15 p.m. when he heard several shots. A minute later, he heard tires screech as a vehicle peeled away.
About 30 minutes after the shooting, patrol officers taped off his door and locked him inside. Much later, detectives approached.
"I didn't know anything, didn't see anything," said Mark, who declined to give his last name.
The Sunflower is a series of two- and three-story boxes, beige stucco with mock Tudor trim. Residents hang over the iron railings and look down onto the tiny pool in the courtyard.
Police are no strangers to the 120-unit complex.
Neither are public health officials, who shut down some units in 2006.
None of the residents interviewed by the Review-Journal knew much about the victims, describing them only as a white couple who recently moved to the low-income apartments.
"I make it my business not to know people," said resident Barbara Mills, 47, "especially around this area."
One neighbor of the couple, who did not give his name, said he thought the killings were drug-related. Police have not confirmed that.
The possibility of a drug-motivated attack reassured one resident.
"I hope it was about drugs," Mark said. "Better than some wacko going around shooting random people."
As Mitchell smoked a cigarette and drank a cup of coffee in the complex's courtyard Tuesday morning, a small crowd gathered.
As he chatted good-naturedly with a fellow resident, who was drinking a tall can of beer from a plastic bag, it became clear that last night's events did not rattle him.
He's used to it: Since Mitchell moved to the Sunflower five years ago, there have been at least four slayings at the complex.
Mitchell did not remember the specifics — aside from the apartment numbers.
In September, James Mosley was arrested in connection with the strangling of his mother, who was left in a bathroom to decompose. ("Number 234.")
In June 2008, Alfred Davis was stabbed to death after a confrontation with his roommate. (Mitchell thought it was apartment A8, but records showed it was A9.)
And last year, Mitchell recalled a woman in 301 nearly died when someone cut her throat, he said.
"They sliced her up, but she lived," he said.
And of course, Monday's shooting in apartment 208.
"All in all, just a nice family community," Mitchell quipped.
After Monday, Mitchell said he was finally sick of the violence. He plans to move to a similar weekly or monthly apartment across the street, where he is sure residents undergo background checks.
"If you have the cash, you get a room," Mitchell said. "Are you kidding me? They will let anyone in here."
The manager of the Sunflower would not comment. He said a company spokesman would call to make a statement, but no one did.
At least one resident seemed to give credibility to Mitchell's statement about residents skirting the law.
"Will," who walked behind the complex in just a T-shirt and underwear, declined to give his last name because police might be looking for him, he said.
When asked whether his first name was really Will, he hesitated, then shrugged.
"I don't know," he said. "Do it matter?"
Contact reporter Mike Blasky at mblasky@review journal.com or 702-383-0283.