Sources: David Roger to step down Jan. 3
October 31, 2011 - 1:14 pm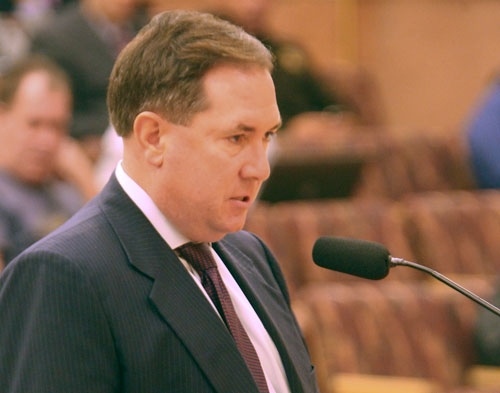 District Attorney David Roger, who has been Clark County's top prosecutor for nearly a decade, plans to retire Jan. 3, sources have told the Las Vegas Review-Journal.
Roger, 50, has had discussions about joining the Las Vegas Police Protective Association, the union that represents about 2,800 rank-and-file police officers, as a general counsel, sources close to the district attorney said.
He is expected to announce his retirement, which comes three years shy of completing his third term, as early as today, the sources said.
Roger reached a milestone in October in his public career, celebrating his 25th year as a county employee. He began his legal career as a clerk under the late District Judge Paul Goldman in 1986 and became a deputy district attorney in 1987.
Roger wanted more flexibility in his personal life with the birth of his daughter, who celebrates her first birthday in November, and working with the police union would provide that, the sources said. He does not have a formal agreement in place yet with the union.
But Chris Collins, the police union's executive director, said Monday that he planned to call Roger to "get him to come to work for us" after he announces his retirement.
Last week, as rumors about Roger's departure spread through the Regional Justice Center, Collins acknowledged that he spoke with the district attorney in the past about joining the union's legal staff.
"I'd love to have him on the staff," Collins said. "I think he's a great attorney."
According to county figures, Roger earned a base salary of $202,689 last year. Sources said he has bought just short of five more years of retirement benefits from the state Public Employees Retirement System, giving him 30 years of vested interests in the system. That makes him eligible to receive 75 percent of his district attorney's pay, a supplement to any salary deal he would strike with the police union.
Under state law, the Clark County Commission must appoint an interim or a permanent replacement at the first meeting after Roger's official resignation. If the appointment is made on an interim basis, the commission has 60 days to appoint a permanent district attorney. A permanent replacement would serve the remainder of the district attorney's term.
THREE SEEN AS POSSIBLE SUCCESSOR
The names of several attorneys are being circulated in legal circles as a possible successor, including Las Vegas city councilman and criminal defense attorney Steve Wolfson; veteran prosecutor Christopher Lalli, Roger's former second in command and now a prosecutor in the major violators unit; and Teresa Lowry, who heads the district attorney's family support division.
"I'm very interested in the job," Wolfson said. "It's one of the most important jobs in our community."
But Lalli took himself out of the running. "I'm very interested in the leadership of the district attorney's office, but I'm not sure the timing is right for me to pursue that position at this point," he said.
Lowry could not be reached for comment.
Roger was first elected to the office in 2002 after riding fame garnered from the convictions of Rick Tabish and Sandy Murphy in the high-profile Ted Binion murder trial. The Nevada Supreme Court later tossed out the murder convictions and ordered a new trial. Murphy and Tabish were acquitted of killing Binion at the retrial but convicted of stealing his silver.
Roger, who uses the theme song from "Law & Order" as his cellphone ring tone, was re-elected in 2006 and 2010 by wide margins. His third term was set to end Jan. 1, 2015.
He has remained a hands-on district attorney, personally trying several cases a year, including prosecuting football star O.J. Simpson in the 2007 robbery of sports memorabilia dealers at Palace Station. Simpson was convicted in 2008 and is serving a nine- to 33-year prison sentence.
Sheriff Doug Gillespie described Roger on Monday as a "great partner" who will be missed in office.
"David has always been a hard-nosed prosecutor, and he took that with him when he became the D.A.," Gillespie said. "If he ultimately chooses to move on, I'll miss him. It will be our loss in the criminal justice system and will be someone else's gain."
In recent months, Roger has sparred with the County Commission and the Nevada U.S. attorney's office.
BATTLE OVER BUDGET CUTS
He has battled with the commission over budget cuts. In April, he refused to follow a county-wide edict to cut his payroll by 9 percent, saying the order crippled his ability to carry out the duties of his office.
With the district attorney's office down about 70 positions, Roger has been running the office with 600 employees and an annual budget of $89.7 million.
He said his office has lost 23 prosecutor positions over the past two years, leaving 92 prosecutors to handle 60,000 new criminal cases annually, or more than 638 cases per deputy district attorney.
Relations between Roger and U.S. Attorney Daniel Bogden have soured over two closely watched cases.
Roger is unhappy that Bogden obtained an indictment against Dr. Dipak Desai's clinic manager, Tonya Rushing, on federal health care fraud charges this year. Rushing, who was indicted with Desai, is a key witness in Roger's criminal case against the physician at the heart of the hepatitis C outbreak.
Bogden is angry at Roger for allowing a deputy district attorney to rehash allegations in court that construction defects lawyer Nancy Quon was getting leaks from the U.S. attorney's office in the federal investigation into corruption at homeowners associations. Quon is a target of the federal probe.
The courtroom comments were made in a criminal case Roger brought against Quon that is tied to a suspicious fire at her home.
Bogden demanded that the prosecutor's "false" statements be corrected, but Roger has declined to do so.
The Justice Department in Washington investigated the leak allegations but announced a couple of weeks after the prosecutor's remarks that it was dropping the probe without filing any charges.
ANNOUNCEMENT CAUSES SURPRISE
Roger's retirement caught some in the legal community by surprise, including defense lawyers who regularly fought him in court but considered him a friend.
Attorney David Chesnoff, who has negotiated high-profile plea agreements with Roger, including one for celebrity Paris Hilton, said he was sorry to see him leave.
"I've dealt with the district attorney's office for over 30 years, and nobody took his job more seriously," Chesnoff said. "Oftentimes he was hard-nosed, but he always, I believe, tried to be fair."
Defense lawyer Thomas Pitaro, who is doing battle with the district attorney's office over the criminal case against Quon, described Roger as a "very good man."
"I really like him," Pitaro said. "He's a very honorable, ethical individual, and I have nothing but the greatest admiration for him."
Contact reporter Jeff German at jgerman@reviewjournal.com or 702-380-8135. Contact reporter Francis McCabe at fmccabe@reviewjournal.com or 702-380-1039