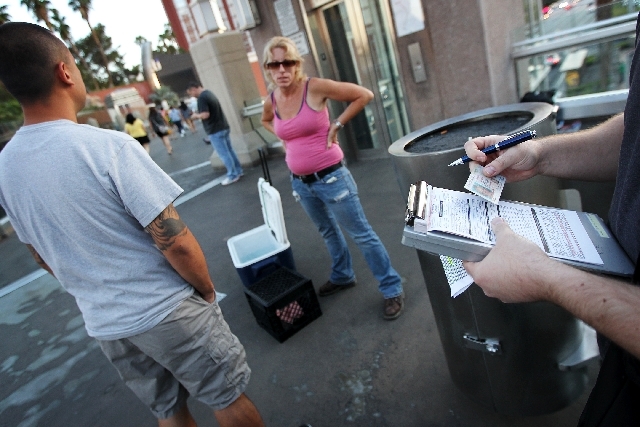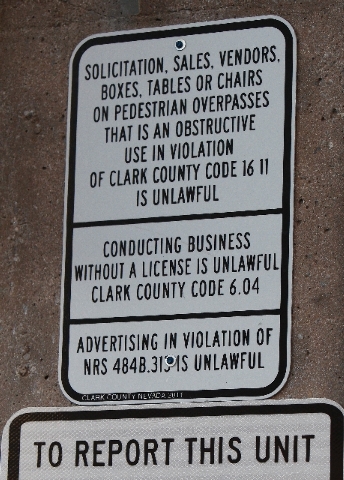 The water bottle peddler never saw it coming.
At first glance, the three customers looked like other tourists, casually dressed in shorts and blue jeans and walking along a pedestrian bridge on the Strip between Treasure Island and Fashion Show Mall. The peddler's blue cooler was propped open as they approached.
She told them the price: $1 a bottle.
They identified themselves as Clark County business license agents and started to write her a citation.
The woman, who declined to give her name to a reporter, looked surprised, but didn't try to argue with the agents. A tourist approached the water seller for a drink, unaware the seller had violated a county code.
"She's closed," an agent told him.
The low-profile case Friday night is symbolic of a wider issue beyond one water bottle seller: unlicensed vendors peddling a variety of wares on the Strip's sidewalks. This summer's tourist season marks the first full year of enforcing an ordinance that went into effect last July against conducting business in a public right-of-way. Violators who get a misdemeanor citation face a maximum penalty of a $1,000 fine and six months in jail.
The county isn't starting the enforcement this year from square one. Business license agents have the experience gained from last year's efforts, plus records with names of repeat offenders and those who got off with a warning last time.
Peddlers, too, draw on a year's experience. Some act as lookouts, using cellphones to warn others when to scurry away.
"Starting off the season, we will have people that are going to try to test the ordinance," said Jacqueline Holloway, the county's director of business licensing. "We do expect that starting off you're going to have water bottle sales, CDs and probably sunglasses."
The county started canvassing the Strip last June, giving vendors warning letters about the upcoming change and the consequences before the start of enforcement.
The county's efforts are aimed at keeping the right-of-way clear of obstructions and free of unlicensed vendors.
"The goal is to make the Strip a safe and a pleasant experience for everyone and that's why we're there," Holloway said.
The county has 15 business license agents to work code enforcement on the Strip. That's just part of their work. They also check compliance with liquor, gaming, massage and nightclub codes.
Last summer, 52 warning letters went out. From August to October, the county's agents issued 27 citations and gave 28 verbal warnings.
Those statistics don't include any citations issued by Las Vegas police, who also are authorized to give the citations. Police and county agents coordinate routinely, with the county calling police if an arrest is necessary.
Water isn't the only drink illegally peddled on the Strip.
"We were a bit surprised at several vendors attempting to sell liquor on the public right-of-way but we swiftly took care of that," Holloway said.
The agents, who asked that their names not be revealed, said they have seen a variety of wares for sale — everything from umbrellas to glitter tattoos to illegal drugs.
The agents spent about an hour Friday walking the Strip, but found only the lone woman selling water.
That's a stark difference from last year, they said, when peddlers were a common sight.
As for the woman selling water, she downplayed her work, saying she has a job interview scheduled and only brought one case.
One agent asked her if she works for anybody. She said she doesn't.
When asked about her water selling, she told a reporter: "The bottom line is if they're thirsty, they're going to get a water."
Contact reporter Ben Botkin at
bbotkin@reviewjournal.com or 702-405-9781.