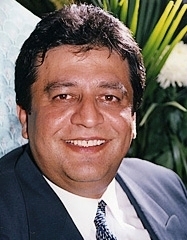 High-rolling Las Vegas businessman Ramon DeSage pleaded not guilty in federal court Friday to a scheme to defraud investors of roughly $190 million.
DeSage, 63, who supplies luxury gifts to the casino industry, was indicted last week on four counts of wire fraud.
The indictment alleged DeSage, also known as Ramon Abi-Rached, used
$175 million "for gambling purposes."
An April 8 trial was set before U.S. District Judge James Mahan.
DeSage and his lawyer, Richard Wright, both declined comment after the Strip businessman's appearance in court.
Wright previously has promised a strong defense in the criminal case investigated by the Internal Revenue Service.
Prosecutors have said DeSage, who is under electronically monitored home detention, used his main Las Vegas company, Cadeau Express, and other companies to defraud his investors between 2005 and 2012.
He used the money to repay earlier investors, maintain his wealthy lifestyle and cover millions of dollars in gambling losses at casinos along the Strip, some of which he supplies with high-end customer goods, prosecutors have alleged.
On the Cadeau Express website, DeSage calls himself an international humanitarian and philanthropist who has rubbed elbows with world leaders, including presidents and presidential candidates in the United States.
DeSage said he was born into a "prestigious family" in Lebanon, was educated in France and once worked as an attaché for UNESCO, the United Nations Educational, Scientific and Cultural Organization.
Cadeau Express is described on the website as a "unique company that caters to hotels and casinos who roll out the red carpet for selective guests and high-end gamblers."
Contact Jeff German at jgerman@reviewjournal.com or 702-380-8135.