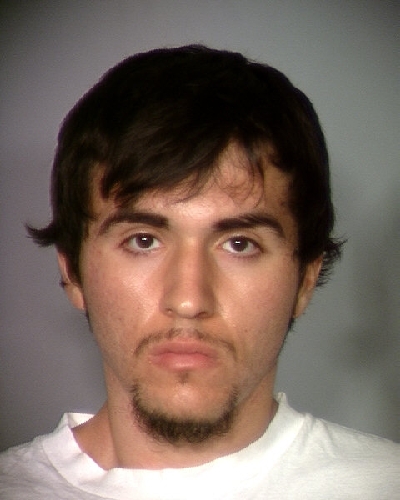 Alyssa Otremba had been sick.
Not wanting to miss homework in her first week of high school, the 15-year-old Arbor View freshman walked to school Friday evening to borrow a geometry book from a friend.
She sent a text message to her mother about 6:30 p.m. that said she would be home in 30 minutes.
That was the last time her mother heard from her. Minutes stretched to hours, and the fading daylight turned to black.
"The police convinced Alyssa's mother that she was out partying," said family friend Olivia Murphy, "and to wait until morning."
But morning came and went. No Alyssa. Murphy, who runs a dog rescue finding lost pets, put together a search party to find Alyssa. Friends, family and several members of the Air Force walked the area. Alyssa's father is in the Air Force but out of the country, Murphy said.
"Basically, all the ones who loved her were out looking for her," Murphy said while walking away from a hill of flowers, stuffed animals and photos of Alyssa — a makeshift memorial at the corner of Grand Teton Drive and Tee Pee Lane.
Murphy had sat in the dirt for 10 minutes arranging photos at the memorial's front. Her favorite was of Alyssa dancing with a rescued dog. "She always made me smile, was full of life."
The memorial sits at the edge of a vacant lot where a teenage boy and his girlfriend who had volunteered in the search found Alyssa's body Saturday, minutes from her home. Alyssa was unrecognizable.
REPORT: SUSPECT ADMITTED CRIMES
She had been stabbed more than 40 times, a coroner's report revealed. Her body had been doused with gasoline and was burned so badly that it took two days for authorities to identify her.
The suspect, identified Monday as 19-year-old Javier Righetti, told detectives he had raped and robbed the girl before setting her ablaze, a Las Vegas arrest report said.
Righetti was arrested at his home on the 7900 block of Willow Pines Drive, minutes from Alyssa's home and her school and less than a mile from the vacant lot where her body was found.
Police said the killing was a crime of opportunity. Righetti had never met Alyssa but lived near Grand Teton Drive, the route she walked to school.
Righetti attended Arbor View in 2007. He transferred to Centennial High School in 2008 as a junior, the last year the Clark County School District has on record for him.
Righetti is being held without bail at the Clark County Detention Center. He faces charges of murder with a deadly weapon, sexual assault with a deadly weapon, first-degree kidnapping with a deadly weapon and robbery with a deadly weapon.
'EVERYONE WORE WHITE FOR HER'
The classrooms and halls of Arbor View were somber Tuesday, the first day back for students since their classmate was slain, said friend Brenna Wilson, who left two pink flowers at Alyssa's memorial.
"Everyone wore white for her," the 14-year-old freshman said while fighting back tears.
"It makes you want to hold on to your children a little tighter," said Brenna's mother, Dominique Gallagher. She wrapped an arm around Brenna's shoulders like a blanket.
On Monday night, homicide Lt. Lew Roberts said, "This was a 15-year-old girl who was innocent and should not be dead."
On Tuesday night, an Arbor View junior who had never met Alyssa agreed. "We all wish we could have known her. We all wish she could have experienced life," Alexandra Adkins said.
Before Righetti's Monday night interview with police ended, he admitted committing a second rape and robbery, a claim detectives are investigating.
Police tracked down Righetti after the suspect called a friend, Daniel Ortiz, and said he had killed a girl during a robbery.
Ortiz "thought he was high," the report said he told police.
But Ortiz gave Righetti a ride to a convenience store, where Righetti bought gasoline and matches, the report said.
He drove Righetti to a vacant lot near Grand Teton Drive and Oso Blanca Road. Ortiz told detectives he "felt like he was going to throw up" and left.
Ortiz's girlfriend called police after she learned of the missing girl and became suspicious of Righetti, the report said.
Review-Journal writer Antonio Planas contributed to this report. Contact reporter Trevon Milliard at tmilliard@reviewjournal.com or 702-383-0279. Contact reporter Mike Blasky at mblasky@reviewjournal.com or 702-383-0283.