Suen cites meeting as key to his Sands involvement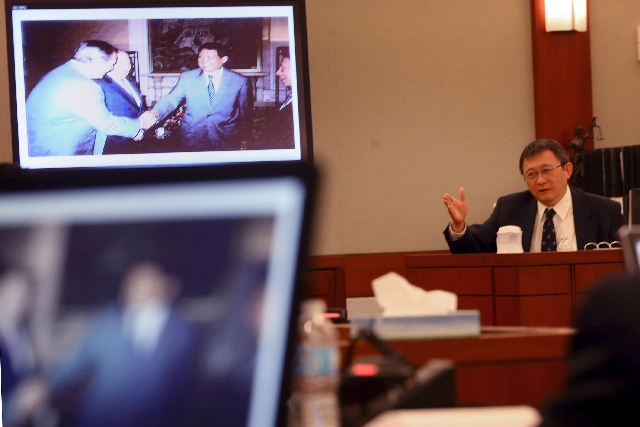 The second day of testimony by former Las Vegas Sands Corp. consultant Richard Suen focused not only on what he said but on his sources.
To back up his claim that he played a large role in securing the company's lucrative Macau franchise, Suen's attorneys on Tuesday produced what they characterized as the minutes of a Dec. 2, 2000, meeting at Sands executive offices in Las Vegas. Among the topics in the four pages of notes, typed by the secretary to Sands Chairman and CEO Sheldon Adelson, was the need for "additional information in regards of the bidding of a gaming license in Macau."
The point is critical because Adelson, in his appearance on the witness stand, said Suen's request for a fee depended on securing the license prior to open competition. When that didn't happen, he refused to pay Suen anything.
Suen said his work and his Chinese government connections helped Sands succeed, even though he said he always anticipated competition. As a result, Suen's lawsuit in Clark County District Court requests payment of a $328 million fee.
Sands attorney Richard Sauber, while cross-examining Suen, pointed to a notation at the bottom of the minutes that read RCS:bay. In standard business correspondence, the capital letters refer to the author, Richard C. Suen here, and the small letters to the person who prepared it, or Betty A. Yurcich.
"Doesn't this mean you wrote this document and gave it to Betty Yurcich to type up?" Sauber said.
Suen testified that Yurcich had entered the meeting after it started, took her own notes and then formalized them. Besides Adelson and Suen, the meeting included former Sands President and Chief Operating Officer William Weidner and three Suen associates.
Suen said they had come to Las Vegas for the first time to see what Adelson had meant when he said several months earlier that he wanted to build the "Las Vegas of the Far East" in Macau, in Suen's version.
Adelson, in his testimony, depicted the December meeting as little more than a formality with little or no substance.
The meeting notes came into evidence over the objections of Sands attorneys that a particular section, referring to Suen's ideas being "well-received" by Chinese and Macau government officials, amounted to hearsay.
The issue of hearsay is particularly sensitive here.
The Nevada Supreme Court in 2010 overturned the trial two years earlier that awarded Suen $43.8 million because of hearsay evidence, which can improperly influence a jury.
Acknowledging the seriousness of the seemingly technical issue, Judge Rob Bare noted that a rash of objections could cause the Supreme Court to wonder, "Bare, what in the heck are you doing down there."
Hearsay objections by Sauber arose at several other junctures Tuesday, in one instance prompting a recess and a subsequent jury instruction to disregard a piece of Suen testimony about what a top Chinese official thought of the Sands proposal.
A pillar of Suen's case involves his contention that the government connections he and his associates had accumulated over time proved critical in winning approval of the Sands bid. Without direct testimony from Chinese government officials involved, Sauber said, the only proof would come from hearsay.
Bare attempted a carefully balanced hearsay definition that ruled out Suen testifying about certain things that some of his associates said, but allowed him to talk about his "understanding" of what the group did in meetings.
Nevertheless, the dueling over hearsay continued.
The trial continues today with Weidner taking the stand. During his 2008 testimony, he was still Adelson's top lieutenant. He left the company in March 2009 after an unusually public executive-suite dispute.
Contact reporter Tim O'Reiley at toreiley@reviewjournal.com or 702-387-5290.