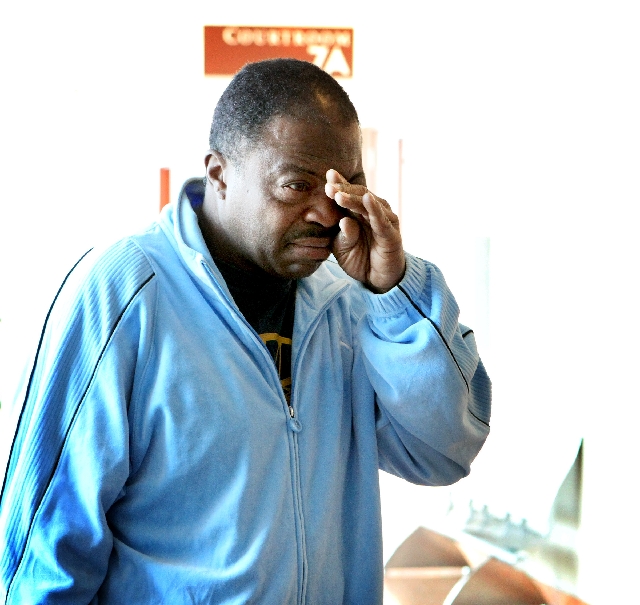 Ammar Harris once flashed stacks of $100 bills and posted photos of his luxury cars and homes on social media websites.
On Wednesday, the self-proclaimed pimp said he couldn't afford to hire an attorney.
Flanked by court marshals, the 27-year-old Harris, wearing navy blue jail scrubs with his legs and arms shackled, made his first appearance in a Las Vegas court.
It has been nearly two months since prosecutors said Harris shot and killed reputed pimp Kenneth "Kenny Clutch" Cherry Jr. as the two were driving separate vehicles on the Strip early in the morning of Feb. 21.
The shooting caused Cherry to crash his car into a taxicab, which burst into flames, killing the driver, Michael Boldon, and his passenger, Sandra Sutton-Wasmund of Maple Valley, Wash.
Harris was arrested Feb. 28 in Los Angeles. He then fought extradition to Las Vegas for nearly six weeks.
He was booked into the Clark County Detention Center and faces 11 charges including, three counts of first-degree murder.
During a brief hearing Wednesday, Justice of the Peace Deborah Lippis appointed the special public defender's office to represent him. Prosecutors did not oppose the appointment of indigent council for Harris.
The judge set a status check in the case for April 29 so Harris' lawyers could receive discovery from prosecutors. She ordered Harris held without bail.
Afterwards, Chief Deputy District Attorney David Stanton explained why prosecutors did not oppose the appointment of a public defender for Harris, considering he flaunted a luxurious lifestyle: "If we had relevant information regarding Harris' finances, we would have brought it to the court's attention."
Stanton said the investigation in the case, including Harris' finances, is ongoing.
After the hearing, Boldon's brother, Tehran Boldon, called Harris a coward.
"I hope he gets what he deserves," Tehran Boldon said. "He's an example of what's wrong with our society. The whole culture is bad, the culture of hip-hop , YOLO mentality (You Only Live Once) is destroying the fabric of our society," Tehran Boldon said.
He said it took all of his restraint not to rush Harris. Tehran Boldon then began to weep.
"I don't understand how someone could be so callous," he said.
Cherry's cousin, Shanna Cherry, said, "Three people lost their lives. We want justice for all of the families."
When asked what would be justice in the case, she said the death penalty.
District Attorney Steve Wolfson said the case will be reviewed by the death penalty committee once it moves to District Court.
First, Lippis or a grand jury must decide whether prosecutors have enough evidence to bring the case to trial.
The death penalty committee, whose meetings are not open to the public, looks at three factors when considering capital punishment: whether there are aggravating factors in the case, whether a jury would impose the death penalty as punishment and whether a conviction would stand up under appeal.
Wolfson wouldn't comment on details of the investigation but said, "We're just glad Mr. Harris is here. We're glad we can move forward with the prosecution."
According to police reports and sources, Harris and Kenneth Cherry Jr. had a brief encounter at Aria at CityCenter which sparked the deadly encounter.
Harris became angry with Cherry, 27, and, after leaving the casino, authorities allege, fired at least five rounds from the driver's seat of his Range Rover at Cherry's Maserati on Las Vegas Boulevard near Flamingo Road.
Law enforcement sources have told the Review-Journal the beef was over a prostitute.
Harris fled Las Vegas, which sparked a multistate manhunt. He was arrested by a team of FBI agents and police at an apartment in Studio City in Los Angeles.
Contact reporter Francis McCabe at fmccabe@review journal.com or 702-380-1039.