Tech billionaire enters guilty plea in Las Vegas drug case
Updated October 2, 2019 - 4:53 pm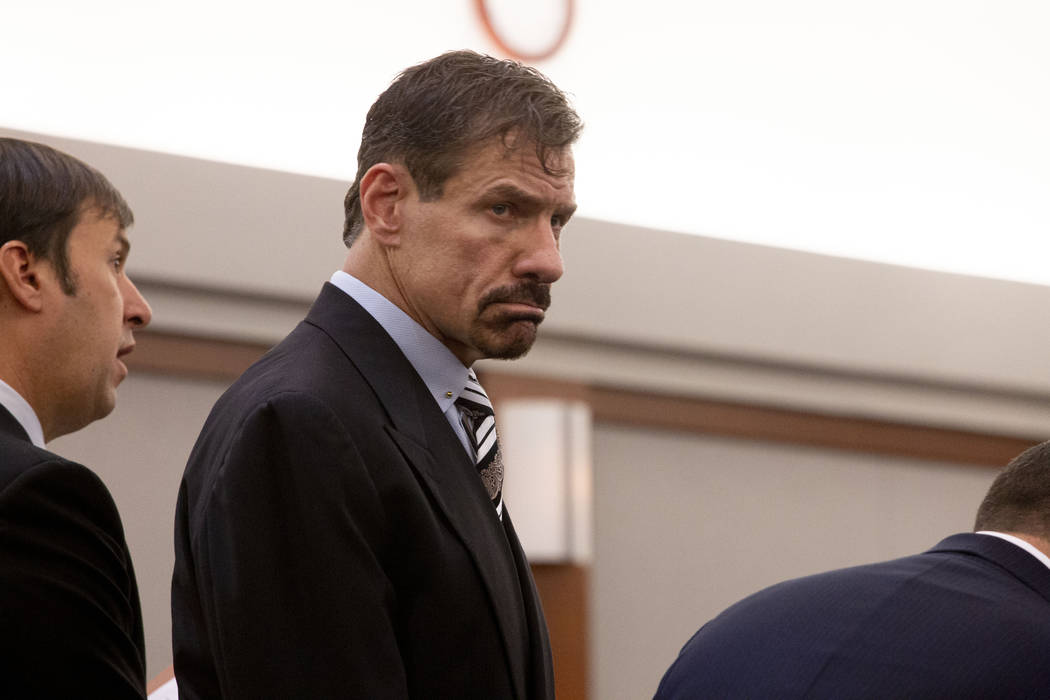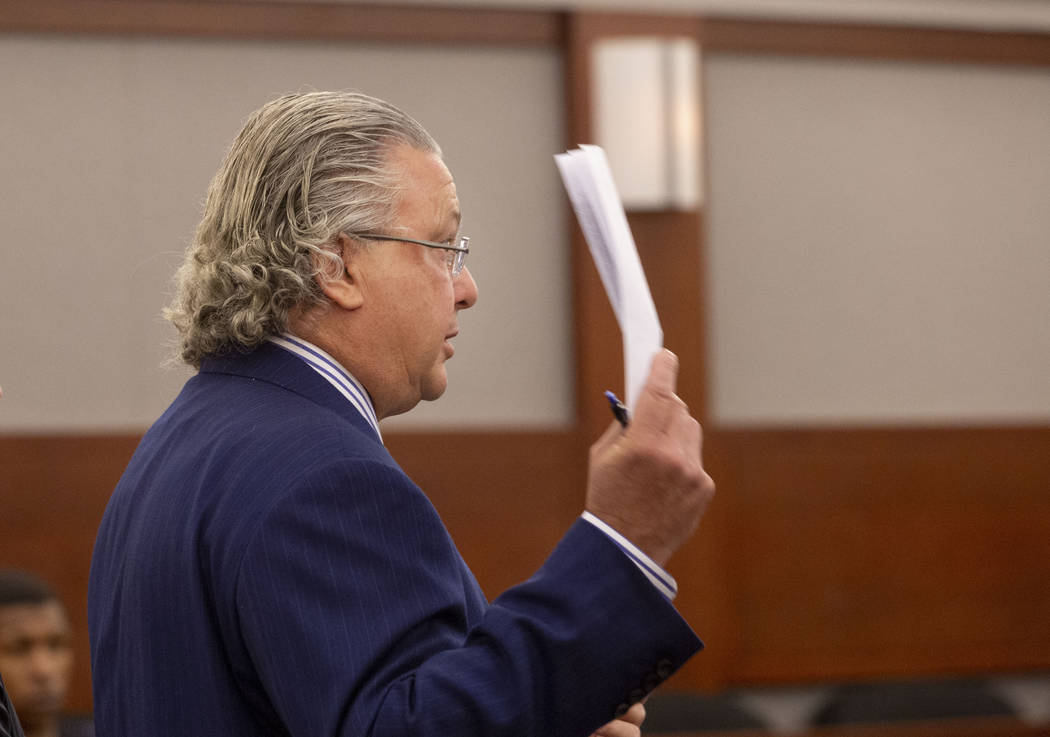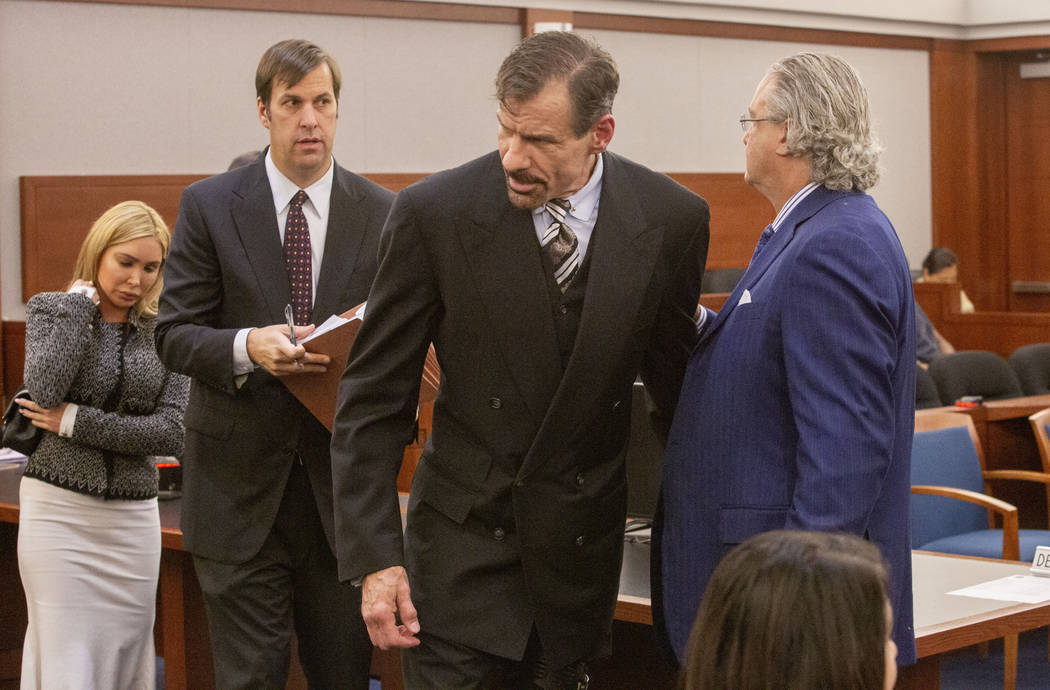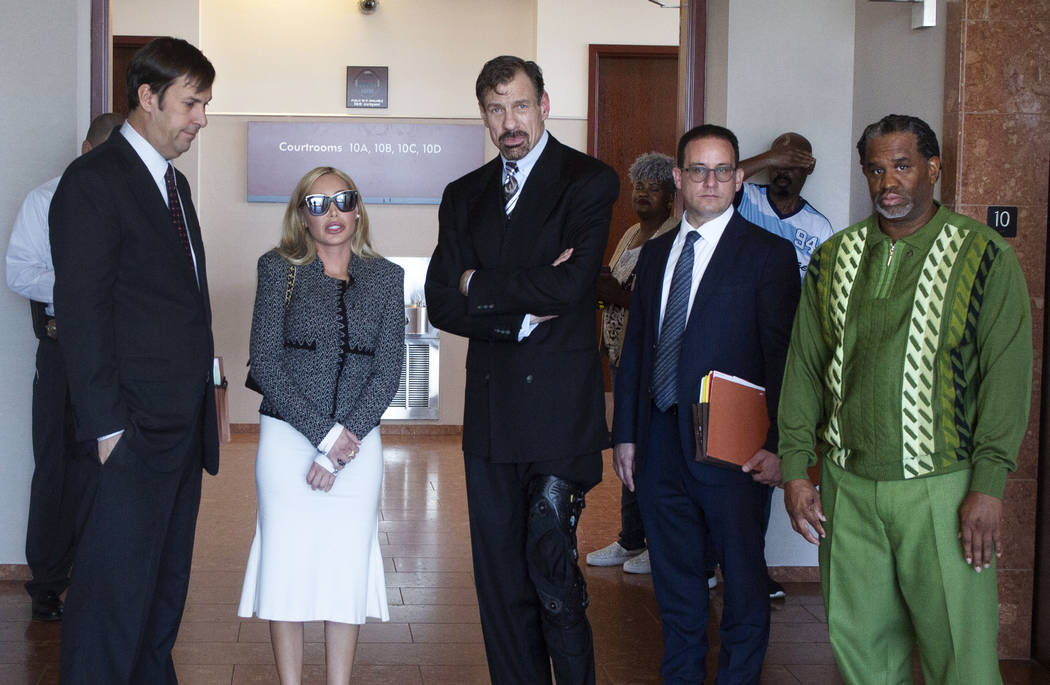 Tech billionaire Henry Nicholas III and his girlfriend, who were arrested at a Strip hotel last year, pleaded guilty Wednesday to a felony drug possession charge.
The pair entered a type of guilty plea known as an Alford plea, which means they admitted only that prosecutors have enough evidence to prove the allegations to a jury.
Nicholas, 59, walked into the Las Vegas courtroom with a slight limp and a brace around his left leg. He stood next to his lawyers, David Chesnoff and Richard Schonfeld, while co-defendant Ashley Fargo, 38, stood beside her lawyer, David Brown.
Both said they understood the negotiations and answered a series of standard questions read to defendants who sign plea agreements.
As part of the deal, prosecutors agreed to dismiss drug trafficking charges and ultimately drop the convictions against Nicholas and Fargo if they complete 250 hours of community service and drug counseling. Nicholas and Fargo also made $500,000 donations to a trio of nonprofit organizations: PACT Coalition, Foundation for Recovery and Boys & Girls Clubs of Southern Nevada, according to their attorneys.
"Actually, what I think Dr. Nicholas has done here is help more people because the contributions to drug programs are remarkable and are going to have an incredible impact in Clark County," Chesnoff said after the hearing. "He's also brought to the attention of everybody and the justice system that in drug cases incarceration isn't the answer."
According to Forbes.com, Nicholas holds a doctorate from the University of California, Los Angeles.
Nicholas and Fargo were arrested after security at the Encore called police in August 2018 to report contraband in the room. Fargo was once married to Wells Fargo heir Brian Fargo.
Security officials at the Strip hotel discovered various narcotics and recreational drugs, including heroin, methamphetamine and cocaine, inside Nicholas' guest room after unlocking and entering the room, according to court documents.
Nicholas had called security for a wellness check on Fargo, who was inside the room at the time, according to court records.
The two originally faced five counts of trafficking in a controlled substance and two counts of possession of a controlled substance.
Authorities found nearly 96 grams of methamphetamine, 4.24 grams of heroin, 15.13 grams of cocaine and 17.1 grams of the psychedelic psilocin, according to a criminal complaint.
In accepting the plea deal, District Judge Jacqueline Bluth said she was "trying to walk the fine line of not getting involved in negotiations," but she asked a prosecutor to explain why the deal had been worked out. She said she wanted to "effectuate trust" in the justice system.
Chief Deputy District Attorney Brad Turner pointed to "a number of factors the state looked at in formulating this negotiation," including whether prosecutors could prove that Nicholas and Fargo had "immediate and exclusive access" to the drugs.
"Given the facts of this case, we have multiple individuals both identified and unidentified who had access to the common area of the suite," Turner said.
He added that there was no evidence that showed the drugs were packaged for sale.
Chesnoff told the judge that Nicholas and Fargo maintain their innocence but agreed to the plea because "this was a remedy that would benefit them, benefit the justice system and benefit the community."
The judge also referenced other cases in which defense attorneys have asked that those accused of similar drug charges receive fair treatment.
One of those defendants, Ray Jefferson, and his lawyer, Ozzie Fumo, observed Wednesday's hearing. In August, Fumo filed a court brief asking Bluth to treat Jefferson the same as the tech billionaire.
"The primary difference between the two men is that Defendant Nicholas is wealthy, while Jefferson is not," Fumo wrote.
Contact David Ferrara at dferrara@reviewjournal.com or 702-380-1039. Follow @randompoker on Twitter.
Statement from Marsy's Law for All
Billionaire Henry Nicholas III bankrolled a victims' rights law that voters approved in November. After Nicholas pleaded guilty Wednesday to a drug charge in Las Vegas, the Marsy's Law for All organization issued the following statement:
"We are pleased that this matter has reached a conclusion and we are moving full steam ahead under Dr. Nicholas' leadership to ensure every crime victim in America has proper constitutional protections."