Teen admits to making racist threats at Las Vegas school
Updated April 5, 2019 - 6:17 pm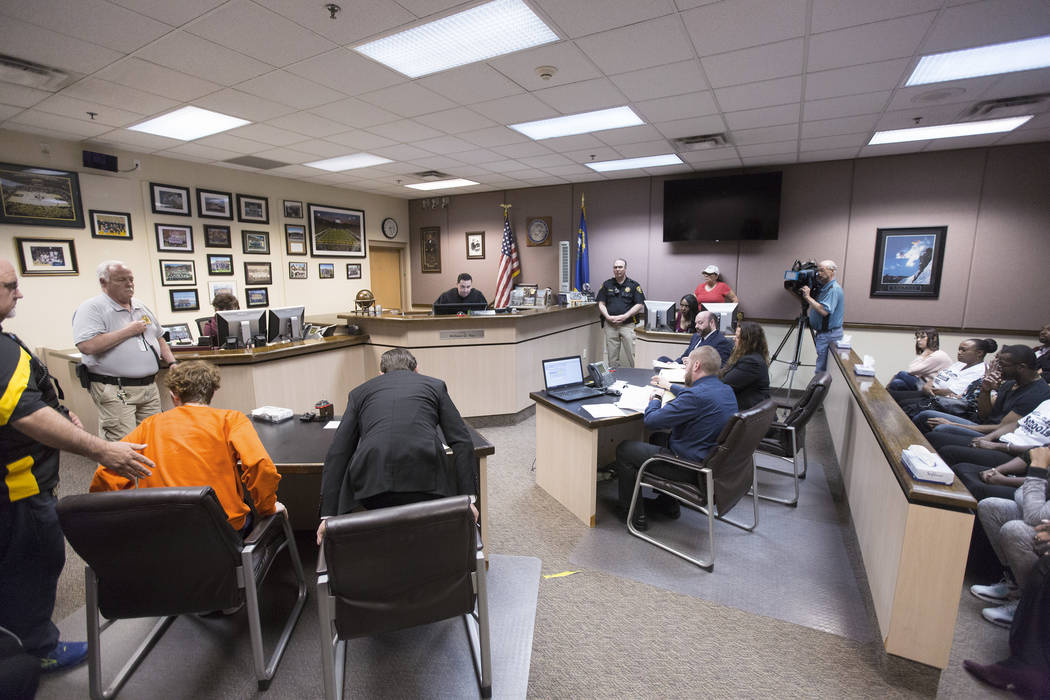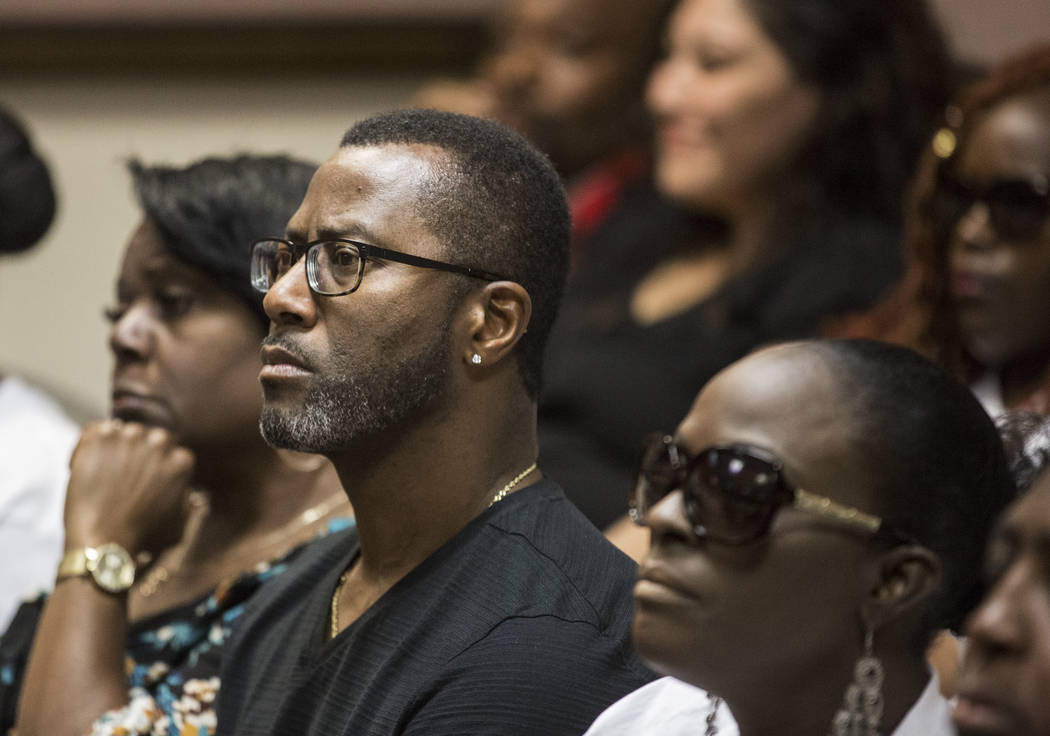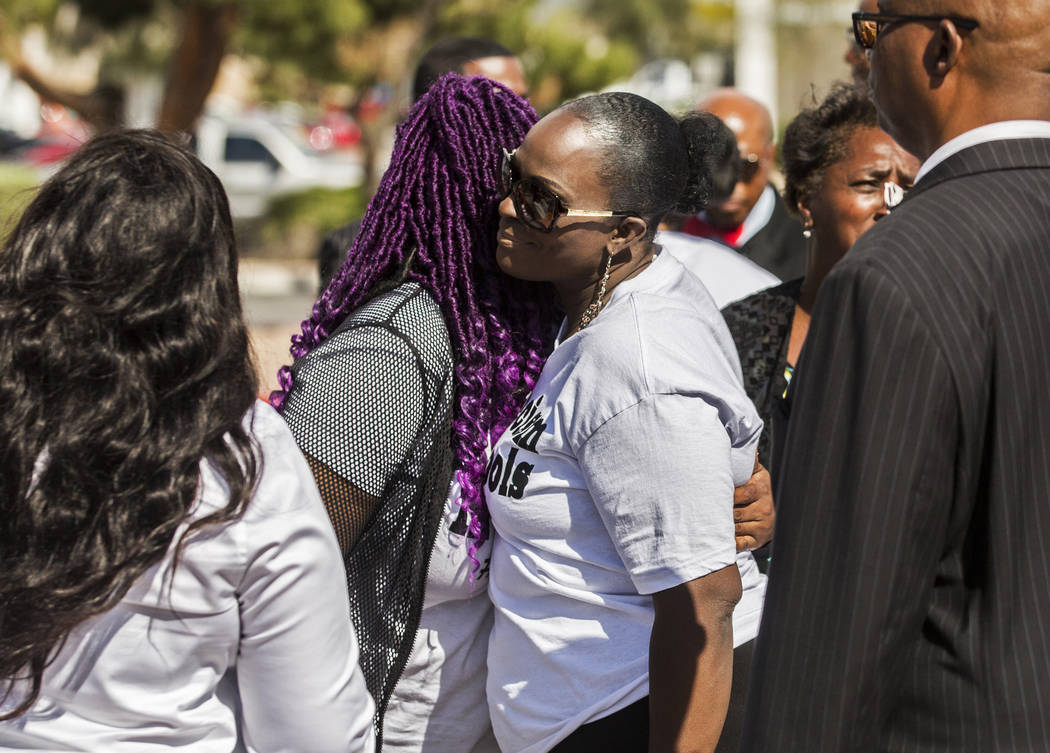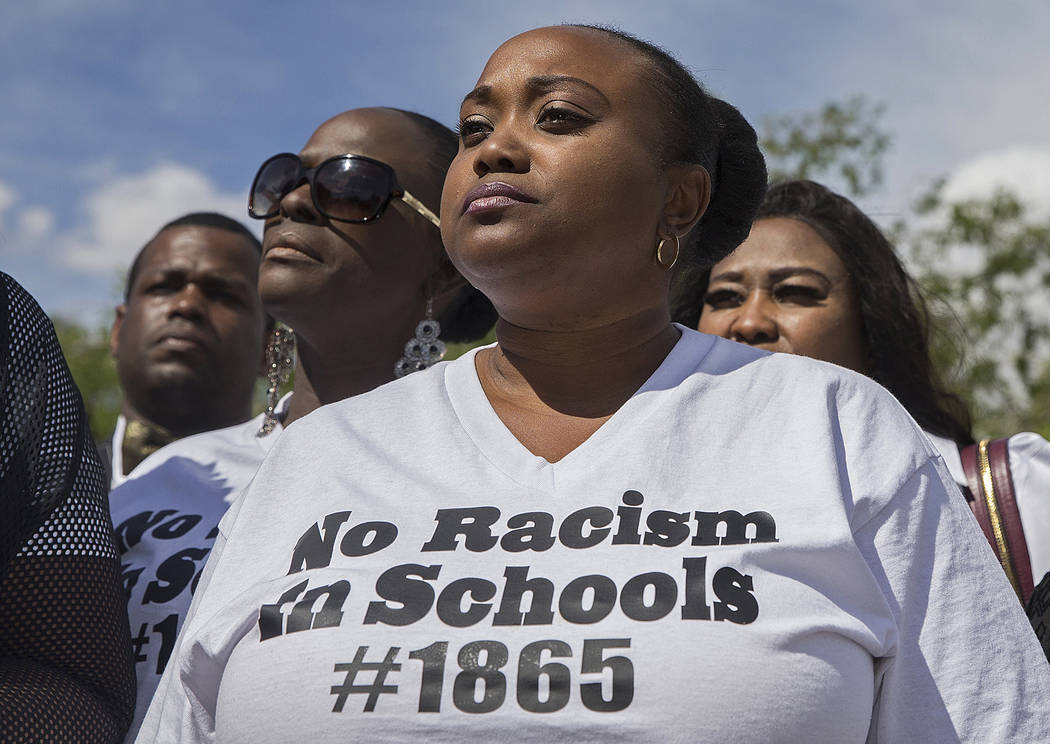 Under the warm sun Friday afternoon, the group of mothers joined hands outside the Clark County Juvenile Justice center in Las Vegas and prayed for strength — and two guilty pleas.
But more than an hour later, the mothers stormed out of the courtroom, most of them crying after learning that a plea deal had been offered to the two suspects in a series of racist threats made on Instagram against black Arbor View High School students.
"Channel your rage, channel your rage," mother Akiko Cooks said to herself as she left the courthouse, tears emerging from under her pink aviator sunglasses.
As part of the deal, the teen who created the account last month to post the threats pleaded guilty to a felony charge of making a terrorist threat.
"He's taken a very adult step to start to repair some of the harm that he's caused based on his actions," the teen's attorney, Adam Solinger, said.
The teen then waived his right to a trial. He will be sentenced April 12 by Juvenile Court Judge William Voy.
His co-defendant appeared in court Friday afternoon, although his case was continued for a week for further plea negotiations. The two, who have been in custody since their March 19 arrests, will remain jailed. They face expulsion from the northwest Las Vegas high school.
Both boys, 15 and 16, originally were charged with making a terrorist threat, conspiring to commit an act of terrorism, cyberbullying, hate crimes and breach of peace, police have said. A third student also was cited, for cyberbullying, but was not jailed.
Officials have not released the boys' names because they were not charged as adults in the case, Brigid Duffy, Clark County's chief juvenile prosecutor, has said.
The Instagram account was created specifically for the threats, which stated that the school's hallways needed to be "cleansed" of black students in a "Columbine pt. 2," referring to the 1999 mass shooting at Columbine High School.
Nine black students whose candid photos were posted to the account with the threats have been identified as victims. But following Friday's hearing, a visibly upset Duffy said, "Every black child at Arbor View is a victim."
At the same time, the mothers held a news conference outside the Juvenile Justice center, standing not far from where the group had prayed together earlier.
"Today there's only one count and one charge," another mother, Jshauntae Marshall, said of the plea deal, her brows furrowed. "And it is not OK."
Her child and Cooks' 15-year-old son were two of the students whose faces were targeted by the threats, which prompted involvement from the U.S. Department of Homeland Security.
Cooks said her son returned to school Wednesday for the first time since the threats had been made. That day, she texted him 17 times to check on him, Cooks said.
"No child should go to school scared, wondering if they're going to make it home because they've been targeted for the color of their skin. It is not 2019, not 1865," Cooks said during the news conference, referencing the year slavery was formally abolished in the United States. "We are a movement, not a moment. We are not going anywhere, and we are ready to fight this. The torch has been passed to us from our ancestors, and we are carrying it, all of our hands together."
The women nodded in agreement as another mother began to speak.
"They're hoping that we stand down. They're hoping that we push this to the side," she said, almost yelling. "We're not giving up. We're here for the fight. We're not fighting for just our sons; we're fighting for all the sons at school because this could have been your child."
The woman declined to identify herself.
"If they aren't releasing the suspects' names, why should I release mine?" she said.
Contact Rio Lacanlale at rlacanlale@reviewjournal.com or 702-383-0381. Follow @riolacanlale on Twitter.
RELATED
Meeting at Las Vegas high school addresses recent racial tensions
Las Vegas student cited for alleged involvement in racial threats
CCSD Superintendent address alleged racially motivated threats at Arbor View