Teen sentenced over racist threats at Las Vegas school
Updated April 12, 2019 - 6:59 pm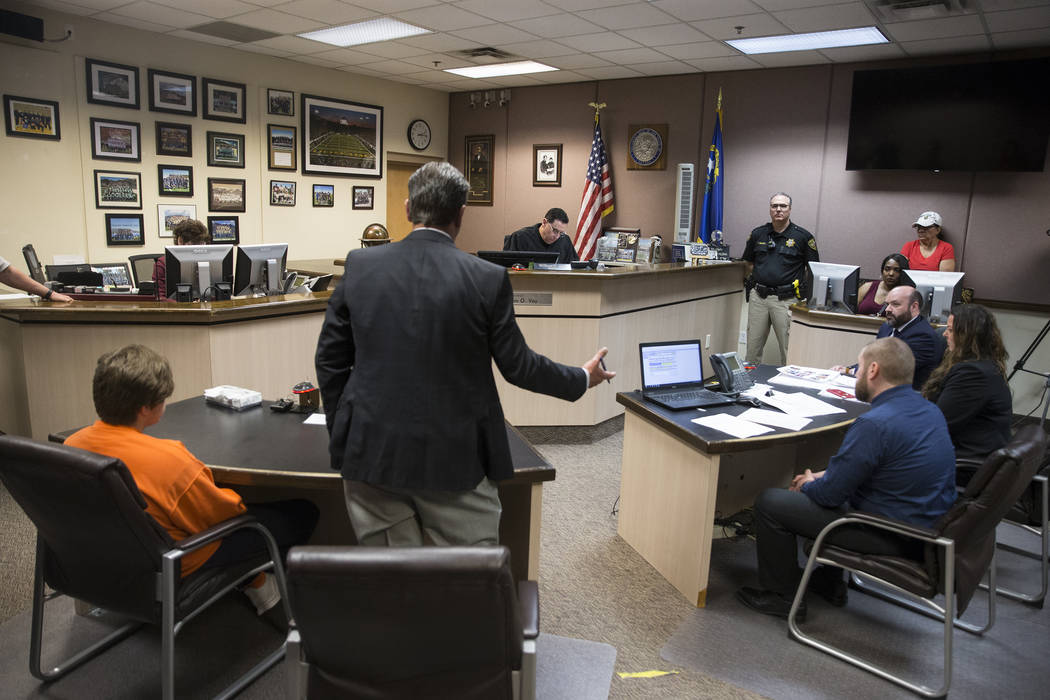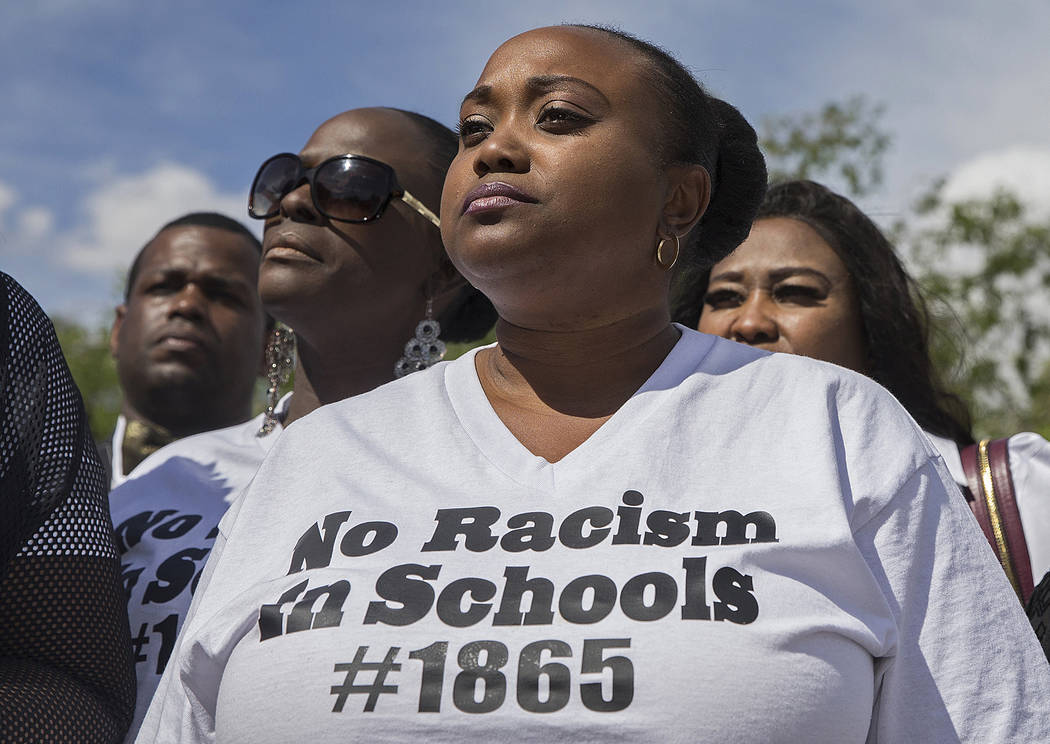 How do you cure racism?
It was the question on everyone's mind Friday morning in Juvenile Court during a sentencing hearing for a 14-year-old boy who created an Instagram account last month to post racist threats against black students at Arbor View High School.
Clark County's chief juvenile prosecutor, Brigid Duffy, recommended that the teen be sent to a diversion program at a juvenile facility, where he would be immersed with children of all races while completing "corrective" programs that typically run about nine months.
Defense attorney Adam Solinger argued for counseling and probation, effectively allowing the teen to remain at home with his family.
"The state references that they're not quite sure how to cure racism, and I don't know, either," Solinger said. "I don't think anyone has a definite answer to it. But I don't think incarceration is necessarily the answer to that."
Judge William Voy sided with Duffy and sentenced the teen to the juvenile facility, followed by at least 36 months of probation. The student had pleaded guilty last week to a felony charge of making a terrorist threat as part of a plea deal.
"I know what I did was a horrible action. It brought fear on all of your families, and it scared them," the teen said, addressing the victims' families for the first time. "That's horrible to me because I can't relate to having a kid of my own, but I can relate to having a little sister and taking care of her, and if anything like that were to happen to her, a threat, I would feel the same way. I'd want the person to be punished."
The amount of time he will spend at the facility will depend on the customized program created for him by Clark County Juvenile Probation.
"The juvenile system is about accountability and rehabilitation. That is what we do here," Voy said. "The question is thrown out as to how do you cure or fix racism. I wouldn't be sitting here, and I don't think Ms. Duffy would be here, if we didn't believe that the justice system can fix kids."
Voy also described the county program as preferable to sentencing the teen to time in a state-run facility.
"Quite frankly, any chance of rehabilitating racism isn't going to happen in one of these state facilities, not even close," he said before a brief pause. "However, knowing as well as I do who I have and what I have and who is ultimately responsible for our probation system in the county, I have faith in my officers."
Most of the teen's family members sat impassively behind him in the gallery as Voy spoke.
Voy also said the teen would not be allowed to re-enroll into the Clark County School District without the court's permission, and he instructed the teen to write apology letters to all nine black students whose photos were posted to the account and to the school at large.
"A lot of damage has been done to the school and to the community, and a lot of healing needs to happen," he said.
Co-defendant still in jail
The teen's co-defendant, a 15-year-old boy, was offered the same deal last week and had been expected to enter a plea on Friday.
But his attorney, J.D. Evans, asked for more time to review school police body camera footage of the teen's interview with investigators following his arrest. Evans said he had just received the last batch of the footage, which totaled more than four hours, on Friday morning.
The 15-year-old is accused of helping write the photo captions, although Evans has denied that the boy had direct access to the account.
Voy set a status hearing for April 22, when the teen could accept the plea deal or go to trial, which was set for May 20. Voy also ordered the teen to remain in detention.
The Clark County School District previously said the suspects were 15 and 16.
Both originally were charged with making a terrorist threat, conspiring to commit an act of terrorism, cyberbullying, hate crimes and breach of peace. A third student also was cited for cyberbullying but was not jailed.
Before Voy handed down his sentence, several mothers of the identified victims addressed the teen and his family as they stood next to a large poster displaying copies of the threats.
"To your parents, I'm sorry that you guys have to go through this, and I am praying for you all so that you all not only can learn from this situation but that you can help others who struggle with bias," Jshauntae Marshall said. "We appreciate your tenor in stating so expeditiously that you have done wrong, young man, but your apology is moot without change. You need change fueled by love."
Another mother, Akiko Cooks, read a letter written by her 15-year-old son.
"I couldn't and still can't understand why someone who doesn't know me would want to kill me because I'm black. I didn't have a choice in that but I'm proud of it," Cooks read from the statement as she held a crumpled tissue in one of her hands. "The stress of this threat has broken my spirit and has caused me to withdraw."
On Thursday night, Cooks and Marshall had both attended a heated Clark County School Board meeting, where the trustees acknowledged that the racist threats were mishandled. The district also announced that it will partner with a national equity organization to improve the cultural climate at Arbor View High School.
A number of the parents eventually stormed out of the meeting after Trustee Danielle Ford referred to students of color as "colored students."
Trustee Linda Cavazos had to lean across the dais to correct her as parents grew angry.
"You just proved the point," one parent shouted as she walked out. "You just proved it."
Contact Rio Lacanlale at rlacanlale@reviewjournal.com or 702-383-0381. Follow @riolacanlale on Twitter.