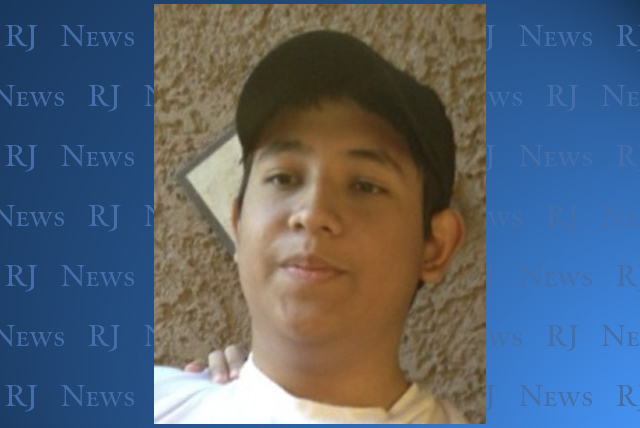 They celebrated his 16th birthday that Monday.
By Tuesday, Sept. 17, the family of Adrian Navarro-Canales was dead. Adrian, now charged with murder in their killings, has evaded police for a week.
The arrest warrant for Adrian was made public Tuesday, revealing new details about the troubled teenager, described by relatives as unhappy, anti-social and with very few friends.
Henderson police found the decomposing bodies of Elvira Canales-Gomez, 40, and Cesar Navarro, 9, in the bathroom of their apartment Friday. Cesar had been stabbed once in the chest. His mother, who was found with a large knife in the center of her chest, was stabbed multiple times, according to the warrant.
Adrian had been "extremely volatile, defiant and violent toward Elvira in the past and that he has been known to push or punch her when she confronts him," her niece Ana Martinez, 23, told police. He "does not have any associates in the area that she (the relative) knows of and that he does not like it in the United States and expressed his interest to go back to Mexico," she said.
Police said Adrian likely remained in the house Tuesday and Wednesday after the killings and before he disappeared.
Wherever Adrian is, he had a head start on Henderson police.
Officers were first summoned to the family's apartment at 11000 Eastern Ave., near Sunridge Heights Parkway, on Wednesday, the day after police suspect the mother and son were killed.
Carlos Rubio-Villanueva, the boyfriend of Canales-Gomez, asked for a welfare check after his girlfriend failed to answer her phone or open the door. Officers responded to the home, but did not go inside.
Rubio-Villanueva called for another welfare check on Thursday afternoon. Henderson officers responded again, but did not go inside.
Frustrated, Rubio-Villanueva contacted Martinez, who also called police. Officers went back to the home Thursday night, but again did not go inside.
Martinez said she knew it was too late.
"I knew they were dead. Inside of me, I knew they were dead," Martinez said of her aunt and cousin Tuesday. "I told the cop, and he said I exaggerated. He said he could smell a decomposing body from a mile away."
"I told him, 'Why can't you guys just kick the door in and go inside?' He said she might sue us and we would have to replace the door," she said.
Martinez said she told the officer about the two prior welfare checks called in by Rubio-Villanueva, but the officer said his records didn't show those calls.
Henderson spokesman Keith Paul said there were no exigent circumstances that would have allowed police to enter during those first three checks. The door was locked, the windows were secured.
She called police a fourth time Friday morning after learning Cesar had not been to school since Tuesday and her aunt hadn't been to work. Officers obtained a key from the apartment complex manager and went inside, where they found the bodies about 11 a.m., the report said.
The officer she met on Thursday night spoke with her at the apartment. He told her 'I'm sorry,' and gave her a hug, she said.
"It hurts because I was right," she said.
Adrian has been off the grid since Wednesday, when he sent his father a text message indicating that the family "was fine," and their cell phones had been turned off. Adrian turned off his cell phone after sending the message and police haven't been able to trace it, the report said.
The estranged husband of Canales-Gomez and father of the boys, Adrian Navarro Soto-Mayor, lives in northern California but took a flight to Las Vegas Friday after learning about the deaths.
Soto-Mayor also uses the name Enrique Velasquez, the report said.
Adrian was not named a suspect until Monday, almost a week after the killings and three days after his mother and brother were found. Police originally said Adrian was "missing," and not a fugitive.
Paul said Adrian was named a suspect as the investigation developed.
The teen's passport and Mexican border identification was found inside the apartment, the report said.
Police initially thought Adrian was attending Coronado High School, but he hadn't been enrolled in school since November, the report said. Adrian was quiet and often secluded himself in a room to play video games, the report said.
Martinez said she just found out Adrian hadn't been at school. She suspects that Adrian, who wanted to go to Mexico and study engineering, hadn't told his mother he had dropped out.
"I would come over and ask him about his homework, because he was never doing it," she said.
She doesn't know why Adrian would have attacked his family, and isn't sure if Adrian could have fled to Mexico.
Martinez hopes to get his story so she can "put the pieces back together," she said. Canales-Gomez, a hard-working restaurant employee at Bouchon inside The Venetian for about a decade, was more than just some relative, she said.
"I didn't see her as an aunt. She was like my best friend," she said. "Me and my mom argue all the time, and that was the person for me to run to. I don't know who I can talk to now."
Contact reporter Mike Blasky at mblasky@reviewjournal.com. Follow @blasky on Twitter.