Telles accuses judge of 'badgering' him in recusal request
Updated March 10, 2023 - 3:52 pm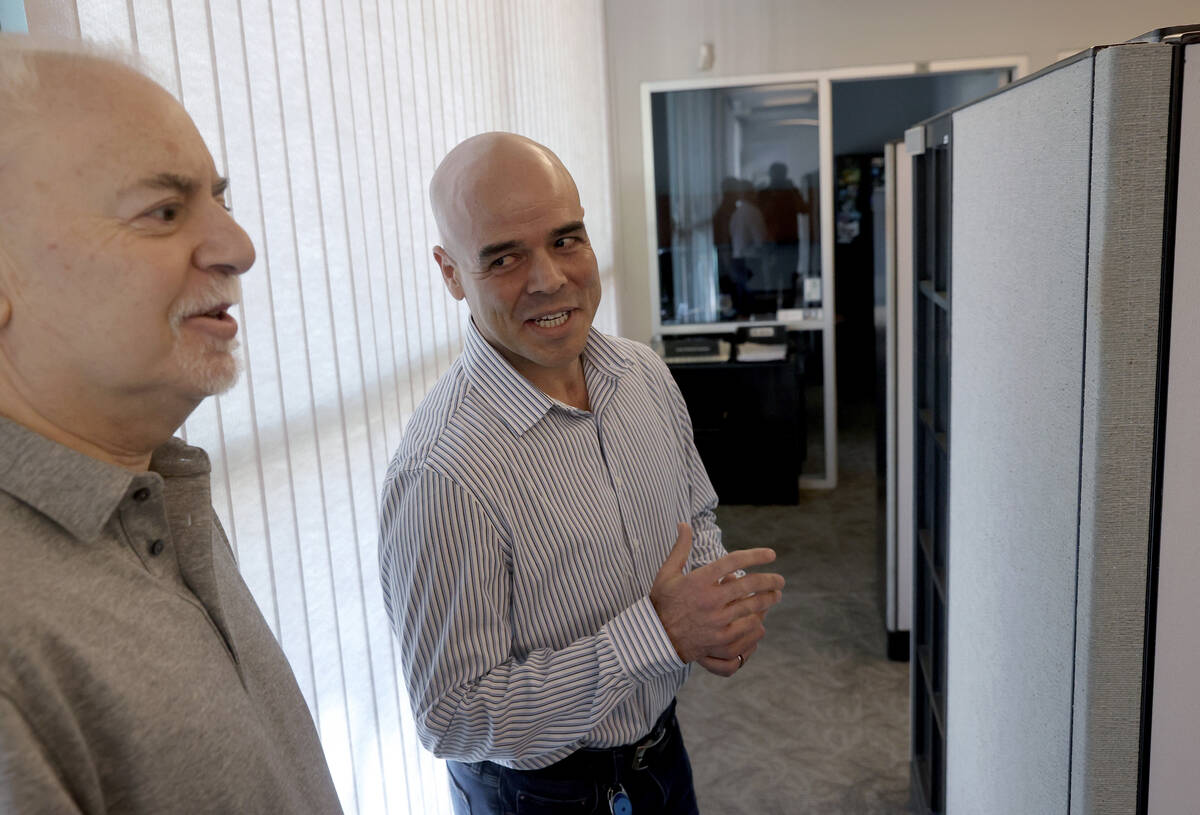 Former Clark County Public Administrator Robert Telles accused a judge of antagonising and "badgering" him when she questioned him about representing himself against a murder charge.
Prosecutors have said Telles fatally stabbed Las Vegas Review-Journal investigative reporter Jeff German outside his home in September because of articles German had written about Telles' conduct as an elected official. After District Judge Michelle Leavitt allowed Telles to represent himself, Telles filed a motion this week asking for Leavitt to recuse herself from the case.
"Judge Leavitt's opinion of Defendant and his self-representation displays a deep-seated antagonism that will make fair judgment in future hearings impossible," Telles stated in the hand-written, 12-page motion released Friday.
During a court hearing last week, Leavitt grilled Telles for nearly 30 minutes about his decision to represent himself and his knowledge of criminal law. She repeatedly told him that she believed representing himself was a bad idea.
Telles has practiced mostly civil and probate law since graduating from Boyd Law School in 2014. He has previously said that he has never handled a felony criminal case, and has taken three civil cases to a jury trial.
He accused Leavitt of "badgering" him during last week's hearing, which Telles said "led the media to produce stories wherein Defendant's intentions and capacity were called into question."
In his exhibits, Telles included two news articles about Leavitt's ruling allowing him to represent himself.
During last week's hearing, Telles told the judge that he wanted to represent himself for the time being, then hire another attorney in a few months. He has previously told other local media outlets that he wanted to raise funds to afford another attorney.
Leavitt told Telles that once he decided to represent himself, "you don't get to change your mind in the middle of the proceedings and then request an attorney."
Telles wrote in his motion that he has found no precedent showing that Leavitt "has the authority to make the waiver of the Constitutional right to counsel irrevocable."
Dispute over jail housing
In court, prosecutors have pointed to several pieces of evidence against Telles in German's slaying, including DNA found underneath the reporter's fingernails and clothing and bloody pieces of a shoe found at Telles' house matching items worn by a suspect seen in surveillance footage wandering German's neighborhood the day he was killed.
Telles has pleaded not guilty to a charge of murder with a deadly weapon against a victim who is 60 or older. He has told other local media outlets that he was framed.
A hearing on Telles' motion regarding Leavitt is scheduled for March 30. There is also a hearing set for Wednesday, when Levitt is expected to rule on a motion Telles filed last week in which he requested to be moved to a different housing unit in the Clark County Detention Center.
Telles is currently being housed without bail in a unit where he is only allowed out of his cell for 30 minutes a day, during which he can conduct legal research, he wrote in the motion.
He also wrote that he was placed in the higher security unit "as punishment for reporting the conduct of a known jailhouse informant," who Telles said had previously tried to coerce him into giving a false confession.
In a response to Telles' motion, attorneys for the Metropolitan Police Department wrote that Telles told an officer in January that an informant, who Telles would not name, had tried to coerce him into confessing. Telles was then put in the higher security unit for his own safety, Metro's lawyers wrote.
After Telles was initially arrested, he was placed in a medical unit due to "self-inflicted open wounds which were obtained prior to his incarceration, as well as mental health concerns," according to Metro's motion.
The department's attorneys wrote that although Telles has a right to represent himself, he does not have a constitutional right to a certain amount of time to conduct legal research.
"He did give up his right to counsel willingly and knowingly," the attorneys wrote. "The limitations he is currently experiencing are normal limitations due to his incarceration and due to his choice."
Contact Katelyn Newberg at knewberg@reviewjournal.com or 702-383-0240. Follow @k_newberg on Twitter.