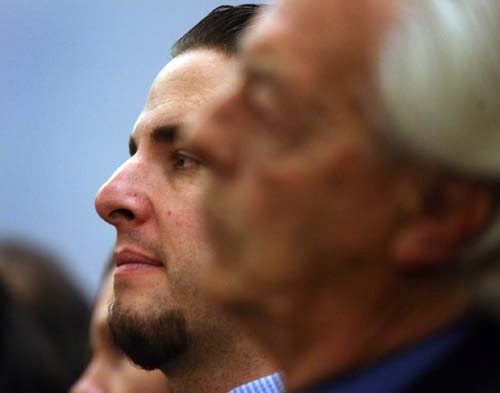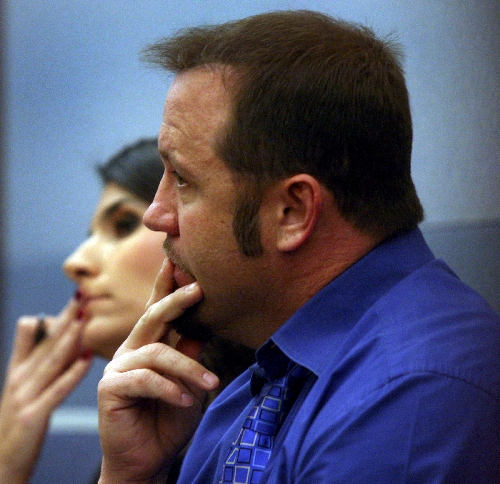 A veteran defense lawyer and a county juvenile probation officer were among those indicted Wednesday in a scam that provided prostitutes and other defendants with phony certificates of completion for court-ordered counseling and community service.
Charged in the 52-count grand jury indictment were attorney Brian Bloomfield, 36; probation officer Robert Chiodini, 41; and former counseling service operator Steven Brox, 46.
Brox's former company, United States Justice Associates, was well-known at the Regional Justice Center, especially at Las Vegas Justice Court, where its counseling services primarily were offered at the time of sentencing in mainly misdemeanor cases.
Bloomfield, who represented the prostitutes and other defendants, is the central figure in the scam, according to the indictment and courthouse sources. He is charged in all 52 counts. Bloomfield, the indictment and sources allege, carried out three separate schemes:
■ He had an employee complete online AIDS awareness and other counseling programs for clients through a court-approved educational service.
■ He obtained certificates of completion from Brox's company for clients, knowing the clients never fulfilled the counseling obligations.
■ He bought phony certificates for clients from Chiodini that stated the clients had completed court-ordered community service with a nonprofit organization affiliated with boxing gyms Chiodini ran.
Investigators think Bloomfield's clients never even knew about the schemes. In some cases, the certificates were filed in court. Some were presented to the prosecutors to falsely show the clients had fulfilled the sentencing requirements. And in other cases, judges simply took Bloomfield's word that the requirements had been met, investigators say.
District Attorney David Roger said he hopes the indictment will bring changes to how Las Vegas Justice Court deals with counseling services.
"This case will rock the criminal justice system in Clark County," Roger said. "While judges thought that they were helping rehabilitate offenders, it is apparent that a counseling agency was committing a fraud upon the courts."
All three defendants appeared in court Wednesday with their attorneys when the indictment was returned. They face a variety of charges, including conspiracy to commit a crime, forgery and offering a false instrument for filing or record. The crimes are alleged to have occurred between February 2008 and May 2010.
Chief District Judge Jennifer Togliatti set bail at $100,000 for Brox, $50,000 in cash for Bloomfield and $35,000 for Chiodini, a probation officer with the county since May 2001.
With the approval of Chief Deputy District Attorney Mike Staudaher, who is prosecuting the case, the three defendants were allowed to surrender Wednesday and post bail to earn their release. A Jan. 11 arraignment was set before District Judge Jessie Walsh.
Detectives with the Criminal Intelligence Section of the Metropolitan Police Department, including Aaron Stanton, the lead investigator on the case, also were in court Wednesday.
Afterwards Bloomfield's lawyer, William Terry, declined comment.
Brox's attorney, Robert Draskovich, said, "Mr. Brox is looking forward to separating fact from fiction. It's been a two-year wait for this case to see the light of day. He vigorously maintains his innocence and looks forward to having his day in court."
Added Chiodini's lawyer, Paola Armeni: "We definitely feel the case is defensible."
In court, Armeni said Chiodini expected to be assigned to a "desk job" while he fights the criminal charges. County spokesman Dan Kulin later said he couldn't discuss Chiodini's job status other than to confirm that he is still working for the county.
The investigation led to the abrupt resignation last month of Chief Deputy District Attorney Roy Nelson, who is friends with Bloomfield.
Nelson was not charged in the case, but text messages found on a computer Las Vegas police seized from Bloomfield last year uncovered possible unethical conduct on Nelson's part. Nelson resigned on Nov. 10 under the threat of being fired.
Justice Court officials have said there is no real vetting process for selecting counseling companies, other than that they have to be certified in their profession.
Generally, only a small group of companies offer the services, and choosing which one to use in each misdemeanor case is up to the discretion of the individual justices of the peace, officials said.
Roger said he hoped Justice Court follows the Las Vegas Municipal Court model.
"Municipal Court employs their own counselors and does not rely on outside counseling agencies," he said. "It has complete control over its counselors and can verify completion of the counseling programs."
Brox's company went out of business more than two years ago after detectives began investigating its activities.
Earlier this year, a district judge dismissed an attempted sexual assault case against Brox stemming from a December 2008 encounter with his teenage niece.
The niece, who was 15 at the time of the incident, had recanted her testimony. She said she made up the allegations to gain sympathy from her boyfriend to keep him from breaking up with her.
Contact reporter Jeff German at jgerman@review
journal.com or 702-380-8135.