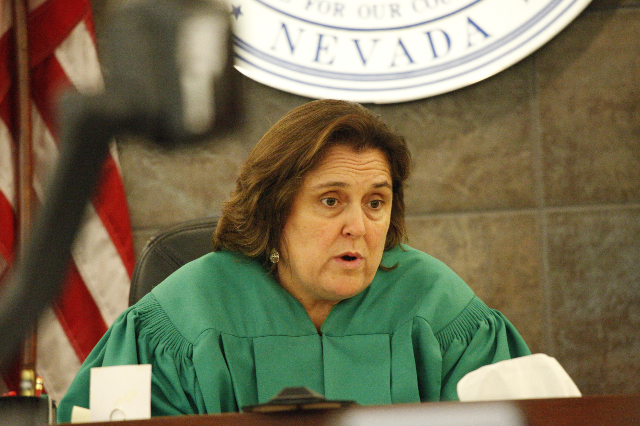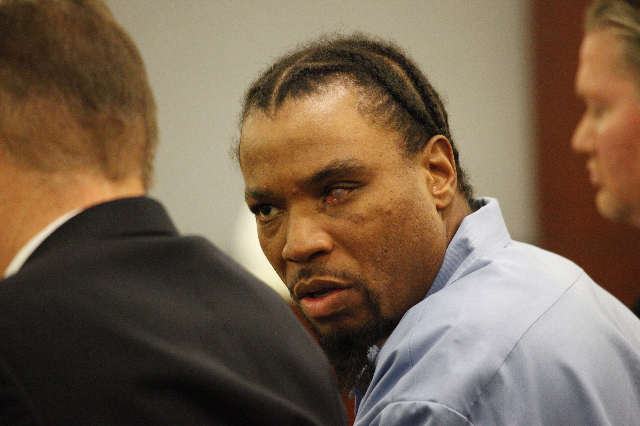 LeSean Collins robbed and killed Brandi Payton, gave the 29-year-old's jewelry to his then-girlfriend, and dropped Payton's body off on the side of the road, prosecutors said Monday during opening statements in his murder trial.
Collins, then 33, gave Payton's necklace and bracelet to his longtime girlfriend as a birthday present only hours before leaving Payton's body in a ravine off a trail between U.S. Highway 95 and Lee Canyon Road, prosecutor Jacqueline Bluth told jurors.
That's near where ATV riders spotted her decomposed body four days later, on Sept. 6, 2008. A medical examiner ruled Payton had sustained blunt force trauma to the head, but could not determine a specific cause and manner of death.
Prosecutors said that the medical examiner, Dr. Larry Sims, did not rule out homicide as the cause of Payton's death.
They said Collins — who faces first-degree murder and robbery charges — disappeared for several hours after handing over Payton's jewelry to then-girlfriend Shalana Eddins, telling Eddins he was headed to Stateline.
Cell phone tower evidence, Bluth said, suggests Collins was instead driving north toward where Payton's body would be discovered less than a week later.
Bluth said bloody rocks and broken fingernails found near Payton's body tested positive for her DNA. She said brown and red stains found on the wall at the home Collins shared with Eddins also belonged to Payton, as did forensic evidence found in the trunk mat of a Hyundai Sonata she had rented several days earlier.
That Sonata was found several miles south of Collins' home about a month after Payton disappeared, partially burned and with its wheels removed.
Special Public Defender Michael Hyte told jurors the prosecution had put together a flawed case, where alternate suspects were not pursued and Collins was singled out to the exclusion of all others who might have had something to do with Payton's death.
He said he plans to call Sims to testify that the head wound sustained by Payton was not the cause of her death.
Collins and Payton were friends, Hyte said, and both dealt PCP, or "shroom sticks."
Hyte promised jurors they would soon learn a lot about Payton's "lifestyle, habits, the company she kept."
"At the end of this case," he added, "you're going to have more questions than answers."
Collins, who is also appealing arson and burglary charges levied against him around the same time Payton disappeared, did not appear in court to hear Hyte's statements to jurors, refusing to re-enter the courtroom without first receiving ibuprofen he is administered three times daily at the Clark County Detention Center.
Prosecutors called four witnesses to help make their case before Monday's hearing went into recess — three of Payton's acquintances and family members and one of the men who found her body.
Collins' trial is expected to last through the end of next week.
Contact James DeHaven at jdehaven@reviewjournal.com or 702-477-3839. Find him on Twitter: @JamesDeHaven.