Trial opens for Las Vegas doctor accused of drugging, raping patients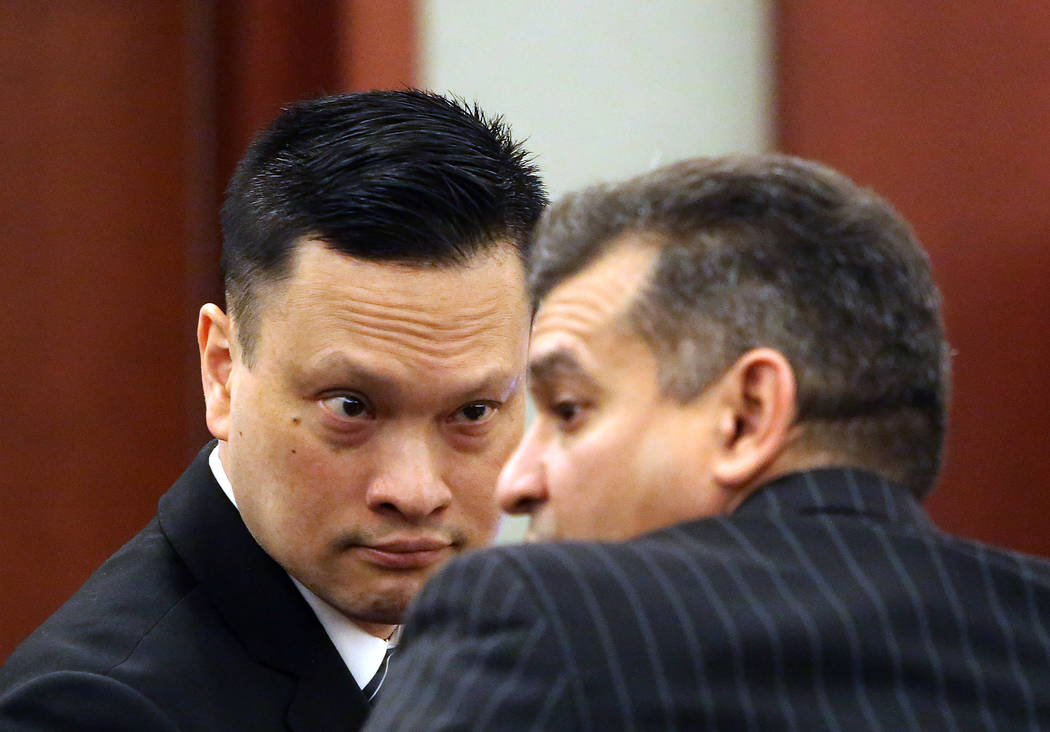 A prosecutor told jurors Thursday that a Las Vegas doctor betrayed the love of his family and trust of his patients when he drugged and raped three women and a teenage girl.
In April 2015, Binh Chung's then-wife, Brenda Wong, discovered video recordings of rapes that occurred inside the doctor's southwest valley office at Sundance Medical Center, she testified as the prosecution's first witness.
Chung faces 14 counts, including use of a minor in the production of pornography, kidnapping, lewdness, battery with intent to commit sexual assault and four counts of sexual assault.
Defense attorney Betsy Allen asked jurors to give "equal and separate consideration" to every charge.
"You have to pick apart every piece, and you have to inspect their finished product to make sure that every piece fits," she said. "If every piece does not fit, they have not given you what they promised."
Wong said she and others contacted authorities after she realized that one woman in the videos, a family friend, was unconscious.
Prosecutor Alex Chen told jurors that Chung sedated patients with ketamine or midazolam, drugs typically used before surgery. Police found a jug of ketamine during a raid of his office.
One victim was his best friend's sister, and another was the same man's niece, the prosecutor said.
"The love that was given to him, he was able to disrespect and ignore in every way possible," Chen said. "What you're not going to hear from any of the state's witnesses is any consent. Pay attention to the bodies in the video, and you're going to see that there is no consciousness."
Authorities launched an investigation in June 2015 after Wong became suspicious about her husband's infidelities and snooped through his text messages and computers.
While searching through Chung's computers and hard drives, police found 10 videos of child pornography, according to his arrest report.
Two of the victims filed a lawsuit against him and his wife. The complaint, which alleges intentional infliction of emotional distress, battery, false imprisonment and negligence, states that Wong, a mandatory reporter as a pharmacist, "failed to report abuse to the authorities as soon as practicable."
The suit also claims that Wong directed Chung to a source where he could buy ketamine for cash.
It is not the first time Chung has been accused of a sex-related crime.
He was arrested in 2006 in connection with a case of open and gross lewdness with a teenager, court records show. That charge was dismissed after Chung completed 100 hours of community service, along with impulse control classes.
The medical board filed a letter of concern against the doctor after the 2006 criminal case was opened. Chung's license was not suspended during that investigation.
Chung graduated from the University of Nevada School of Medicine in 2001 and completed his residency at the school's affiliated hospitals in Las Vegas, according to medical board records. He was first licensed by the Nevada medical board in 2005.
He's been in custody since June 2015, and his medical license has been suspended indefinitely.
Contact David Ferrara at dferrara@reviewjournal.com or 702-380-1039. Follow @randompoker on Twitter.
Key dates in rape case
— April 2015: Brenda Wong finds video of then-husband, Binh Chung, having sex with a woman.
— June 2015: Wong confronts woman, realizes woman was unconscious during sex.
— Later in June 2015: Chung is arrested.
Related
Doctor facing sex charges posts $1M bail
Judge lowers bail for Las Vegas doctor facing sex charges
Prosecutors accuse Vegas doctor of rape, reveal 11 new victims