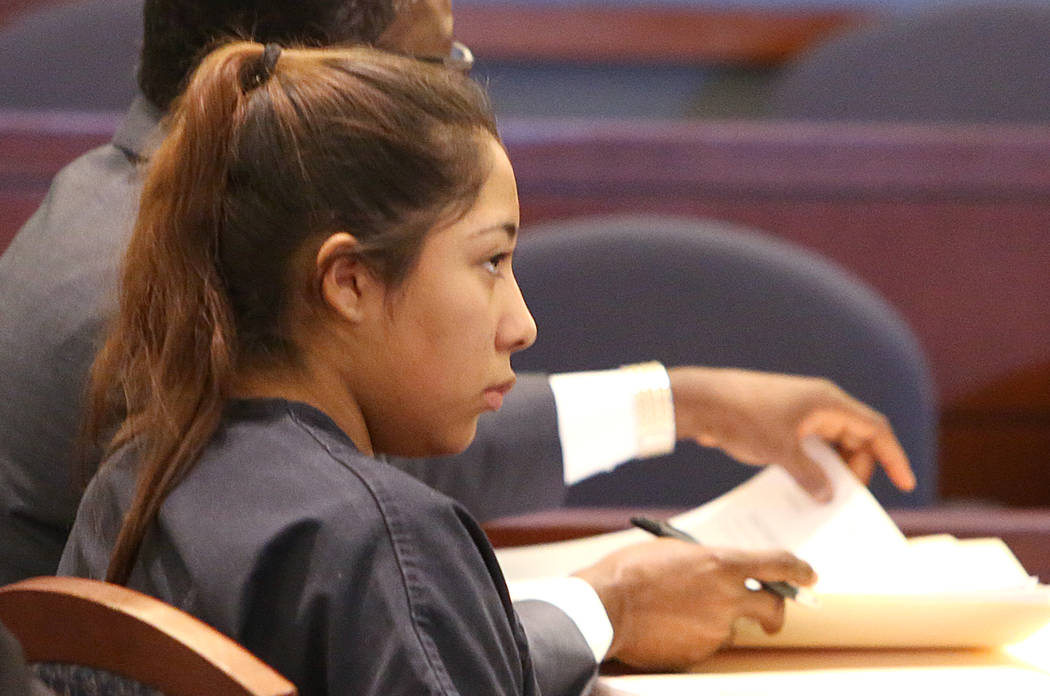 A Las Vegas teenager wanted both her parents killed, a detective testified Tuesday, and ultimately paid her then-boyfriend $50 to stab and strangle her mother.
Joseph Luis Sanchez stabbed Julia Garcia in the chest and abdomen, then straddled her body and strangled her in November 2014, Metropolitan Police Department homicide detective Mitchell Dosch told a judge during a preliminary hearing for 18-year-old Brenda Garcia and 20-year-old Sanchez.
Brenda Garcia and Sanchez, along with Michael Trieb, were arrested in connection with the killing in February, when Brenda Garcia told police that she wanted her mother dead in order to escape from the influence of a gang, Dosch testified.
Investigators were not aware of any affiliation Brenda Garcia had with a gang and found no gang tattoos on her body, Dosch said.
The detective said Sanchez admitted stealing jewelry from the victim, also known as Julia Lopez-Maravilla, and selling it. He later crossed her arms and left a rosary with her body, "as a sign of respect." Brenda Garcia told police she was not in the room when her mother was killed.
Authorities found the body wrapped in trash bags and dumped in a desert area near East Lake Mead Boulevard and Pabco Road on Nov. 15, 2014.
Sanchez told police he and Brenda Garcia broke up a couple of months later.
The victim's husband had reported her missing Nov. 6, 2014. Brenda Garcia, who was about 16 at the time, told police she found an email from her mother the day before that indicated she was leaving the family, according to police.
Police served a search warrant on the family home the day after the victim's body was found. Phone records showed that Brenda Garcia was at home the day her mother disappeared but should have been at school, police said.
She withdrew $200 from her mother's checking account the day her mother was reported missing to buy food and bedroom decorations, according to a police report.
Metro's forensics lab in February 2016 matched the trash bags found in Brenda Garcia's home to the bags that covered her mother's body.
Brenda Garcia, Sanchez and Trieb each face charges of murder with a deadly weapon, robbery with a deadly weapon and conspiracy to commit murder.
Deputy Public Defender Zohra Bakhtary argued that the murder was not committed with a deadly weapon because the Clark County coroner's office determined that the victim died of strangulation.
On Tuesday, Las Vegas Justice of the Peace Ann Zimmerman said prosecutors have enough evidence to present the case to a jury. Trieb waived his right to a preliminary hearing.
Contact David Ferrara at dferrara@reviewjournal.com or 702-380-1039. Follow @randompoker on Twitter.