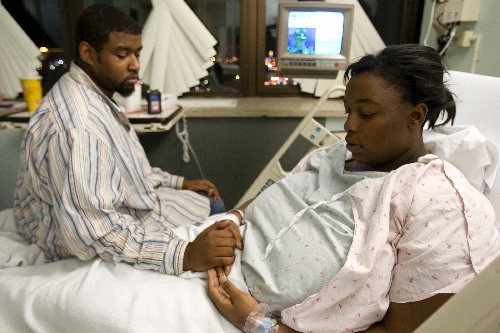 A woman who already has agreed to a monetary settlement with one hospital for refusing to treat her while she was in labor has a federal court trial set for Monday involving another Las Vegas hospital that she says wouldn't help her.
Roshunda Abney gave birth to a girl the day after she sought treatment in 2009, but the baby died a short time later.
Last week, University Medical Center agreed to pay $225,000 to settle a lawsuit filed by Abney.
Abney's lawsuit against Valley Hospital is scheduled to start Monday before Senior U.S. District Judge Roger Hunt.
Abney, who told the Review-Journal a day after she delivered the baby that she did not know she was pregnant, said she arrived at UMC on Nov. 30, 2009, and waited for about six hours without being treated despite her repeated complaints about abdominal pain.
She said she and her fiancé, Raffinee Dewberry, the baby's father, then went to nearby Valley Hospital, where Abney said hospital staff suggested they could face a similar wait.
Believing they would not be helped, they left Valley and bought over-the-counter pain medication for Abney. Within 20 minutes of arriving home on Dec. 1, 2009, she gave birth.
Abney's attorney, Jacob Hafter, argued that the hospitals violated the federal Emergency Medical Treatment and Active Labor Act and failed to screen properly.
In a brief filed with the court, attorney Kenneth Webster said Valley should not be liable because Abney and Dewberry "unilaterally abandoned their attempt to receive treatment after a period of time not exceeding five minutes."
When Abney and Dewberry arrived at Valley, they discussed their six hours of waiting at UMC with an employee at Valley, according to the court filing.
Abney's contention, that the Valley employee then either sarcastically or indifferently said, "What makes you think you will be seen any faster here," is false, according to Webster.
"Instead, he was trying to get the patient to identify herself and to explain the reason she came to the emergency room," Webster wrote.
In Hafter's brief filed with the court, he wrote that the jury will be asked "whether a woman who is in active labor should be required to accept, without question, the sarcasm, abuse and/or complete indifference of front line gatekeepers in emergency rooms as a pre-requisite to accessing emergency care."
Hafter also said the jury must decide "whether a patient seeking emergency medical care must present a diagnosis and, immediately upon arrival, disclose the acuity of the medical emergency which is being claimed."
Valley attorneys will proceed to trial with the registration clerk and the security guard as witnesses, Hafter said, while his client will have witnesses that include "independent eyewitnesses who saw the interactions" between Abney and the registration clerk.
Contact reporter Paul Harasim at
pharasim@reviewjournal.com or 702-387-2908.