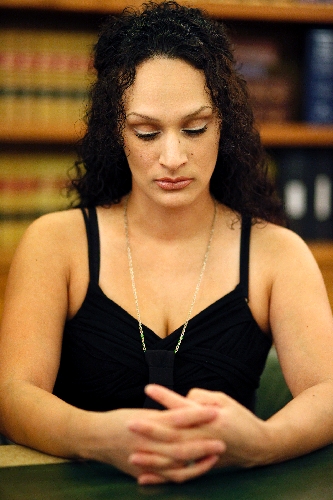 Two victims of a former police officer accused of groping women say they're not satisfied with his plea agreement and will ask for the maximum punishment during his October sentencing.
Rebecca Portillo, 29, and Victoria Murnane, 27, said Tuesday that they want John Norman to serve jail time and be required to register as a sex offender for the rest of his life.
"He's a molester. It just bothers me that he's going to be able to get this washed away," said Portillo, a wife and mother of three. "I want this to follow him no matter what state he lives in."
Murnane called him "a predator with a badge."
"He needs to be stopped and he really needs to feel the consequences of his actions," she said.
Norman, a Las Vegas police officer for almost four years before he resigned last month, has been accused of groping Murnane and another woman and coercing Portillo into exposing her breasts. He pleaded guilty last week to one count of oppression and one count of open and gross lewdness. But if he completes his sentencing – two years in jail or probation – the lewdness charge will turn into an additional oppression charge and he will be removed from the state's sex offender database.
Any person convicted of lewdness in Nevada is required to register as a sex offender.
In separate interviews, both women said they plan on testifying, to advocate that Norman serve time in custody and register as a lifelong sex offender, at his sentencing Oct. 30 before Judge Abbi Silver.
"I've never heard of anyone being able to get off the registry," Murnane said.
Both women said they met with prosecutors before the deal was offered and said that they agreed with offering a plea deal. But they weren't aware that he could be removed from the database.
Chief Deputy District Attorney Giancarlo Pesci said prosecutors met with Portillo in March before any deal was offered. At the time, they only knew of two victims, and they told her about an agreement that he plead guilty to two counts of coercion. She was OK with that agreement, he said. Registering as a sex offender was not a requirement under that deal and never came up.
Afterward, prosecutors learned of a third victim and offered the current agreement.
"We ended up making the deal harsher than what we had agreed to with her," Pesci said.
He said, and defense lawyers have confirmed, that the deal to be removed from the sex offender registry has been offered to defendants before.
Pesci wasn't able to be reached for comment about Murnane's comments Tuesday night.
CASES LINKED BECAUSE OF SIMILARITIES
It has been more than a year since Portillo was pulled over and coerced into exposing one of her breasts, as she and prosecutors allege. She is thought to be Norman's first victim.
During the June 2011 traffic stop, Norman handcuffed her and placed her in the back seat of his patrol car to take her to jail on a warrant for unpaid traffic tickets.
But he stopped, told her it was her "lucky day" and said he was going to release her because he had to respond to another call.
First, however, he told her he needed to make sure she didn't have anything hidden in her bras, Portillo said. He told her to shake out her bras. She did that several times, until prosecutors allege he pressured her into exposing herself. He then let her go.
Portillo said she complained to the Metropolitan Police Department's Internal Affairs Bureau, which interviewed her but closed the case two months later, stating in a letter that they couldn't reach her. She said Tuesday that she was able to be reached.
In December, Murnane was pulled over by Norman late on a Saturday night. He said that he needed to do a test to see whether she was driving under the influence – she has been arrested for that before – and had her pull into a church parking lot.
While patting her down, he said he needed to search her bra to make sure she wasn't hiding anything, according to Murnane.
He had her take off her bra, and he grabbed her breast with his bare hand, prosecutors allege. He let her go and said he wouldn't give her a ticket for driving without lights over her license plate because she was so cooperative, Murnane said.
She called the Internal Affairs Bureau the following Monday and told them what happened. The case was reopened, and police noticed the similarities between her case and Portillo's case.
Police arrested Norman in February.
ATTORNEYS NOW REPRESENTING VICTIMS
Both women have retained lawyers. Portillo's lawyer, William Horne, said he has contacted the Police Department but a lawsuit has not been filed. Murnane said she doesn't know whether she wants to file one.
The incidents left both women shaken and have damaged their faith in police.
"He just pretty much humiliated me," she said. "I'm supposed to feel safe around police officers, and he just took that sense of security away from me."
Murnane, who said she has family who are current and former officers in Southern Nevada, said she knows not all police are bad. But she is now nervous being around male officers and is seeing a psychiatrist.
"I never thought I would be assaulted by a police officer," she said.
She feels he should be held to a higher standard.
"I think because he was in a position of authority, and he abused that … he should face some jail time."
Contact reporter Lawrence Mower at lmower@reviewjournal.com or 702-383-0440.